Your third IHRSA Newsletter is here which means it's less than one month until we'll be in sunny Los Angeles for IHRSA! This week we're sharing what you can expect from Power Systems products this year, how you can see those products in action at the show, our new Plyo tool that we're sure you'll love, and our partnership with MostFit!
We provide the tools, you provide the results.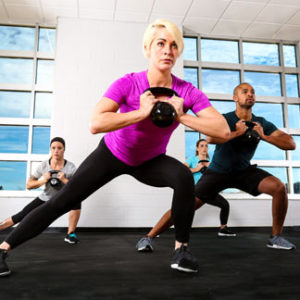 Last week we told you all about our IHRSA booth and how our products can transition between both functional and studio spaces, this week we're expanding on the versatility and multi functionality of our products. You and your clients shouldn't be satisfied with products that only have a single use. Our focus this year and at IHRSA is to bring you multi-functional, innovative products much like our newest plyometric tool, the 2-in-1 Flip & Plyo. We're also bringing you the latest tools from our brand partners who understand that a piece of equipment needs to be multi-purpose such as the MostFit Core Hammer. This year at IHRSA you'll be able to see our diverse products in action with early morning workouts, demos, and access to try these tools first hand.  When it comes to training, no two athletes are alike which is why you need versatile products in your facilities. Let us give you the multi-functional tools that you need to help your clients get the results they desire.
See our products in action

Not only do we have three early morning workouts this year, we also will be hosting back to back demos in our booth. We can't share all the demo information just yet but we can give you a sneak peek at one product you can expect to see at IHRSA. The MostFit Core Hammer is the versatile alternative to the sledgehammer workout. The Core Hammer has all the benefits of a sledgehammer tire workout combo without the need for a tire. Join us at our booth to see the Core Hammer in action or try it yourself at our early morning workout. We'll be showing you how versatile the Core Hammer is with our no slamming approach at the early morning functional training workout. Don't worry, we're still going to be showing you how this innovative tool can be used as a sledgehammer. Come by our booth, booth 1023, Thursday at 1:30pm or Friday at 3:30pm during the show to see a demo with MostFit. Can't make it to the demo or workout? Make sure to stop by MostFit's booth, booth 753, to see the Core Hammer.
#poweryour Functional Training Workout – Sponsored by PowerSystems
Come experience the latest functional training tools and programming from Power Systems! Our Power Systems team will be on hand alongside our fitness experts and brand ambassadors to provide an innovative and invigorating workout to start your day. Be sure to pre-register to secure your spot for this workout here!
When: Thursday, March 9th – 6:30am – 7:30am
Where: JW Marriott Ballroom
Want to get updates on when these demos are happening during the show? Sign up for Power Systems text messaging and we'll text you during the show with info on what demos are happening when! Text IHRSA17 to 33233 to receive updates from us during IHRSA on our booth location, schedule, demos, workouts, and more! Interested in getting updates & reminders on our early morning workouts? Text FITFAM to 33233 to sign up for info on our workouts at IHRSA!
To unsubscribe at any time text
STOP
to
33233
. For help, text
HELP
to
33233
. For more info,
visit our SMS help page
. No more than 30 messages per month. Message & Data rates may apply.
Introducing the 2-in-1 Flip & Plyo
Functional training and HIIT are fitness trends that will only continue to grow in 2017. To meet all of your functional training, group training, and HIIT needs, we're expanding our line of plyometric equipment. Our newest plyometric tool is truly a multi-functional product. The 2-in-1 Flip & Plyo is the perfect functional training tool. This tire meets plyo combo offers both the benefits of a traditional plyo box while also functioning as a tire that can be used for flipping, lifting, and more. Available in 100, 150, 200 and 250 pounds, each at varying heights, the 2-in-1 Flip & Plyo is unlike a traditional tire as it is a flat, smooth platform suitable for all users at any fitness level. The sleek design of this plyo will keep your facility looking sharp while also offering multiple functions. Stack them for more height to use for box jumps or grip the handles on the side to pull, carry, squat and more. Keep an eye out for more info on our new 2-in-1 Flip & Plyo and be sure to come try it out at booth 1023.
Power Systems partner – MostFit
Founded by trainer Andrew Gavigan in 2011, MostFit strives to provide unique, effective, and efficient products to the fitness community in an effort to make optimum performance more accessible.
MostFit firmly believes that accessibility is the key to success for athletes and fitness enthusiasts of all levels. In that vein, MostFit's goal is to make fitness enjoyable, and approachable, empowering individuals to be the "most fit" they can be.
Check out the Core Hammer by MostFit in action below and be sure to come try it yourself at IHRSA!
To unsubscribe at any time text
STOP
to
33233
. For help, text
HELP
to
33233
. For more info,
visit our SMS help page
. No more than 30 messages per month. Message & Data rates may apply.