As we countdown to IHRSA, we're giving you sneak peeks into the latest from Power Systems and what you can expect to see not only at the show but for the rest of the year. This week, we're going to be sharing even more on what you can experience at our IHRSA booth, which industry professionals you'll be seeing in our booth, demos, and workouts, as well as one of our new products, and the partnership we've developed with HiTrainer.
We provide the tools, you provide the results.
We want to be your number one resource when it comes to finding the latest, high quality fitness equipment to not only bring in new customers but to retain current ones as well. To do this, we're staying up to date on all the latest industry trends to ensure that our product education and our new products keep your clients and your trainers at the top of their game.
This year we're sharing things like how to develop your revenue room and how to build a better athlete so that you can lead your facility in creating the best results possible.  We're taking one of 2017's top fitness trends and providing not only educational content but new products focused on how you can bring functional training to your facility. Whether you're interested in starting up a small group training program or just offering an exclusive functional training zone to your members, we've got the functional training products perfect for any size facility. New products like the Elite Pro Medicine Ball, the 2-in-1 Flip and Plyo, and the HiTrainer are ideal products for a functional training space. You'll be able to see these products and more at IHRSA.
At the Power Systems booth this year you won't just be looking at our newest offerings and current top-selling products. You'll get to experience our products first hand with numerous demonstrations as well as industry experts on hand to answer all of your questions. Check out our coming newsletters to find out more about who you'll be able to see in our booth. To give you a little sneak peek of who will be appearing with Power Systems at IHRSA, we're thrilled to share that Bennie Wylie, Jr. will be joining us in the booth and at our Thursday early morning workout session!
Experience our products with trainer Bennie Wylie, Jr.
We're excited to announce that NBC STRONG winner and Power Systems Brand Ambassador Bennie Wylie, Jr. will be leading our early morning functional training workout at IHRSA! As a former University of Tennessee Head Strength & Conditioning Coach and owner of The Performance Lab Bennie is an expert in training athletes and fitness enthusiasts at all levels. As our leading Brand Ambassador, Bennie and Power Systems work together to be a better resource for you through workout videos, educational blog posts, and more. Be sure to join us for our functional training workout with Bennie and stay tuned for when you'll be able to see Bennie demonstrating products in our booth.
#poweryour Functional Training Workout – Sponsored by PowerSystems
Come experience the latest functional training tools and programming from Power Systems! Our Power Systems team will be on hand alongside our fitness expert and brand ambassador Bennie Wylie, Jr. to provide an innovative and invigorating workout to start your day. Be sure to pre-register to secure your spot for this workout here!
When: Thursday, March 9th – 6:30am – 7:30am
Where: JW Marriott Ballroom
Want to get updates on what's happening at our booth during the show? Sign up for Power Systems text messaging and we'll text you during the show with info on what we're up to! Text IHRSA17 to 33233 to receive updates from us during IHRSA on our booth location, schedule, demos, workouts, and more! Interested in getting updates & reminders on our early morning workouts? Text FITFAM to 33233 to sign up for info on our workouts at IHRSA!
To unsubscribe at any time text
STOP
to
33233
. For help, text
HELP
to
33233
. For more info,
visit our SMS help page
. No more than 30 messages per month. Message & Data rates may apply.
Introducing the HiTrainer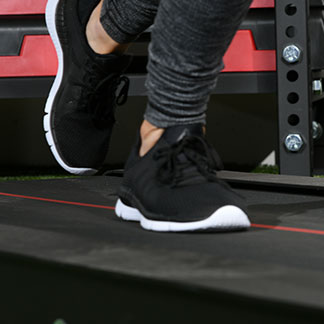 This year we're not only bringing you new Power Systems products, we're also partnering with other brands to bring you the latest innovations on the market. The HiTrainer is a self-propelled, sprint training treadmill ideal for conditioning, rehab and weight loss. Ergonomically designed to maximize the benefits of sprint and high intensity interval training, the HiTrainer Drive Position allows users to recruit all muscle groups while getting extensive real-time feedback on form, power, speed, and more. This data is ideal for coaches and trainers looking to help their athletes improve speed, acceleration, power, and balance. The HiTrainer includes pre-programmed intervals of short workouts ranging from speed to heavy-duty sled training, making it perfect for circuit and group training. But don't be fooled by the quick turnover this machine has, users will experience the after-burn effect after just minutes on this innovative training tool. Be sure to come by booth 1023 at IHRSA to see the HiTrainer in action!
Power Systems partner – HiTrainer 
Power Systems is proud to announce our partnership with HiTrainer and to introduce our customers to their unique and innovative training tool.  Since 2007, the HiTrainer team has worked with elite athletes and strength and conditioning coaches across North America – in professional sports, Olympic training centers and collegiate athletics – to assess and dramatically improve speed, stamina, and overall performance. Introduction of the HiTrainer ATP patented technology empowers gyms and fitness facilities to offer a uniquely effective metabolic training program with a distinctly competitive edge.
The HiTrainer is an ideal station to introduce HIIT to your facility. The ATP model is the perfect anchor for cross-conditioning or athletic training programs. Instant performance feedback motivates users to realize their full potential while promoting healthy competition in a facility. With a shared mission to empower everyone, at all fitness levels, to realize their full potential, Power Systems is thrilled to be teaming up with HiTrainer to bring this tool to our customers.
Check out the HiTrainer below and be sure to stop by our booth at IHRSA to experience the HiTrainer!
To unsubscribe at any time text
STOP
to
33233
. For help, text
HELP
to
33233
. For more info,
visit our SMS help page
. No more than 30 messages per month. Message & Data rates may apply.