Start packing your bags, IHRSA is just around the corner. This week we're getting ready for the show by sharing with you one of our biggest new product releases, our new Brand Ambassador and our IHRSA schedule.
We provide the tools, you provide the results.
It's less than one week until IHRSA and we're ready to share with you exactly what you'll be able to see in our booth. We've been hinting for weeks about the different demonstrations we'll be hosting. We're finally ready to reveal when you can see our newest products and essential favorites in action as well as who will be there to share their expertise. Come by booth 1023 to meet with the experts and learn from your peers as we share the tools to help you get the results.  Check out the schedule below to see who will be in our booth and the different demos we'll be offering.  We look forward to seeing you at IHRSA!
Experience our products & learn from your peers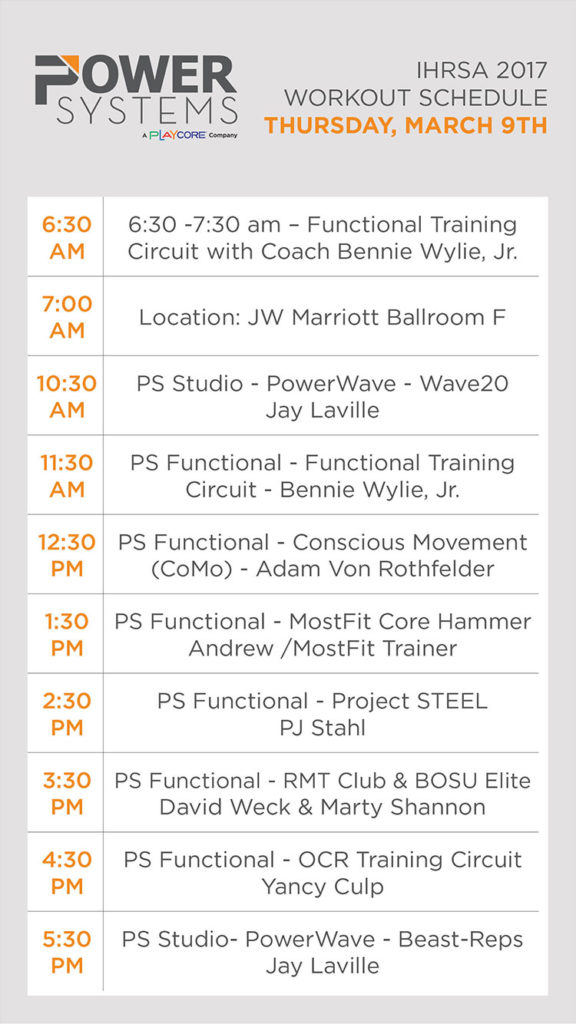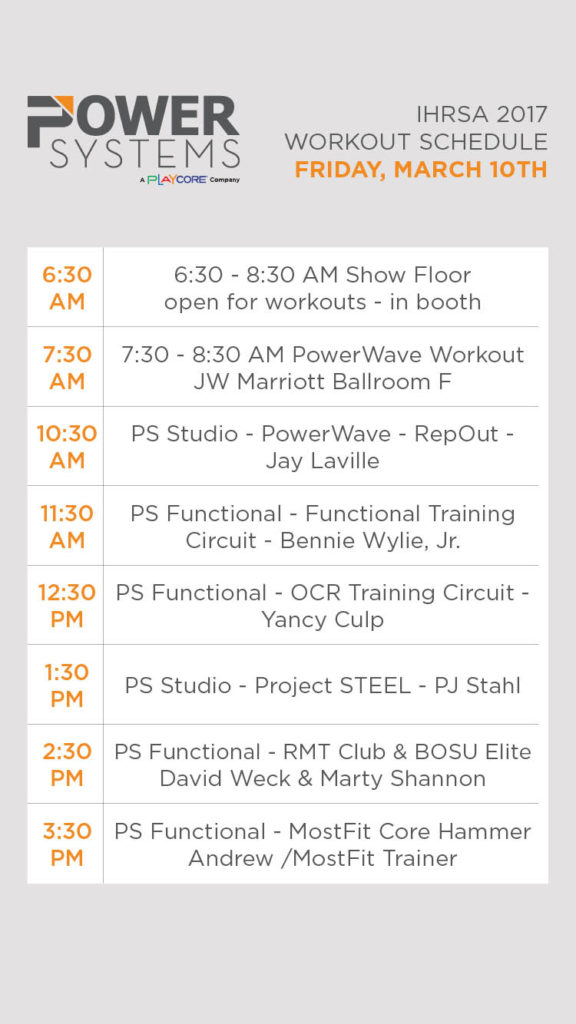 This year we'll be hosting three early morning workouts. Be sure to pre-register to secure your spot!
Want to get updates on what's happening at our booth during the show? Sign up for Power Systems text messaging and we'll text you during the show with info on what we're up to! Text IHRSA17 to 33233 to receive updates from us during IHRSA on our booth location, schedule, demos, workouts, and more! Interested in getting updates & reminders on our early morning workouts? Text FITFAM to 33233 to sign up for info on our workouts at IHRSA!
To unsubscribe at any time text
STOP
to
33233
. For help, text
HELP
to
33233
. For more info,
visit our SMS help page
. No more than 30 messages per month. Message & Data rates may apply.
Introducing the Modular Storage Rack 
We know proper storage is key in having not only a functional but visually appealing space. Our newest storage solution brings together functionality and style while also being completely customizable to fit your facility's needs. Our Modular Storage Rack provides not only storage for a variety of products but is interchangeable, depending on what your space needs. Offering three sizes to meet any facility, our newest storage solution comes in 6 foot, 10 foot, and 16 foot versions.  Our customizable storage unit includes racks that can be used for any size med ball, shelves that can be flat for kettlebells and other product or angled for dumbbells, pegs for hanging products such as strength bands or resistance tubes and a top rack with room for stability balls, mats, foam rollers. Each rack has different options for customizing the size and set up. Additionally, the Medium and Large versions feature a rack ideal for Bumper Plates or BOSUs. Available in standard flat black or can be customized to match your facility. We'll be featuring two sizes and set ups of our new Modular Storage Rack at IHRSA. Stop by the booth to see just how customizable this storage solution is!
Meet our newest Brand Ambassador – Yancy Clup 
Power Systems is proud to announce the addition of our latest Brand Ambassador, Yancy Culp! Be sure to stop by our booth at IHRSA to meet Yancy as he demonstrates products and brings his expert advice to the team! Keep an eye on the blog for upcoming posts featuring Yancy as a guest writer. For more info on Yancy, check out his bio below!
Yancy Culp is the owner of YancyCamp.com where he provides online coaching to Obstacle Course Racing (OCR) Athletes.  Yancy provides full time coaching too many pro level OCR athletes in the United States and around the world.   OCR is the fastest growing participatory sport in the world, and Yancy has competed in every type of OCR ranging from outdoor 24-72 hour races, single day races in the 3-30 mile range, indoor/outdoor short course races in the 10-30min range, and has approximately 25 podium finishes all while in his 40's.  He's on the HumanN/BeetElite Pro OCR Team, is a Partner at Demon Sled, Chief Inspirational Officer at Until Life Makes Sense, coaches Boot Camps and Group OCR Fitness, and provides Sports Performance Training for MS, HS, and Collegiate Athletes. His wife Amy Culp is the Sports Performance Dietitian for the University Of Texas Longhorn Athletic Department and they have two kiddos – Scout & Lily. Power Systems is thrilled to welcome Yancy to our Brand Ambassador program.
To unsubscribe at any time text
STOP
to
33233
. For help, text
HELP
to
33233
. For more info,
visit our SMS help page
. No more than 30 messages per month. Message & Data rates may apply.