As an obstacle course racing (OCR) coach and athlete who has a busy schedule, it's very important for me to have the ability to build quick workouts around the home.  I can usually carve out an hour a day 4-5 days a week to get a formal workout in at the gym or out on the trails. But having the ability to sneak in 10-15 min sessions around the house is so important when you're training for a sport that requires a well-rounded training approach like OCR.
As a fitness coach, I spend time coaching OCR athletes, boot camp clients, and competitive athletes from middle-school aged to college – it's very important for me to maintain my fitness level and set a good example for my clients and my family.  I'm passionate about my kids understanding the long-term value of staying fit and how fitness can be fun all the time as well as being informal sometimes.  To them it's normal to grab a piece of equipment I have staged in the backyard, garage, or living room and build a workout.  They are comfortable doing what they see being modeled.  As we say around the Culp house, "fitness is an art form".
Certain equipment can be more effective and convenient for creating a home gym environment.
For me, I have all I need when I have sandbells or sand discs, a PowerWave, medicine balls, slam balls, strength bands, versa loops, a Core Hammer, and a power training rope.  These great tools give me the ability to create hundreds of effective workouts and provide us with everything we need to have an effective home gym for my entire family. And these pieces all easily fit into my vehicle for transport to football practice or to the park for boot camp.
Here is an equipment list of what I recommend for your on-the-go gym: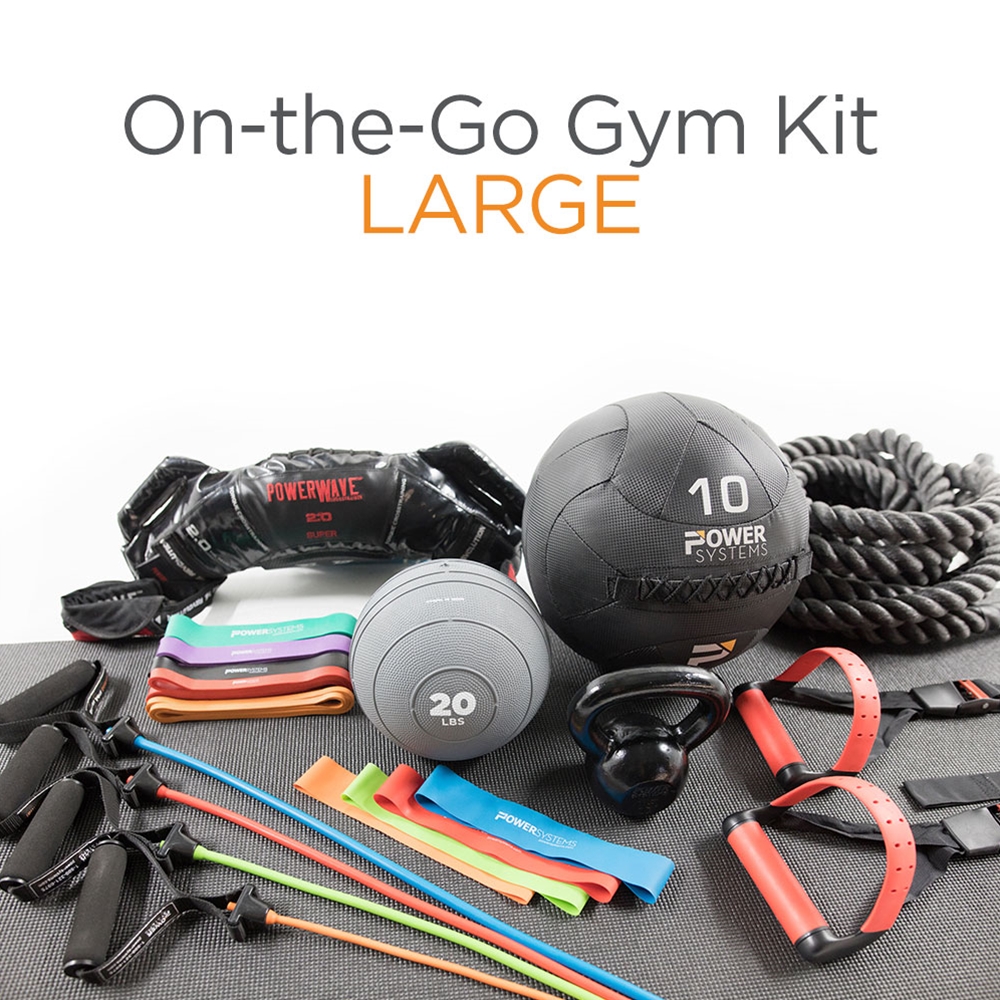 Versa loop workout 
The ultimate in convenience while also highly effective:

Lateral step x 4 (each direction) – repeat for a total of 5
Around the world x 5 (10 touches completes 1 rep)
Side Plank w/ lateral foot reach & touch (10 each side)
Sumo jumping jacks x 20
Rows w/arm to the side x 20 (10 each arm)
Rows w/arm pointing down x 20 (10 each arm)
Rows w/arm out in front x 20 (10 each arm)
Rows w/arm pointing up x 20 (10 each arm)
This completes 1 round
Continue for 1 additional round
Grip and pull training with a working break / can periodically replace traditional back and bicep training (conquering obstacles is our focus):
Sandbell rows x 20
Strength band rows x 20 (10 each arm)
Strength band lat pulls x 20 (10 each arm)
Burpees x 5
This completes 1 round.
Continue repeating but drop rep count down to 18/16/14/12/10 for remaining 5 rounds.
*Burpees stay the same each round – 10 reps
Slam ball medley:
Squats x 10
Overhead press x 10
Hip circles x 10
Thrusters x 10
Seated press x 10
Russian twist x 10
Continue repeating but drop rep count down to 9/8/7/6/5 for remaining 5 rounds.