You've already met the Premium and MEGA Slam Balls. Well our Slam Ball family just got a little bigger – and a little heavier. We're so excited to introduce you to the ProElite Slam Ball. Bigger, heavier, and tougher than the Premium and the MEGA, the ProElite is designed for intense slamming at a high weight level.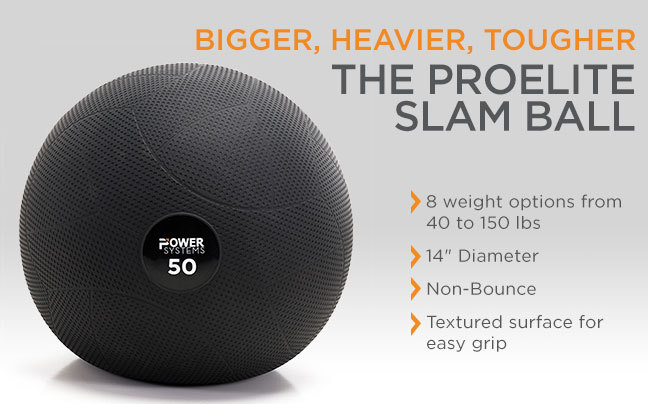 The ProElite Slam Ball will take your training to the next level! Go ahead – be tough on this slam ball. The proprietary blend construction of rubber and urethane gives this dead ball the durability to stand up to the toughest workouts, indoors and out. The unique grooves and texture of the rugged ProElite surface provides a superior grip and makes it perfect for use with chalk so the only time you'll drop this dead ball is when slamming. The durability of ProElite makes it perfect for outdoor boot camps and OCR training. The ProElite is our only slam ball consistent in diameter at 14 inches. Unlike the Premium and MEGA Slam Balls, The ProElite Slam Ball ranges in higher weights – up to 150 lbs.
8 weight options from 40 to 150 lbs.
Consistent 14″ diameter
No-bounce, no-roll construction
Rugged, textured surface for easy grip
Durable enough for outdoor use
Great for OCR training and boot camps
Want to know more about how the ProElite compares to the Premium and MEGA Slam Balls, check out this comparison below to find the perfect slam ball for your training.