It isn't too late to start training to participate in a road race this fall. There are plenty of races held this time of year including one of the most popular held in October, the Susan G. Komen Race for the Cure. You can see more racing options by checking out our blog, Fall Racing Preview.
When prepping for a race, many turn to the app store and download the "Couch to 5k" app of their choice. This is a great way to pace yourself into a training regimen. But to get you in the best shape for your big day you will want to add a few other types of training to your running program. Speed, flexibility, and cross training accompanied by a structured running routine can help make you a more prepared athlete as you head into the racing season this fall.
---
Speed Training
Perhaps you have been running every fall and winter for years but can't seem to beat your fastest time. Try our Leg Speed Builder!
Helps add resistance to the muscles that propel you forward.
Will attach to a fixed object at home or at the gym.
Help you develop your legs, hips, and glutes.
Another way to increase your speed and endurance is to try sprint interval training.
For example, when training on a track, use the curves to run at your fastest speed, and then recover on the straightaways by lightly jogging or briskly walking. After a few weeks alternate the two – run your fastest speed on the straightaways and walking/jogging the curves. You will be pleasantly surprised at the how your speed and endurance improves in your next race.
---
Cross Training
Running, jogging, and walking are all great forms of exercise. However, try not to get a one-track-mind when preparing for race day. It is important for you to challenge yourself in all planes of motion with different resistances – like athletes do with any sport. This is where the term "cross training" comes from. Consider using our Power-Plyo Box to add plyometrics (aka jump training) into your programming.
Provides maximum stability and durability.
Helps strengthen the lower body muscles, increases vertical jump, and reduces joint impact.
Comes in 7 different sizes with 2 different set options.
Upper and lower body strength training will benefit you as well during this time. Resistance training of this type can come from any source of your choice from cable machines, to resistance bands, to body weight training. Don't forget to continue core training throughout your training sessions this season. Remember, it is the strength of your core that will carry you through those long runs.
It has been tested and proven many times over that cross training programs benefit athletes of any sport, at all levels. Take pro-triathlete Andy Drobeck for example. He has won 1st place in both a full and a half triathlon in the 2015 season. He also took 2nd place in an Olympic distance triathlon this past August. Andy is certainly feeling the benefits of cross training and he has shared with us a few of his programs. He put together both a basic and an advanced level workout using some of his favorite Power Systems products. We even made it an easy-to-print PDF so everyone can train like a pro, wherever they go!
---
Flexibility Training
Stretching and myofascial release techniques are important not only in movement prep but also in recovery. It is still up for debate whether the most beneficial sequence is self-massage followed by static stretching, or vice versa. However, including both in your programming will keep you on the road, on the field, and in the weight room for a lot longer.
For self-massage (aka myofascial release) techniques, choose a roller of your comfort level. Take our High Density Foam Roller,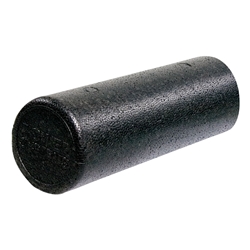 Provides a deeper massage during use.
Is made with a closed-cell structure, which lasts up to five times longer than the open-celled rollers.
Comes in Rounds and Half Rounds.
On the other hand the Closed-Cell Foam Roller,
Provides a softer, constant massage.
Is light weight and portable.
Is available in 3 different lengths.
Still having trouble bending over to touch your toes? No worries. The Dynamic Stretch Strap is your perfect training partner.
Helps you perform assisted stretches without a partner.
Multiple loop design for all flexibility levels.
Light-weight and durable.
You can measure your training success over time as you are able to grab loops further away from you.
---
Remember the word "variety" as the key to a successful training program. This will keep you and your workouts fresh as you prepare for the 2015 fall racing season.