The newest medicine ball from Power Systems was designed for optimum performance in every way. Bold, Strong, and Distinctly Different – the new Pro-Elite Medicine Ball will quickly become one of your new favorite training tools.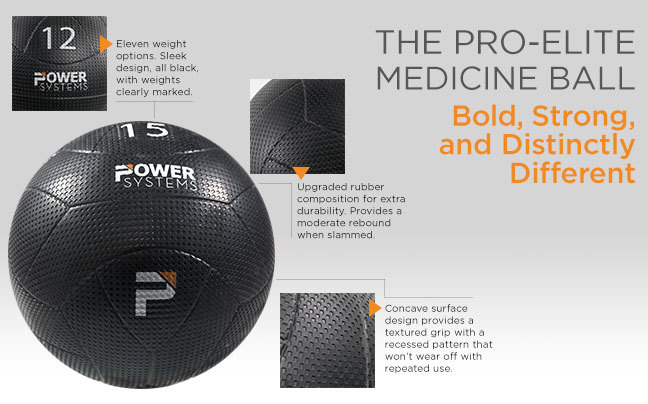 BOLD. The first thing you might notice about the Pro-Elite Med Ball is its sleek design. The uniform black color palate will fit perfectly into your new or updated training space.
STRONG. The superior durability of this med ball is made possible by the unique composition of materials. The proprietary blend of rubber and urethane puts Pro-Elite in a performance category of its own – providing the perfect, moderate rebound, the durability to withstand the most powerful movements, and the support for body weight exercises such as planks, push-ups, and much more!
DISTINCTLY DIFFERENT. Upon closer examination, you will see and feel the detail of the Pro-Elite's patented concave surface texture – designed to provide a textured grip with a recessed pattern that won't wear off with repeated use.
Want to see the Pro-Elite Med Ball in action? The Power Systems Master Coaches have come together to show you the superior performance of the Pro-Elite AND the versatility the medicine ball can add to your programming. From stability and core strength to explosive power and grip strength – our Master Coaches show you how to use the medicine ball for so much more!