The Boxes
Power Systems 3-in-1 Plyo Box
The new Power Systems 3-in-1 Plyo Box is the perfect solution to training all fitness levels. It provides three surface heights for plyometric training all in one box. Each side of the solid wood construction is clearly marked with an arrow and height measurement of 20", 24", or 30". No matter which side is up, the corners, edges, and handles are finished to prevent splintering. The features of the 3-in-1 Plyo Box will provide tons of variations for your plyometric, strength, and cardio programming.
Power Systems Foam Plyo Boxes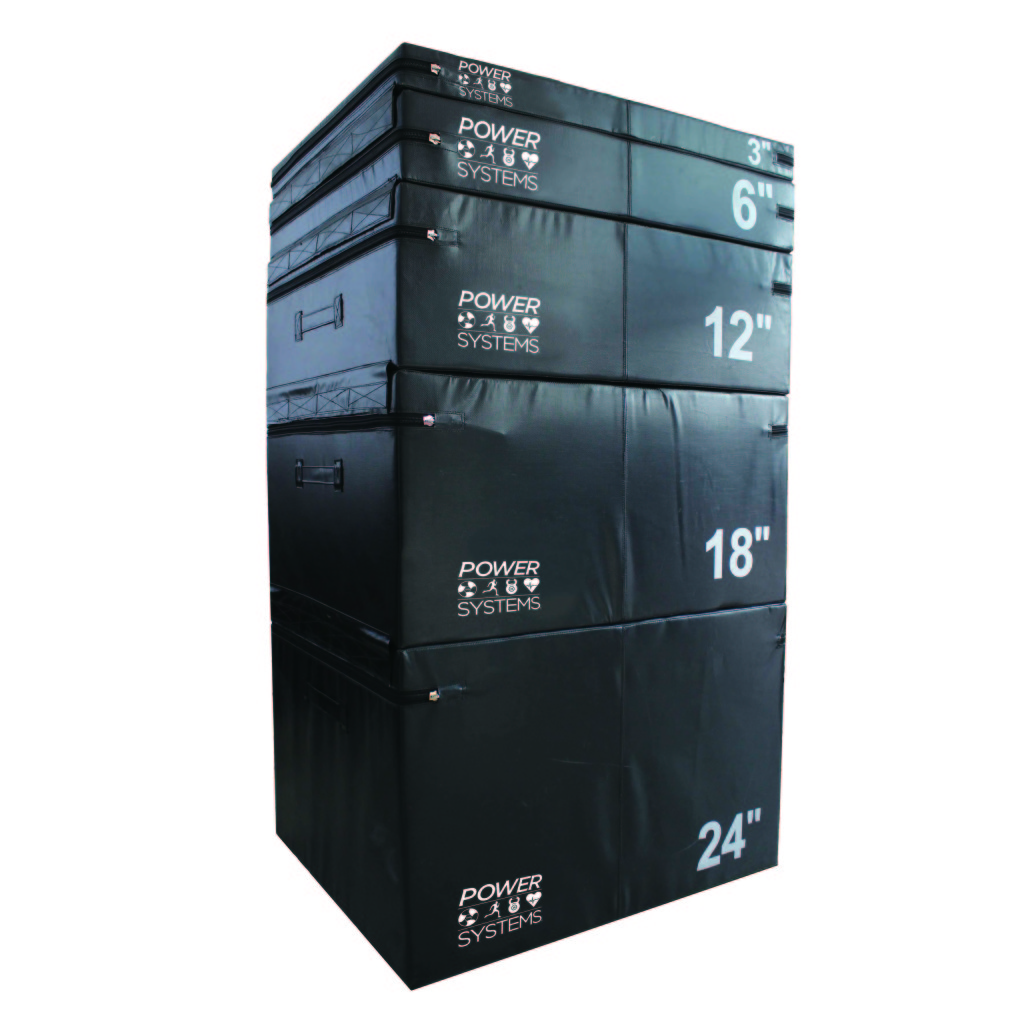 If you'd rather customize the height of your box but still want safety, then Power Systems Foam Plyo Boxes are the perfect solution. Each platform is covered with durable vinyl and can be stacked and secured with strong Velcro flaps on all four sides. Design your own height with the 3, 6, 12, 18, and 24 inch platforms.
Power Systems' Soft Edge Plyo Box
This box combines the authenticity of a wooden plyo box with an added safety feature of the soft edge. It is available in three sizes to accommodate all ages and fitness levels. Like the 3-in-1, each box can be turned on one of three sides allowing you to choose your jump height. With the soft edge side up, you get a supported landing zone as well as shin protection. As you rotate the box to the height of your choice, keep the soft edge side facing the user to retain shin protection. The corners, edges, and handles have a smooth and complete finish to prevent splintering. Last but certainly not least, the soft edge can be customized with the logo of your choice!
---
Additional Product
Premium Pull Up Bar
This Premium Pull Up Bar mounts to the wall and takes your pull ups to the next level. It offers plenty of room for various grip widths and saves on space.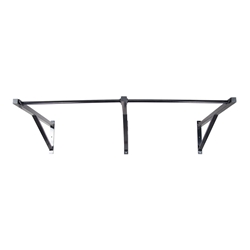 You can also purchase additional pull up bars that attach to each side of the Premium Pull Up Bar. This creates adjoining pull up stations for your facility or gym.
Battle Rope Anchor Station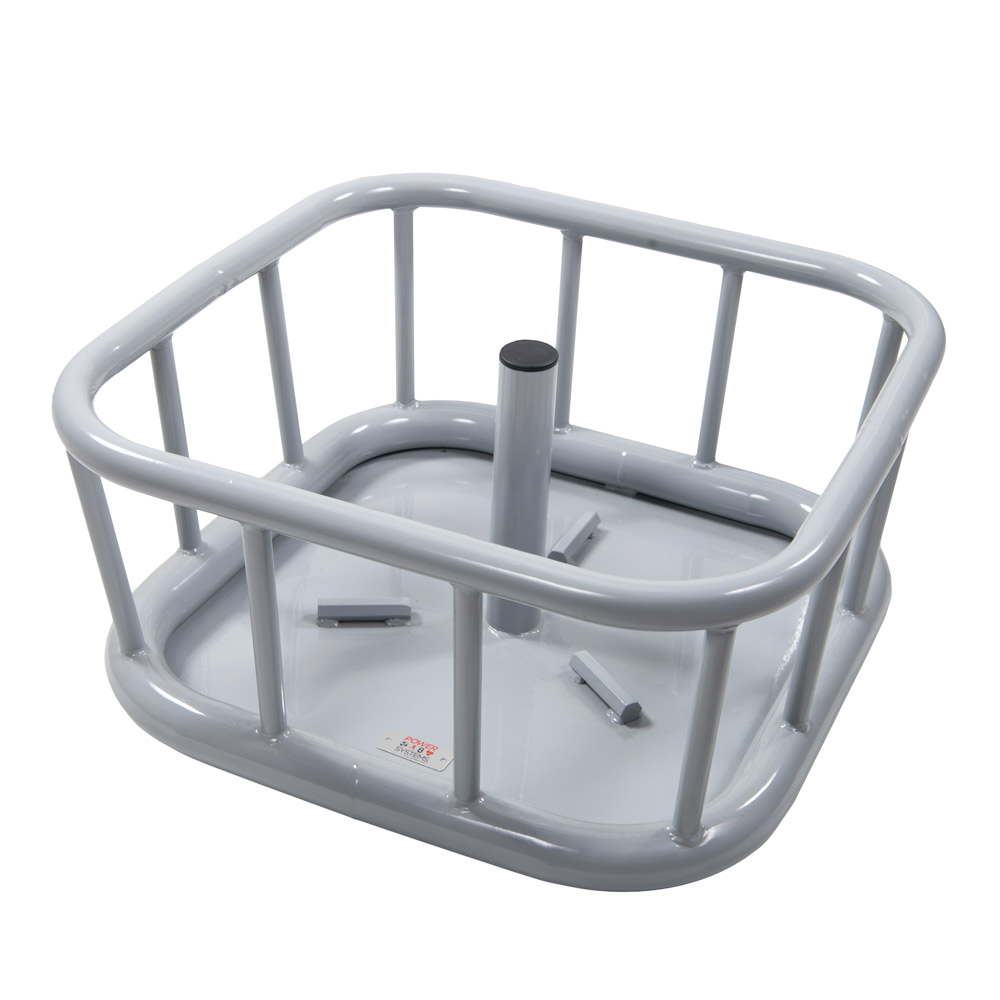 Take your group training sessions to the next level with the Power Systems Battle Rope Anchor Stations. Nothing works the body for developing power quite like rope training. You can attach up to 12 of our Power Training Ropes to this anchor station and take your group training session to a whole new level. Does your Battle Rope Anchor Station need some extra weight because you so many clients wanting to workout in this awesome group session? We've got you covered! You can place an Olympic weight plate on the center column for added security. Also, our Battle Rope Anchor Station will free up coveted space because you do not have to attach your Power Training Ropes to your strength equipment anymore.
---
Storage Needs
3 Tier Mega Medicine Ball Rack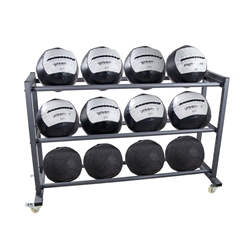 We are all looking for storage options so we can have as much space as possible. No one wants to go to the gym and trip over those x-large medicine balls. That is where the 3 Tier Mega Medicine Ball Rack comes to the rescue! Keep your oversized medicine balls off the floor and out of the way with this sleek storage selection. This rack holds up to twelve 14 inch diameter medicine balls at one time! It can be easily moved to accommodate where your product is needed or pushed out of the way to create added floor space in your gym or box.
Metal Wall Mounted Mat Rack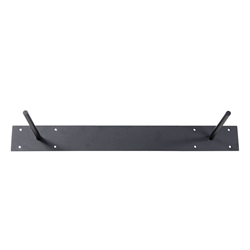 You can also save much desired space with our sleek Metal Wall Mounted Mat Rack. This gets your mats off of the floor and out of the way. Your Power Systems Premium Club Hanging Mats will last longer and stay cleaner with this rack. Also, make sure you are stocked up on our Premium Club Hanging Mats as well… your members will thank you for the extra cushion!
---
The Hybrids
DynaBell by MoveStrong
This product is a functional training hybrid that can be used like a dumbbell, a kettlebell, and an ab roller. The center handle rotates like an Olympic barbell while the outer heads spin independently of each other. This allows for tons of movement patterns and exercises such as two-handed pressing, swinging, and chopping. This design also overcomes the hand and wrist discomfort sometimes associated with kettlebell and medicine ball training. The DynaBell is an ideal tool to use when training small groups as each person only needs one rather than a pair. It also cuts down transition time as you can quickly switch from one exercise to another without grabbing more equipment. The DynaBell comes in 10 lbs. increments from 10 – 50 lbs. Watch this video for some sample exercises!
Core Flyte by Flyte Fitness
This product is a cross between a roller and a glider. It incorporates ball transfer units (BTUs) to reinvent your floor exercises. Each disc features 3 balls that roll under a stable base. These lightweight and portable stability trainers can be used for core, strength, and cardiovascular training. For more info and sample exercises, check out the video below and find out on Flyte Fitness's YouTube page!
Zoid by ZoidFitness
The Zoid combines a speed ladder and agility rings to create a versatile agility trainer. Each piece is made of 100% recycled car tire rubber. The Zoid Agility Trainer can be used on any training surface from grass to hardwood without slipping. Each piece is stand-alone to allow coaches and trainers to create countless movement patterns and drills for any sport. For more info, check out Zoid Fitness YouTube page and watch the video below!
---
Next Level Training
Elevation Training Mask 2.0 by Training Mask
Take your training level up a notch with the Elevation Training Mask 2.0. You will get the benefits of high-altitude training without heading to the tallest peaks.  The "air up there" has a lower concentration of oxygen and in this environment your body must work harder to uptake and utilize oxygen. Training with the Elevation Training Mask 2.0 creates pulmonary resistance and over time will condition your lungs and diaphragm. As the lungs work harder, their surface area and elasticity increases, thereby increasing your stamina. Almost like wearing weighted vest while training for a sport or event and then removing it for the competition. The Elevation Training Mask 2.0 is made of durable, washable neoprene and comes in 3 different sizes (S, M, L). The ear straps are designed to hold the mask firmly in place even during your most intense workouts. It has adjustable Air Resistance Valves that can simulate atmospheric conditions from 3,000-12,000 feet. Read more of the science behind the Elevation Training Mask 2.0 at www.trainingmask.com.
The RMT Club by WeckMethod
The RMT Club is a functional training tool developed to train the body using Rotational Movement Training. RMT involves coordinating rotation between the right and left sides of the body and improving the internal timing sequence of rotation through the joints.
The RMT Club is ideal for this type of training as its durable design allows you to strike suitable surfaces such as a reinforced wall, a heavy bag, and the ground. The shifting weights inside provide another level of dynamic resistance training. Each RMT Club comes with a training DVD & detailed instructions on the 21 foundational exercises, a full 40 minute workout, FREE online access to additional videos for sports specific workouts, and an exercise chart for your wall. It is available in 2lbs, 4lbs, 6lbs, and 8lbs resistance levels. For more information on the RMT Club, click the logo below:

The Hyper Vest Pro by Hyperwear
The Hyper Vest Pro is the thinnest weighted vest on the market with a patented control system that holds the weight comfortably to your body eliminating bounce and providing breathing room in your chest.
This design accommodates men and women with adjustable side-cords that keep the weight tight to the core and not hanging on the shoulders. The Hyper Vest Pro comes in S, M, L & XL with a beginning weight of 10lbs. Additional 5lb. weights are available for purchase to meet your training needs.
---
You can see all of our New Products we have added by checking out the What's New section on our website!