#thoughtswhilerunning
 sHOuT out to all the runners of the world this summer!
I think there are 3 categories of runners:
#hardcorerunner – These are your #upearly, #rainorshine, #26.2 'ers, and your #13.1 'ers. These are the most #focused individuals that you will ever see on the #treadmill at your local gym. These folks are #passionate about their mileage and #splittimes. They are so #dedicated to their #training that they will skip a #GNO or a #boysnight if it proceeds a #longrunday.
#wannaberunner – These are the folks that might #runforfun on the first #beautifulday in the #springtime. They have thoughts like "I really should go for a run today but…" #excuses are easy to find. They will occasionally run a #5K or a #10K for time, but mostly just pick out the ones that benefit charity organizations that they support. However, they will never fit into category 1 and are easy targets for a #runningbuddy for category 3.
#rookierunner – This is the category that grows exponentially each #January. Perhaps they made a #NewYearsResolution to #startrunning or to #runa5K. They are found at your local #running store checking out the latest #runningshoes and #insoles. Then they quickly download a #couchto5K app and start #training, and if they #sticktoit they will likely become a #wannaberunner.
Whichever category you fall into I'm pretty sure that you can relate to at least one or two of my #thoughtswhilerunning the other day.
I am a #wannaberunner. I have the utmost respect for the #hardcorerunner and I used to be a #rookierunner.  At this point, #running for me is more of a means to an end. It's the fastest way for me to #getmysweaton and end up #feelingaccomplished. #idontdotreadmills but I do enjoy a #goodrun outside to #clearmyhead.
With that being said, I set out on a run the other day. It was about 87 degrees and the humidity was over 50%, but I thought
Why not? It's a beautiful day! I've gotta get my cardio in somehow today and I'm probably gonna eat something bad for me later.
So I pull into the #park, lace up my #kicks, and throw on my Spotify #runningmix aka #runitgirl. I was somewhat reluctant because I knew it was going to be rough, but I told myself to #suckitupbuttercup and #letsgo.
The #firstmile is always the worst, but around #mile2 I #hitmystride and #runtothebeat like it's not even hot outside. By this time I'm #running around the pond, downhill, and through the trees and thinking
It's so pretty out today… I'm so glad I did this. 
It hit the #halfwaypoint at the #turnaround and the lady from my #mapmyrun app chimes in over my #playlist and gives me my current #mileage and #splittime. It fires me up to hear the progress I'm making, so I #digin a little more.
I'm over half way there! I got this!
Then I begin to approach that #hill that I #ran down with such grace and ease.
Hmmmmm… its awful hot out here and I'm probably not hydrated enough… I should probably walk that hill. I mean, I'm out here by myself, I don't want to pass out or get overheated. Yeah, I'll walk it. 
I press on and I see the #hill coming up and then I think
Wait a minute, you can do this, well maybe you can't, but you're gonna try. I'm gonna run up this thing as far as I can and if I have to stop I will. 
There's that lady again telling me I'm only a #halfmile away from my #goal distance.
Oh no! I'm doing this! Come on!
Run….run… run
Speed up a little as you approach the hill… charge the hill like dad always says.
… run… hill… hill…  HILL…
Come on!
…run… gasp for air…
Come On!!
… run run run… suck wind…
COME ON!!!
Then it happened… #goalachieved!!!
I DID IT! WOW!  That was stupid… but I DID IT!
I finish the run #feelingaccomplished, even for a #wannaberunner, so I decide to take a #sweatyselfie to post to #instagram., hence all the #hashtags. #sorrynotsorry And a #wannaberunner like me has to post pics when they complete runs like that… so everyone knows our #struggleisreal. I looked a #hotmess but I didn't care because I got off my couch and #ran when most people would say that was #crazy.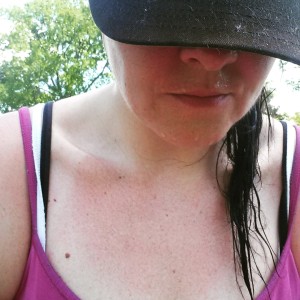 Hmmmm… maybe there is a little bit of a #hardcorerunner in me somewhere after all…
---
Take Care of Yourself
Recovery and Stretching Before and After You Run
I know it's not hardcore, it looks boring, and it takes too much time… I know all the excuses because I've made them myself! But I have to remind myself (like I do my clients):
"If you like working out and if you want to do it for a long time, you've got to take rest days and you've got to stretch."
Muscles that remain in a shortened or tight position over time can lead to a muscular imbalance. Over time a muscular imbalance can lead to chronic pain or injury.
Here are a couple of products that you can use before and after a run, or any workout, that are lightweight and portable. They can all fit in a gym bag and/or take up very little space in the trunk of your car.
Before you lace up, use the Massage Peanut to roll over the bottom of your foot.
This is a great way to stretch and warm up your plantarfascia – or the bottom of your foot – before you start a workout. Spend at least 60 seconds on each foot. It is a great way to soothe or prevent plantarfascitis.
Next use the SKLZ Travel Barrel Roller: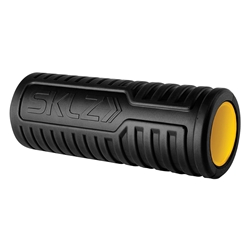 This product gives your calves, quads, hamstrings, and glutes a pre-workout sports massage. Pause on tender spots for 3-4 deep breaths. The SKLZ Travel Barrel Roller is a great self-myofascial release tool that comes in a smaller, more portable size. The hollow barrel comes in handy when packing your suitcase too.
After a workout, don't cram your foot into a curb or a corner of the gym. Use the ProStretch for a dynamic calf stretch.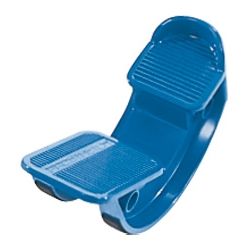 Once you find a level of tension that is good for you, hold a static stretch for at least 20-30 seconds. The ProStretch is also a great rehab accessory. The design allows you to rock back and forth to increase your range of motion after an ankle injury.
Last but not least, find a place to sit or lie down to use the Dynamic Stretching Strap.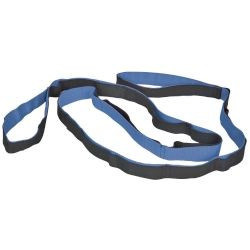 It's "dynamic" because it has 10 fixed loops that flex with you as you relax deeper into a static stretch. For best results, hold each stretch for a least 5-6 deep breaths.  Each time you exhale sink a little more into the stretch. You can also easily measure flexibility progress over time by how many loops into the strap you can reach. It also comes with photos and descriptions of stretches to do.
To experience the benefits, spend 5-10 minutes each day on flexibility training. Or up to 15-20 minutes on "rest days" from the gym. I once spent an hour rolling and groaning all over the floor with a foam roller and a stretch band, but afterwards I felt amazing!
Do yourself a favor and make time for flex time so you can workout for a long, long time.
---
All About Andy
To continue our theme for this month's PowerSource, we are going to turn our attention to our Sponsored Pro Triathlete Andy Drobeck. Do you want to learn more about him and see how you can train like a pro? We have a BRAND NEW site just for you that is all about Andy.
Keep up with videos, race schedule & results, his custom workouts, and much more all in one place!