Power Systems Enhances Your Training Programs With Our Updated Functional Fitness Products
Power Systems helps you make a statement to your members and clients with our latest product innovations.
Minimalist Makeover for Fitness Spaces

After studying the latest design trends, we see brands saying more about their business with minimalist style. At Power Systems, we responded by developing a sleek, modern spin on our most popular medicine ball – our Elite Power Medicine Ball Prime.  Color-coded seams identify each medicine ball weight while maintaining the clean, modern, monochrome look.
Our signature color palette extends across our updated line of core products. We've kept the premium materials, durable construction, and proprietary innovations that made these our most popular, just given them a style upgrade. Your club can have a seamless and understated brand strategy that emphasizes the quality of your business.
Inspired by our signature tubing color range, we updated the color-coding on the weight sequence of our cardio line to orange, green, red, blue, purple, gray, and black. This now extends from our Elite Power Medicine Ball Prime through our Cardio Pump Set, new and sleek Cardio Dumbbells, Premium Kettlebells, and tubes, loops and bands.
We know you want to set your club or studio apart. Count on Power Systems to bring a fresh look to your business that will turn heads during new client tours and assessments.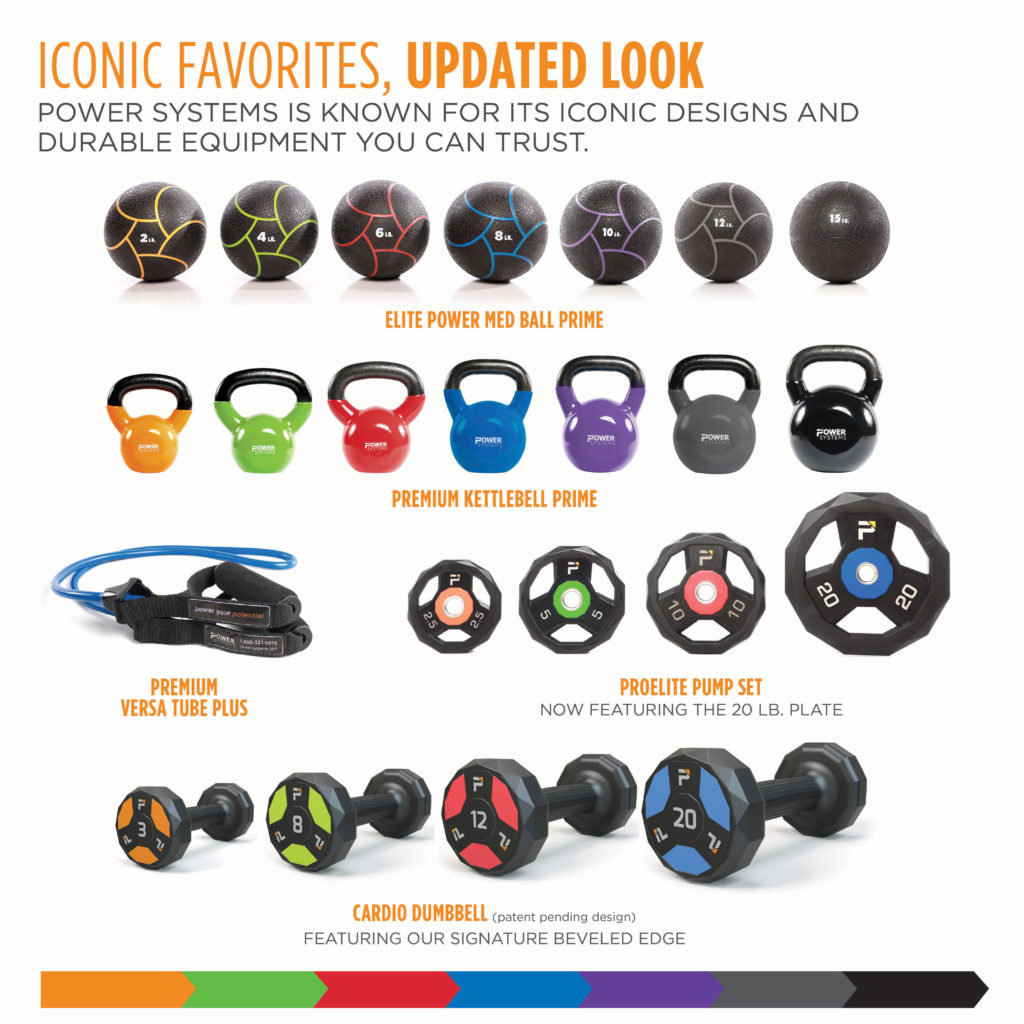 Maximize Workouts with our Consistent Color Sequence
Our consistent color sequence goes beyond aesthetics.
Helping your members make the most of their time in your facility is essential to them achieving their fitness goals. Providing the best workout in the shortest amount of time translates into fast-paced boot camps, small group training circuits, and studio GroupX classes.
With our signature color sequence, grabbing the correct tool becomes simple. Your clients will associate the weight they need for each exercise with the corresponding color, making quick weight transitions and training circuit stations flow easily.
Personal trainers will appreciate the consistent color sequence, too. When training a member base with a wide range of fitness levels and goals, visual cues that help with rapid equipment identification are always useful. Small fitness successes are key to keeping members engaged, and "moving up a color" is a great, tangible win that clients will love.
Goal setting will also benefit from our signature color palette. If a client has a specific goal, trainers can have a visual reminder to communicate where that client is currently functioning, and how far they still need to go to achieve that goal.
Our best keeps getting better
Each of our redesigned core products are a collective presentation of Power Systems best engineering, making them the highest quality you can put in the hands of your members.
You can Count on Power Systems to keep creating innovative, durable and thoughtfully designed fitness tools.
Think what the practical and stylish core refresh products can do for your facility! Get this new look today!