As the fitness industry continues to evolve, so must the equipment. The growth and popularity of quick and efficient HIIT and total body workouts has created a growing demand for innovative products that inspire new functional exercises and movement patterns.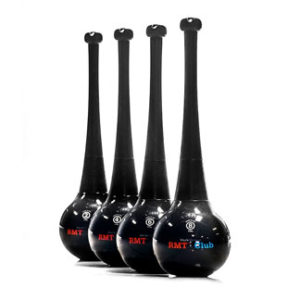 Why does innovation matter to the fitness community? Just as we rush to get the latest version of the iPhone, everyone from fitness professionals to enthusiasts are drawn to the newest, latest, and greatest training programs and equipment. Not to mention the fact that nothing inspires next level effort from your clients and boosts your creativity for programming quite like a new training tool.
Over the past few years, we have seen training tools new and old make their way into training programs for athletes of all fitness levels. Items like kettlebells, battle ropes, foam rollers, and plyo boxes that were typically reserved for professional and competitive athletes have now made their way into mainstream fitness facilities as well as individual and group training sessions.
We can't wait to introduce you to the next generation functional training tool– the RMT® Club by WeckMethod – designed to enhance functional strength, mobility, balance, coordination, and power. Rotational Movement Training helps break through plateaus, prime the body for movement, and unlock the strength and mobility of the non-dominant side. The universal application of this training tool makes it the perfect addition to any training space as it is easily adaptable across all fitness populations from athletics to rehabilitation.
Upon first glance, the RMT® Club is often compared to the Indian club – however, its durable design, one-of-a-kind construction, and universal application makes it quite different.
Reinforced handle with rubber grip & urethane club head – facilitates non-intimidating form and function for all fitness levels
Dynamic shifting weight – perhaps its most innovative quality – allows for a quick transfer of energy and change of direction as you move through unique exercises and movements that only the RMT® Club can produce
Each RMT® Club comes with access to a full library of training tools to help you maximize your training program and hand pick specific movements for you and your clients' individual needs.
Training DVD with detailed instructions on 21 foundational exercises
Full 40-minute workout
Online access to additional videos, sport specific workouts
Exercise wall chart
A product of this kind needs unique programming to unlock its full potential. You can see the RMT® Club in action at the Power Systems Booth at the IDEA World Fitness Convention in Las Vegas, July 20 – 22. Or earn CECs and experience more comprehensive programming in the Power Systems sponsored RMT® Club education session. This session, led by RMT® club and BOSU® ball inventor David Weck, will introduce innovative programming that explores new avenues in functional training, exercise progression, and gym application.
If you can't make it to IDEA World, don't worry! Check Power Systems, LLC on YouTube and follow us on Facebook and Instagram to see where we will feature the RMT® Club next.