The Step360™ Pro is the single piece of equipment that will change the game for any training session. From small & large group training to one-on-one sessions, studio and specialty classes, the Step360™ Pro will take any training program to the next level.
Enhances Nearly Every Training Style
Add balance and core training to any group training program: cardio, strength, HIIT, Barre, Active Aging, athletic power & agility training and so much more! The Step360™ Pro is also a great tool for personal trainers working one-on-one with clients on everything from corrective exercise to balance training, and strength endurance to core activation. Simply adding this training platform to any exercise or class will provide a totally different feel and training dynamic that your members have been waiting for!
Provides Variable Balance Training
The Step360™ Pro features an even, non-slip training platform situated on top of two air-filled chambers. The separate base rings allow you to adjust the balance challenge to meet the goals of your clients and classes. Fill both chambers to create a minimal balance challenge – or create a more unstable training surface by partially filling one or both of the red base rings with air.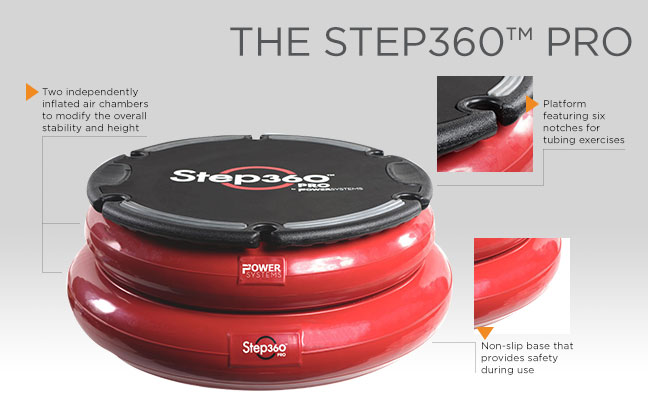 The level platform allows the user to maintain neutral spine and foot placement as if standing on flat ground but with an additional balance challenge and bonus core activation.
Accommodates Users of All Fitness Levels
The dual inflatable base rings also allow you to adjust the training height of the platform. Inflate only one of the two rings to lower the platform height to accommodate beginners. The level platform allows the user to maintain neutral spine and foot placement as if standing on that ground but with additional core activation and balance challenge. Also, the base rings provide a joint-friendly landing surface for the jumping and bounding movements of your more advanced users.
Pairs Easily with Your Favorite Training Accessories
The Step360™ Pro features six evenly spaced tubing notches making it easy to perform closed-chain resistance band exercises on the platform. Perform medicine ball or dumbbell exercises on the Step360™ for a progressive, open chain exercise challenge.
Take your traditional floor based movement, strength training, HIIT, and specialty classes to the next level with the Step360™ Pro.
See It In Action
Explore the versatility of the Step360™ Pro on the Power Systems You Tube Channel. Here you will find a Step360 Exercise Playlist featuring a variety of exercises and full workouts.

This post was originally published on January 19, 2018 and updated on May 6, 2019.