In the days leading up to America's Birthday, I received an invitation from a friend to participate in "Hero Week" at a local CrossFit Box. This was an Open House event leading up to Independence Day weekend in which this "Box" chose host workouts honoring six fallen American Soldiers. I have participated in a couple of Hero WODs (Workout of the Day) before and I knew how tough they were so I was a little reluctant to participate in an entire week; however, I managed to make it to two.
For those of you whom have ever thought about trying out a "WOD" or a "Box", here is a rundown of what you can expect. I set my alarm for 4:45 AM on Thursday morning, but don't worry they offer classes all day long if early isn't your thing. I wish I was a morning person, but occasionally I will skip watching Jimmy Fallon to prioritize my workout. I was met by some familiar faces and welcomed by the unfamiliar. I was surprised as I could be at 5:30 AM to be met with such enthusiasm.
After a playful "shoe game" group warm up, the coach gathered us around to go over "Adrian".
This Hero WOD is in memory of U.S. Army Sergeant First Class Adrian Elizalde, who passed away at the age of 30 in Iraq on August 23, 2007, from wounds sustained from an improvised explosive device.
"ADRIAN" – 7 rounds for time of:
3 Forward Rolls (yes, those are summersaults)
5 Wall Climbs (walking your legs up a wall with hands on the ground, ending in a handstand position against the wall)
7 Toes to Bar
9 Box Jumps, 30" box
I do not have anything close to a gymnastics background so the idea of doing somersaults and handstands for a workout, let alone at 5:30 AM had me wishing I could execute the "go to the bathroom and not come back" escape plan. However, in the spirit of Hero Week, I accepted the challenge and despite the photo here I think I even smiled a few times.
I made it through the rest of Thursday and Friday feeling great about my somewhat acrobatic debut and decided that I'd go back on Saturday to start my Independence Day weekend off right.
The final WOD of "Hero Week" was set to honor a local fallen US Army Ranger, Corporal Ryan C. McGhee. He was killed in action at the age of 21 by small arms fire during combat in central Iraq on May 13, 2009. The July 4th Hero WOD was more like an event with 40+ participants and their family members to cheer them on during the one of two heats as well as a very special guest speaker, Ryan McGhee's mother.
Ms. Sherrie Battle McGhee started the day by speaking very proudly to the rather large group about her son and his journey to fulfill his dream to become a US Army Ranger. Needless to say, after she spoke there wasn't a more motivated yet tearful bunch of folks ready to accept the McGhee Challenge.
After pulling ourselves together, we did a group warm up and then split into two groups that would become Heat 1 and Heat 2. I fell into Heat 1 and was more motivated than ever to go to work.
"MCGHEE":  30 Minute AMRAP (As Many Rounds As Possible)
5 Deadlifts
13 Push Ups
9 Box Jumps
The countdown started 3…2…1… GO! Music blaring, weights clangin' and bangin', random yells of encouragement, high 5's all around; this is what I came for! But at some point, in the middle of all that noise, through the aches and pains, over the grunts and gasps, there comes this euphoric sensation that allows you to push harder through your fatigue to honor the fallen. I look up and make eye contact with another, we fist bump and nod at each other as if to say, "come on, we got this". When the buzzer sounds indicating that our 30 minutes was up, I fell to my knees with a sigh of relief and a happy heart that we had completed a workout for so many of those who no longer can; not just the fallen, but the wounded.
I believe I have started a new tradition to kick off my Hero Holiday Weekends from now on. I enjoyed it so much that I've now been there, done that, AND bought the T-shirt!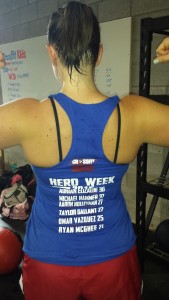 It is common for Crossfit Boxes all over the country to honor our fallen heroes on Military Holidays. Memorial Day is typically the time of year this community honors US Navy Seal Lieutenant Michael P. Murphy. His life is portrayed in the 2013 film Lone Survivor, but in case you didn't see that one (or in my case, can't bear to watch) here is a quick summary.
Lieutenant Michael P. Murphy posthumously received the Medal of Honor, the Silver Star, and the Purple Heart for his actions during the War in Afghanistan. Lieutenant Murphy was killed in action on June 28, 2005 at age 29 after exposing himself to enemy fire and knowingly leaving his position of cover to get a clear signal in order to communicate his unit's location to headquarters for retrieval.
"MURPH" – For time – the runs must be first and last, you can break down the exercises as you like:
1 mile Run
100 Pull Ups
200 Push Ups
300 Squats
1 mile Run
There are currently over 100 Soldiers honored in Hero WOD's on CrossFit's Website. It made me wonder,
"How are these men and women chosen?" "What are the qualifications?" "Can you nominate someone?"
So I reached out to CrossFit HQ and was met with a quick response.
These are the requirements to create a Hero WOD.
The Hero had to be killed in the line of duty.
The Hero must be a known CrossFitter.
The Memorial workout must be requested by colleagues.
The Hero's surviving family needs to bless our memorial WOD.
We will need a high resolution photo of the Hero that is generally 1600 pixels by 1200 pixels.
The date of the Hero's death.
The Hero's rank and nickname.
The Hero's spouse and children.
The Hero's favorite workout or exercises. Please let us know what those are as we will take that into consideration when creating a WOD.
If you have a fallen hero that you would like to honor with a Hero WOD, contact CrossFit HQ with the information above at www.crossfit.com or email [email protected]
Resources: