SCW MANIA – 2017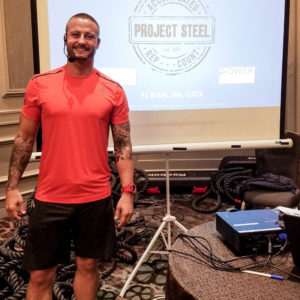 We were very excited to start the year off with a bang as we rejoined SCW MANIA as the Premiere Sponsor! SCW has been supporting industry professionals with continuing education opportunities through MANIA Conventions, certifications, and on-demand programming for 30 years! Power Systems was delighted to support SCW not only by supplying equipment for all eight MANIA events, but also to sponsor education sessions on a variety of topics from group training to corporate wellness, plyometrics to program design, and much more!
Each MANIA event brings together regional fit pros from group fitness instructors and personal trainers to club and studio owners for a massive weekend of education, inspiration, and perspiration! The energy of this group is infectious, and we had a blast all year long!
IHRSA – March 2017 – Los Angeles, CA
Fitness professionals from all over the world come together to learn, network, and experience the latest in fitness technology, management, equipment, and leadership at IHRSA's Annual International Convention & Trade Show. This year at IHRSA, we expanded upon Power Your Potential to "We Provide the Tools, YOU provide the RESULTS".
Our goal was to create a booth experience that was welcoming to anyone wanting to witness or experience the latest Power Systems tools though demonstrations from our Power Systems Master Coaches. PJ Stahl debuted his very own steady state, group training program Project STEEL™. Our early morning workouts featured group training superstar PowerWave and an athletic based circuit complete with coaching tips from Power Systems Master Coach Bennie Wylie, Jr. Yancy Culp issued one Obstacle Course challenge after another – along with the other coaches – featuring our new products the 2-in-1 Flip & Plyo, the Vault Box, the Pro Elite Medicine Ball, the HiTrainer, and our expanded line of XD Kevlar products.
We were extremely honored and thrilled to hear that Power Systems had been selected as a IHRSA 2017: TRADE SHOWstopper & would be featured in the June 2017 edition of CBI Magazine. We may have set the bar high at IHRSA 2017 but look forward to raising it year after year.
However, the biggest highlight of the IHRSA Convention is always Augie's Bash – and this year was no different! We always look forward to the opportunity to support Augie & Lynne Nieto in their quest to cure ALS. This is a tremendous event where the entire industry comes together to contribute and celebrate the funds raised to benefit Augie's Quest.
IHRSA Institute – August 2017 – Chapel Hill, NC
This year was our first ever as a sponsor for the IHRSA Institute. We were honored to participate in this special event that brings together a small group of fitness professionals to learn from industry experts and college level professors. The real-life examples, in-depth conversations, and round table discussion topics gave us the opportunity to learn how Power Systems can become a better resource for the industry. The knowledge gained and professional relationships that were developed over this weekend are truly priceless.
IDEA World – July 2017 – Las Vegas, NV
Proclaimed the "Super Bowl of Fitness", the IDEA World Convention is 4 days of education, networking and motivation for over 14,000 fit pros, club & studio owner/operators and nutrition professionals. 2017 marked IDEA's 35th Anniversary and what better place to celebrate than Las Vegas!
IDEA World 2017 had several standout moments including the launch of our newest, exclusive product the Axle Barbell. The demos had many uttering "ooohs" and "aaahs" over the Axle's innovative design and group programming. Every square inch of our booth was packed during the Axle demos led by creator, Andrew Page.
Power Systems also participated in the first ever IDEA World MEGA Circuit. This was another opportunity for attendees to try out new tools and programming from Power Systems as well as 17 other equipment companies in a high energy, rapid fire workout.
Our featured presenters were Power Systems Master Coaches Bennie Wylie, Jr. & PJ Stahl and fitness industry innovative giant, David Weck. These sessions covered hot topics such as steady state training program design, applying athletic coaching principles to a large group training program, and rotational movement training.
Club Industry – October 2017 – Chicago, IL
This year, Power Systems was the Premiere Platinum Sponsor for the Club Industry Show. Held each year in Chicago, IL – this event brings together every segment of the fitness industry to build, strengthen, and cultivate relationships in educational sessions and on the trade show floor.
We were also proud to sponsor the Active/Personal Training Track of educational sessions that featured presentations from Team Power Systems. Bennie Wylie, Jr. gave his insights on how to grow from Small Group Training to Large Group Training by applying athletic coaching principles. Yancy Culp provided insight to the sport of OCR and how Obstacle Course Specific Training can add to a facility's bottom line.
AB Show – November 2017 – Orlando, FL
The annual destination for athletic, fitness, and recreation professionals is the Athletic Business Show. Attendees visit the trade show floor between education sessions to experience the latest in technology, equipment, and innovation. They can even stretch their legs by participating in a live workout on the demo stage or practice their basketball skills on the free-throw court.
This year, we sponsored an early morning workout on the demo stage led by Power Systems Master Coach Yancy Culp. This obstacle course training specific circuit was jam packed with equipment and innovative exercises that challenge and inspire.
We continued to spread our message of "we provide the tools, you provide the results" in our booth by hosting an open functional training space that welcomed product demonstrations and interaction with our team.
At Power Systems, we are truly powered by our customers. Every year we look forward to going on the road to meeting new and existing customers and catch up with our colleagues – ALL of which are our extended #fitfam. We look forward to serving and connecting with you all in 2018!