Power Systems honors veterans on Memorial Day through Catch A Lift
This weekend, Power Systems had the opportunity to team up with the nationwide, veteran-based charity known as Catch A Lift. With Memorial Day right around the corner, we saw as this as an ideal way to express gratitude toward the men and women who have served the United States, as well as give back to them through a company that shares Power Systems' passion for health and fitness.
Catch A Lift aims to serve post-9/11 wounded veterans by helping them improve their health through fitness and motivation. Founder of Catch A Lift Lynn Coffland started the organization in 2010 as a tribute to her brother, Army Cpl. Chris Coffland who was killed in Afghanistan the year before. After this tragedy, Lynn created Catch A Lift to help other post-9/11 veterans who had been wounded in combat heal and find new versions of themselves. By assisting veterans regain their lives and health through fitness, Catch A Lift has had a direct impact on veterans both losing weight, and achieving enough mental health improvement to be taken off of multiple prescription medicines.
"We help veterans who are seeking a new outlet for post-traumatic injuries," Lynn Coffland said.
In order to assist veterans looking for the chance to enhance their physical and mental health, Catch A Lift provides them with gym memberships, fitness programs, or in-home gym equipment; however this organization does not stop with these services. Not only does Catch A Lift provide veterans the products that they need to restore their health, but they also track the veterans' progress to ensure their success. Veterans who are involved with Catch A Lift are held accountable by the MAPS Program. In MAPS, veterans support each other in small groups that offer motivation, accountability, and peer support.
"When veterans help other veterans in MAPS, they go from being served to serving other veterans, which in itself is a huge healing mechanism," Coffland said.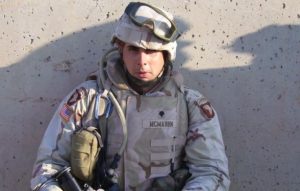 Retired first class Army SGT Jimi McMahon said that he was able to change his life by getting involved with the Catch A Lift organization. Before finding Catch A Lift, McMahon suffered severely from PTSD. Due to the post-traumatic stress, he began distancing himself from his family and friends until found complete solitude by moving to the woods for a year. During this time, he was on 18 different prescription medicines, and then he found Catch A Lift.
"I started off day by day, little by little and I lost over 300 pounds," McMahon said when describing his transformation to better health.
McMahon's PTSD also improved and with the emotional support Catch A Lift offers, he was able to dwindle his 18 prescription medicines down to three.
According to Coffland, over 70 percent of veterans are overweight, and Catch A Lift is currently working with 2500 wounded veterans all over the nation. The program is in such demand however, that Catch A Lift continues to receive over 200 applications a month. Depression, anxiety and the "feeling alone and dark" is radically reduced through their fitness regiments.
Coffland said she often hears veterans involved with Catch A Lift remark, "I'm motivated to be healthy again."
About 90 percent of donations made to Catch A Lift are given back to the fitness and support programs offered to veterans. Power Systems is thrilled to be able to help make a difference in the lives of those who have given us our freedoms.