One thing that both coaches and athletes can agree on is that when it comes to athletic training and performance – metrics matter!
The difference between first and second place can be as close as millimeters or even milliseconds. From a single rep max on a variety of Olympic lifts, to highest box jump, to 40-yard sprint time – metrics are crucial to coaching athletes of all levels to success.
With the speed of technology advancing its way into every aspect of fitness and performance, measuring the progression through a training program is easier and more precise than ever. There are many sprint trainer treadmills on the market now – but there is only one non-motorized treadmill that puts the user in drive position and provides real time readouts of performance metrics. Let's take a closer look at the HiTrainer™ – now available from Power Systems.
DRIVE POSITION – PATENTED TECHNOLOGY
As a runner transitions from stationary to sprinting, the drive position allows the runner to exchange their potential energy to kinetic energy with maximum efficiency and is characterized by leaning forward into the sprint with their entire body. This puts the sprinter in triple extension of the hip, knee, and ankle with each stride allowing their foot to hit the ground behind their hips.
The HiTrainer™ features ergonomically designed chest pads which are easily adjustable to the user height and feature a patented design that respects the natural form of the sprint acceleration phase. While in motion, the user leans against the chest pads, drives forward with proper spinal alignment, and maximizes triple extension with every stride. This position engages the posterior chain activating the prime movers of forward propulsion and is the preferred position to achieve maximal intensity.
REAL TIME DATA COLLECTION
The HiTrainer™ is the only sprint trainer that provides real time, detailed feedback on acceleration and left side vs. right side power outputs. The sprint time is tracked with ultimate precision, eliminating the user error associated with a stopwatch. This data can be analyzed by a trainer or a coach to detect muscular imbalances and help prevent or recover from injury.
The HiTrainer™ is available in three models – each one is self-propelled and features the patented chest pads to maximize drive position and real time data collection. Check out the differences between each model and determine which one will meet the needs of your facility.
HiTrainer ATP – The Ultimate Conditioning Tool

Who is using it? The new HiTrainer ATP technology empowers everyone, from fitness enthusiasts to elite athletes, to train to their full potential by peaking the metabolism in super-efficient cardio and strength training sessions. Coaches and trainers who include the ATP in their program love its versatility – for conditioning, rehab, weight management or fitness evaluations – users can choose from walk, sprint, interval or sled protocols.
Features:
Pre-programmed walk, sprint and interval protocols add new variety to your programs and are a great warm-up tool
Short workouts mean quick user turnover
The perfect anchor for circuit and group training
Versatile use from weight loss to athlete conditioning
Compact footprint for sprint and sled training
Real-time feedback on average speed, peak speed, time to peak speed, distance, and time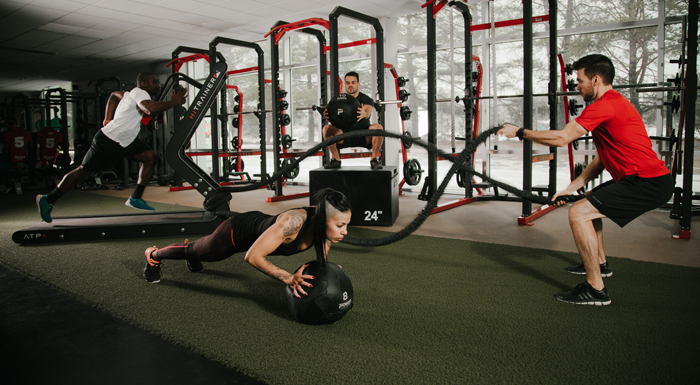 HiTrainer ATP+ – Key Data on Power and Acceleration
Who is using it? The ATP+ option provides power and force readings driven by the addition of precise sensors behind the chest pads. This data is very useful for coaches and athletes looking to improve speed, acceleration, power and balance.
Increase Client Retention by:
Using the detailed performance evaluations to increase private training sessions and revenue
Demonstrating progression and correct problems using the data from periodic assessments
Putting visibility on your training techniques as you work with objective data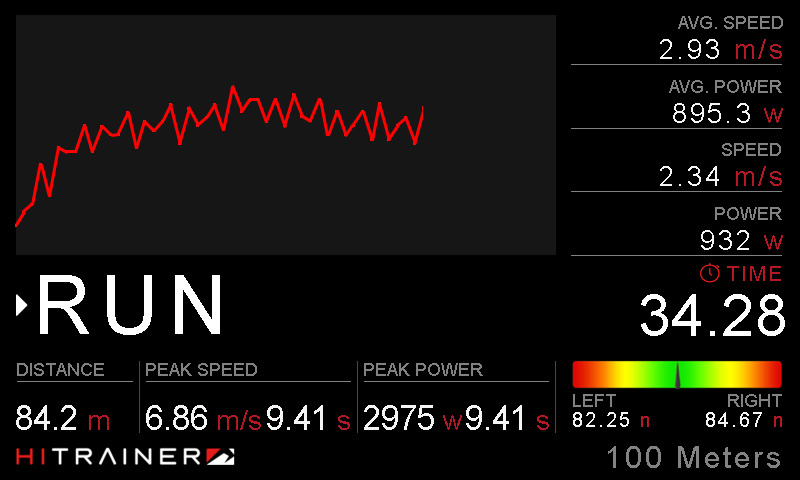 Features all of the ATP data real-time feedback 'PLUS':
Left side vs. right side forces (Newtons) via the additional precision sensors behind the chest pads
Peak power (Watts)
Time to peak power
Average power (Watts)
HiTrainer Pro – Leading Edge Performance Data
Who is using it? Professional and collegiate teams, coaches, trainers, and players – including the Tennessee Titans, the Dallas Mavericks, the Detroit Red Wings, and Ohio State University. The advanced measurement tools capture extensive data that allow elite sport coaches and rehab professionals to benchmark and maximize training protocols. This comprehensive data will not only allow coaches to improve sprint performance, but also reveal hidden weaknesses in performance.
Gain the Extra 1% Competitive Edge with Comprehensive Real-Time Feedback:
All ATP and ATP+ data collection capabilities
Fatigue index
Left side vs. right side power output
Time to peak speed
Reaction time
Automated chest pad positioning
Customizable PRO evaluations – specific measurements of speed and power outputs against various sprint and high-intensity interval workouts detail explosiveness, acceleration, fatigue, and balance
Online interface and logging feature allows trainers to monitor progress and demonstrate development
If you are ready to dramatically improve your athletic conditioning and rehabilitation program – the HiTrainer™ is the perfect solution. Try out the HiTrainer™ on the road with Power Systems at various events this year or contact us for more information.