About the PowerWave
Designed to maximize both your time and health, the PowerWave is a revolutionary multi-functional training training device. The PowerWave is a great place to start if you're re-engaging with your fitness journey. Paired with the free PowerWave™ Fitness App – now available on iTunes and Google Play – you will have access to goal-specific 20 minute total body high intensity workouts, anywhere you want to go, on your own schedule, perfect for those looking to jump start their fitness routines. Designed for both the home gym and large training facility, the PowerWave App offers a wide variety of targeted workouts, instructor training, nutrition tips, and more. The PowerWave™ is not your average sandbag or Bulgarian bag — unique features are built in to help you maintain proper body alignment as you maximize caloric expenditure. This unique, functional training tool is dynamic enough to serve as the centerpiece or a supplement to your existing fitness programs. The PowerWave™  can be used alone or paired with other tools for a well-rounded HIIT workout. Use the Super (15 lbs.) or the Spartan (25 lbs.) alongside battle ropes, kettlebells, and slam balls for a dynamic functional training circuit.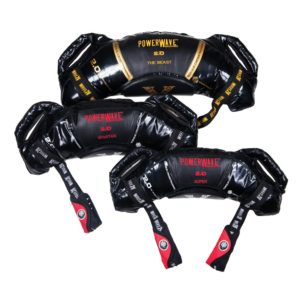 The PowerWave is available in 3 sizes to meet any fitness level or goal:
The SUPER – 15.4 lbs. – Recommended for novice users at a beginning level of fitness.
The SPARTAN – 26.4 lbs. – Recommended for intermediate users at a base level of fitness.
The BEAST – 44 lbs. – Recommended for advanced uses at a level of fitness which requires a high output to achieve results.
A few of each size can add variety to your circuit training and boot camp classes – or chose the class pack option if you are looking to accommodate 10 or more users at a time. Interested in becoming a PowerWave certified instructor? Check out SCW Mania for information on how you can get certified at shows all over the United States.
The PowerWave App
The PowerWave App allows you to access several workout programs including Wave20 and Beast Reps. That's over 20 pre-formatted workouts right at your fingertips. Each workout features detailed instructions, music, and cuing to keep you right on track. With the app you can download workouts to access in locations with no WiFi so that you will never miss a workout!
With the PowerWave App You'll Get:
Goal-Specific Workouts
Sample Nutrition Plans and Recipes
Facilities & Licensed Instructors near you hosting PowerWave™ classes
Download Workouts within the app for offline use
Announcements & updates on exciting new products, events, and workouts
PowerWave Workouts from Power Systems
Check out these workouts from our Education Coordinator, Elisabeth Fouts, plus Master Coaches PJ Stahl and Yancy Culp for inspiration on what kind of workouts you can do with the PowerWave. Be sure to follow us on social media and the blog for new PowerWave Workouts!