Time and health are two of our most valuable commodities, and yet, they are the ones that many of us find we are in short supply of. Time (or the lack there of) is one of the top reasons we start to abandon our commitment to fitness around this time every year.
We put so much time and effort to nurture our families, our friends, and our career – but never stop to take the time for ourselves.
For example, you wouldn't hesitate to stay 20 minutes late after work to meet a deadline. You would be happy to take a 20-minute coffee break for a friend in need. But you continue to make excuses as to why you can't take just 20 minutes a day for yourself. But if you don't, all those whom you take care of now, might soon be taking care of you.
Over a lifetime, twenty minutes a day of physical activity can literally be the difference between life and death. According to the World Health Organization,
"Insufficient physical activity is 1 of the 10 leading risk factors for global mortality and is on the rise in many countries… People who are insufficiently active have a 20% to 30% increased risk of death compared to people who are sufficiently active."
If you haven't been able to settle in to a regular workout routine because you simply don't have the TIME – guess what? Twenty minutes is less than 2% of your day, but still plenty of time for a workout.
But you might be thinking, "that's not enough time to get a good workout in". Don't worry – we have just the solution for you.
The PowerWave™ was created to provide all fitness levels with a comprehensive and adaptable training device that can be used ANYWHERE!
It comes with online access to multiple 20 minute programs that can complement any fitness goal:
Reduce body fat and tone up
Increase cardio and muscular endurance
Increase muscle strength and size
POWERWAVE™ PROGRAMS
These on-demand exercise videos take the guess work out of building a quick and effective workout.
Wave 20: The 20 Minute – Body Toning, Fat Burning Circuit Training Workout
At the heart of the PowerWave is the Wave 20 program. This high intensity interval training (HIIT) workout features 20 rounds of functional movements that will unleash explosive core strength & physical endurance. Each metabolic workout is powered by customized music and timers specifically designed to drive maximum performance.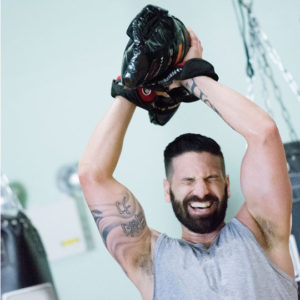 Beast-REPS: The 20 Minute – Lean Muscle Building Workout
Get the muscle strength you are looking for with the lean muscle gain to match! Beast-REPS™ pairs targeted upper or lower body strength training with built in timers to control total time under tension and repetition rate. The customized music and timers are synchronized with a metronome beep prompting you when to perform each rep. The challenge comes as you strive to maintain the rep rate as the muscles fatigue. Perform each rep with precision and control and KEEP UP!
This is not your average sandbag – the PowerWave™ has unique features built in to help you maintain proper body alignment as you maximize caloric expenditure.
What makes the PowerWave™ so unique?
Keystone – Serves as the pivotal point of the PowerWave™ and provides the structural balance to facilitate proper posture and alignment during exercises. The majority of the weight of the PowerWave™ resides here, providing increased resistance and a greater level of centripetal force experienced during circular and swinging motions.
Handles – Located on the spine of the PowerWave™, with anti-rip construction, the durable reinforced handles add thousands of possibilities for new and challenging exercises.
Straps – Heavy-duty, triple wave straps that withstand the G-force you create with the momentum of the PowerWave™.
Thermo-Gel Pad – Temperature responsive gel pad shielded by perforated leather and helps maintain the catabolic rate of energy release for an increased calorie burn.
Grip Tracks – Removable padded straps with thermo-gel allow for multiple grip positions that comfortably support the wrist.
The PowerWave™ is available in 3 sizes to meet any fitness level or goal: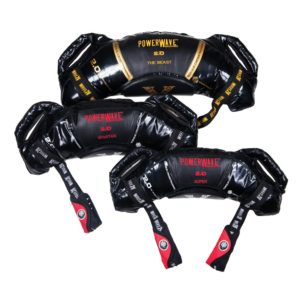 The SUPER – 15.4 lbs – Recommended for novice users at a beginning level of fitness. Use with the Wave 20 workout program to achieve muscular endurance along with a tone and lean body.
The SPARTAN – 26.4 lbs – Recommended for intermediate users at a base level of fitness. Use with the Wave 20 workout to achieve muscular endurance and lean muscle tone. Use with the Beast-Reps program to develop muscular strength and definition.
The BEAST – 44 lbs – Recommended for advanced uses at a level of fitness which requires a high output to achieve results. Use with the Beast-Reps workout to develop muscle strength and muscle mass gains.
Twenty minutes a day with a PowerWave™ is all it takes to achieve health benefits and reach your fitness goals all while you maximize your workout time.