Achieve your best body with Jump Rope training! Jumping ropes is more than just child's play these days. You can build muscle, lose fat, and sculpt the body you have always wanted with one of the most convenient and portable workout tools.
At Power Systems we have a variety of ropes you can pick from and add to your workouts:
---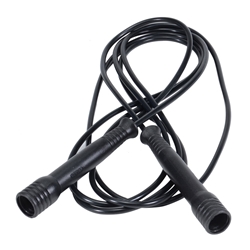 Speed Rope: Our Speed Ropes is a rope built for speed, agility, and cardio training. Find out more >>
---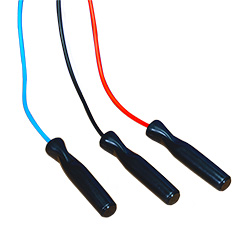 Pro-Vinyl Jump Rope: Molded PVC handles with radial ball bearings for smooth fluid movement. Find out more >>
---
Airope: Improve your skills without the hindrance of jumping over an actual rope! Find out more >>
---
Revolver Rope: Both an aluminum and plastic option – THE fastest rope on the market! Find out more >>
---
How do you determine the correct length of a rope for you?
Step with one foot into the middle of the rope. Bring your hands up towards your chest. Place your hands underneath your armpits (the ropes should be semi-taut). The length of the rope measured form one hand to the other is the recommended rope length for your height.