In 1989, Reebok took the fitness industry by storm with the launch of the Reebok Step and step aerobics programming. The Reebok Step quickly became a fitness studio essential and went on to revolutionize studio aerobics by offering a "step up" from the traditional floor-based movements. Since then, the design of the step has changed and evolved to meet the demand and the latest studio programming needs.
Free Resource: Learn 10 moves for the Reebok Power Deck: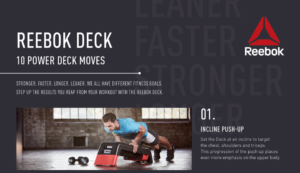 Now, the Reebok Step is the centerpiece of a more comprehensive group of products in the Reebok Studio Series. Now you can refresh or build out your studio space with a consistent look featuring a trusted fitness brand. Streamline your studio space with Reebok products designed for Step Classes, Yoga, Functional Training, Boot Camps, and more!
Discover the Reebok Studio Series