Our line of Plyo Boxes is extensive, from standard boxes to foam, we've got a little bit of everything. Not only do we have a variety of boxes for everyday use, we also have specialty boxes, designed with you and your clients in mind to get the most out of your training program. The Foam Vault Box does just that. From athletic training to everyday gym goers, plyometric training is only continuing to grow in popularity. The Foam Vault Box is ideal for those looking to add a unique and versatile plyo box to their facility.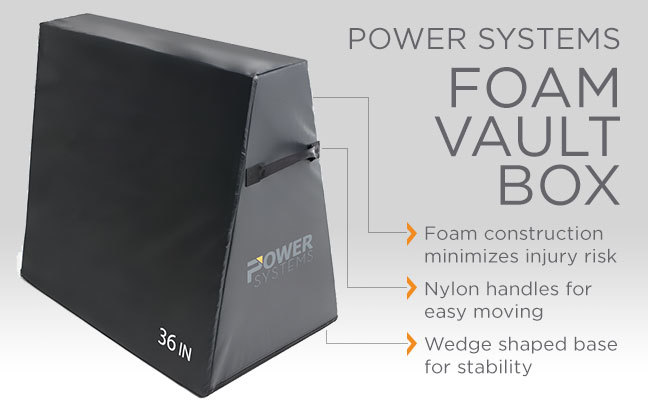 The Foam Vault Box is three feet high, perfect for training your athletes to jump or vault over obstacles while staying safe. The solid, sturdy foam is covered with black vinyl to eliminate any sharp edges and minimize injury risk. The unique wedge shaped box is larger at the bottom creating a sturdy base that can withstand being hit. Not only is the Vault Box great for jumping, it can also be turned on its' side for a variety of other training exercises such as tricep dips, lunges, push ups, mountain climbers, and so much more!
Sturdy, durable foam construction minimizes injury risk
Lightweight and portable for use in a facility or outdoors
Non-slip vinyl covering for stability
Nylon handles for easy moving
Use for a variety of exercises including jumping, vaulting, lateral hops, and more.
Check out the Foam Vault Box in action for workout inspiration: