GRANITE SERIES – THE BEDROCK FOR HARD CORE STRENGTH TRAINING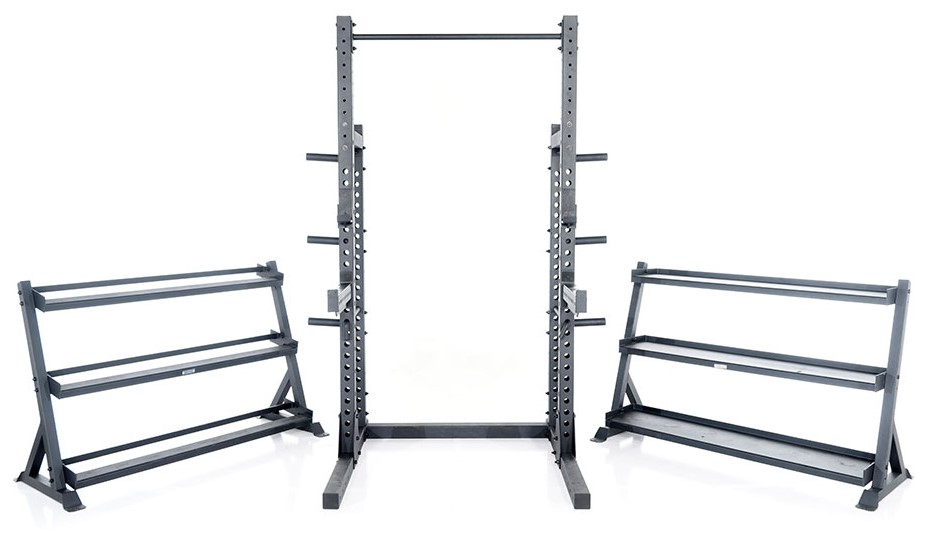 The Power Systems Granite Series provides hard working equipment and storage solutions for the toughest training environments. Straightforward design and commercial grade construction makes the Granite series the perfect choice for high volume athletic training rooms, strength & performance facilities, and heavy-duty garage gyms.
Each piece in the Granite Series is built with heavy gauged steel components and finished off with a powder coated textured finish in matte black. Three solid pieces engineered to support the heaviest loads.
GRANITE SERIES HALF SQUAT RACK
Provides the perfect foundation for strength programs of every level. The simple, clean lines of the Half Squat Rack come together with butted steel plate welds for maximum performance and durability.
Each Granite Half Squat Rack includes:
2 – J-Hooks
2 – Spotter Arms
2 – Pin Pipe Pegs
6 – Weight Plate Storage Pegs
1 – Pull-Up Crossbar
Measuring in at roughly 4 ft. wide, 4 ft. deep, and 7.5' tall – the Granite Half Rack is sized to maximize the square footage of your strength training space. The uprights feature Westside Barbell hole spacing pattern to offer a variety of lift starting positions without impacting the structural integrity of the rack.
Need more than just the Squat Rack? Not to worry, we have everything you need to stock a lifting program. Complete your training space with some of our most popular strength training equipment & accessories.
Add more versatility by attaching the Revolver to our Granite Half Squat Rack – it's a perfect match!
Love the industrial Granite look? Coordinating kettlebell and dumbbell racks will round out your weight room. Both racks feature three tiers of sturdy, durable powder coated steel shelving and holes in the feet to bolt to the floor for added security. The racks will hold up to 25 kettlebells or 10 to 20 pairs of dumbbells – all depending on sizes and weights. The kettlebell rack has the additional feature of rubber mats to protect kettlebells and dampen noise.
GRANITE SERIES HORIZONTAL KETTLEBELL RACK
GRANITE SERIES HORIZONTAL DUMBBELL RACK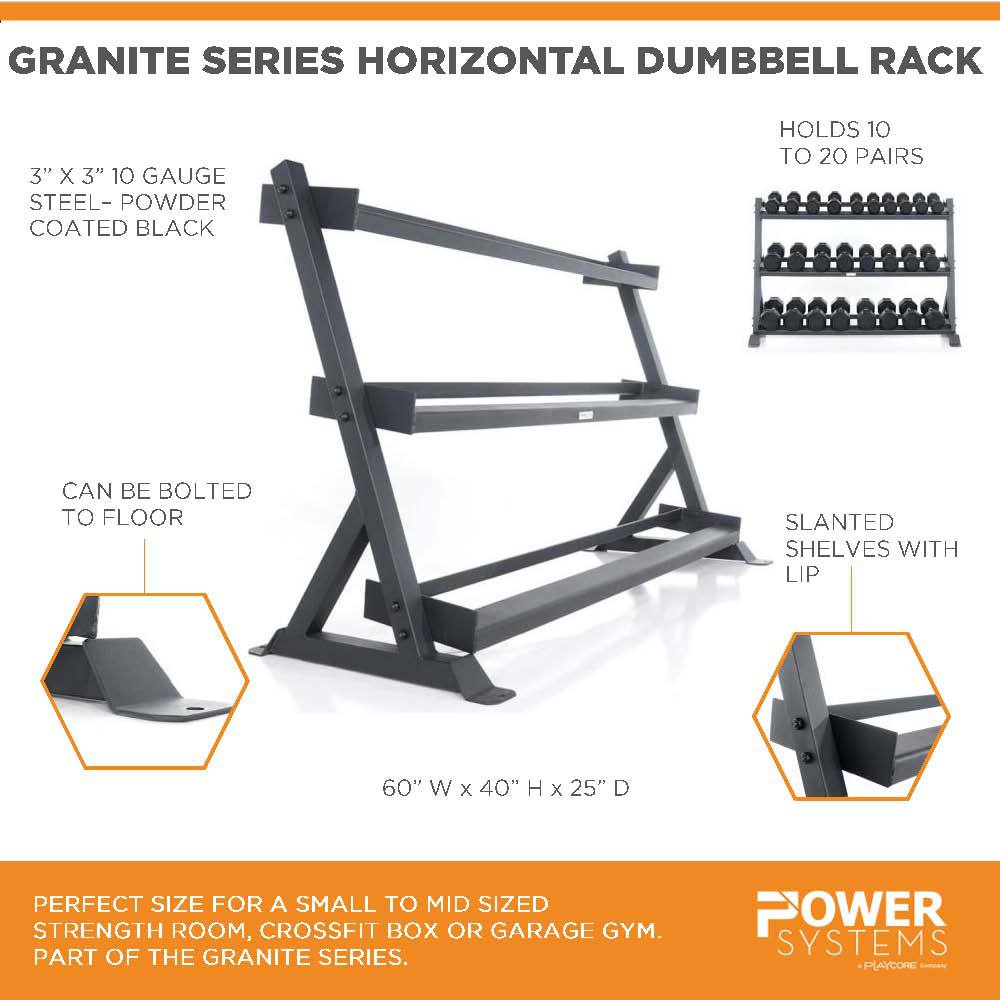 Here are some of our most popular items that fit perfectly with the Granite Series:
Premium Kettlebell Prime: Popular kettlebell choice for studio and group training programs for its smooth vinyl covering to dampen noise and protect floors from scuffs. The color-coded premium vinyl helps identify the weight at-a-glance. Weights are clearly marked from 5 – 50 lbs.
Kettlebell: Traditional fitness favorite – black cast iron kettlebells in 19 weights, from 5-100 lbs. Handle size varies according to the size and weight of the kettlebell.
ProElite Competition Kettlebell: The updated design combines form and function. The uniform size of the Competition bell (5.5" W x 11.1" H x 33 mm. handle) creates consistency in movement patterns and helps you train with uniform technique as you transition to heavier weights. Sixteen weight options, from 8 –44 KG, color-coded by a stripe on the handle. More weights available soon!
Rubber Octagonal Dumbbell: Cast metal heads encased in thick rubber to prevent damage to the weights, floors and other equipment. Ergonomic knurled handles and durable, octagonal heads make these a popular choice for commercial or home weight rooms. Twenty-seven weights available, from 3 to 100 lbs.
We stock the Granite Line in our warehouse – the storage racks ship via ground in four boxes each, the Squat Rack ships in 5 boxes. Two or more Granite products would ship via freight carrier.
Need something more comprehensive? Our facility design team can help you decide which of our storage solutions will work best for your needs.
Let us know the dimensions of the storage space you have available along with the type of equipment you need stored, and we will take care of the rest. Our team has over 25 years of experience designing fitness spaces and is ready to jump in as your facility design partner.