As strength and conditioning continues to evolve, so must the equipment used by coaches and facilities. Successful athletic training programs feature traditional weight training principles integrated with functional and flexibility training techniques. These training cycles are programmed in a cyclical fashion based on the season of the sport.
The new RMT Club is the perfect device to use to partner functional training with sport-specific movements. Rotational Movement Training can develop improvements in strength, rotation, and ambidexterity as it is designed to be used on both the dominant and non-dominant sides of the body.
The RMT Club's unique design not only makes it extremely versatile but also allows an athlete in any sport to perform a wide range of exercises from mobility to strength and conditioning. While you can still perform traditional Indian club training movements with the RMT Club – it is far more advanced in design and application.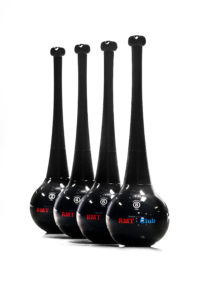 Flexible, Durable Club Head – Built to absorb maximum impact when training on padded surfaces. Also, reduces the chance of injury to the user and limits wear and tear on the facility floor and equipment.
Strong, Ergonomic Handle – Allows for multi-directional swings to enhance an individual's range of motion. Built to withstand high-intensity exercises as enhances rotational movement strength in all planes of motion.
Internal Shifting Weight – Unlike traditional clubs, the head is filled shifting weight pellets to create dynamic resistance. This allows the club to act as a counterweight and facilitates a shorter transition between acceleration and deceleration.
Comprehensive Programming – The RMT Club comes complete with a training DVD including detailed instructions on 21 foundational exercises that target the total body. FREE online access to additional videos and sport-specific workouts is also included.
For athletes, being strong in strong positions is easy – but being strong in weak positions is necessary. The RMT Club builds the strength, core, mobility, coordination, and agility needed to improve performance of any athlete.