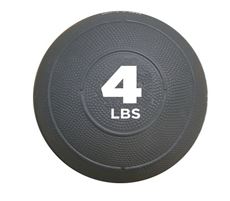 Built to take a beating! The Premium Slam Ball is completely rubberized – which makes for an amazing grip and durability like no other.
#1 choice for all athletes
Smaller diameter than the Mega Slam Ball
Available in 8 different weights
Slamming is just the beginning with this ball… but don't just take it from us. Here are a few workouts from us and from customers just like you!
---
12 Minute EMOM (every minute on the minute)
Odd minute: 12 Slam Ball Over the Shoulder
Ever minute: 12 Ring Dips or Tricep Dips Off a Bench
NOTE: If the 12 reps are completed before the 60 seconds are up, you rest (lucky you!) if you don't complete the reps within the 60 seconds, then stop and begin the other exercise.
---
16 Minute AMRAP (as many rounds as possible)
10 Hang Cleans (95 lbs. men/ 65 lbs. women RX)
10 Push Press (95 lbs. men/ 65 lbs. women RX)
10 Ball Slams (40 lbs. men/ 20 lbs. women RX)
10 Push Ups
---
10 Minute Ladder
1-2-3…
DL (245# men/ 165# women RX)
2-4-6…
Wall Ball with Slam Ball (50# men/ 25# women)
---
4 Rounds – compliments XGT Fitness
400 m Slam Ball Burden Run (each partner)
60 Push-ups
60 Kettlebell Swings
120 Lunges
---
Buy your Premium Slam Ball by clicking the image below
---
Special Thanks goes out to our contributors:

Disclaimer: If you are not comfortable with the prescribed weight, please chose a lighter weight option.