At Power Systems, our goal is to be your complete resource for all things fitness through superior education both before and after purchase and exceptional customer service. This year we're releasing products that fit not only the 2017 ACSM Top 20 Global Fitness Trends report but also match how we see the industry expanding over the next year. Our 2017 trends report shares what we believe the future of fitness is and how when we provide the tools, you can provide the desired results. Check out the newest tools to help you achieve results and be sure to download our 2017 new product guide for more information on the products below. To release all these amazing new tools, we spent two days in Los Angeles at the fitness industry's largest convention and trade show – IHRSA. Watch what went down and see all of our new products in action below!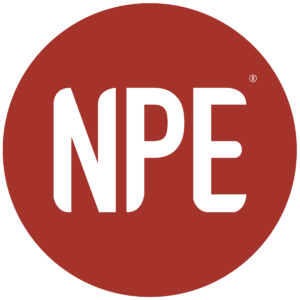 Click here to login for NPE Special Access – including up to 25% off equipment, hassle-free shopping and access to additional promotions not offered to all customers!
P
roElite Medicine Ball
The ProElite Medicine Ball is a new take on a Power Systems favorite. Combining the size of our Elite Power Medicine Ball, the ProElite Med Ball offers an all-black universal look and durable construction. The sleek design and textured, tacky grip of this new med ball makes it perfect for any environment.  Ideal for boutique facilities and large clubs as well as universities and personal training studios, the ProElite Med Ball is something you'll want to get your hands on.  This med ball is made of upgraded rubber for extra durability. Available in eleven weight options with an all black color scheme and clearly marked white numbering, this medicine ball is designed for style and functionality. While it's not meant to be slammed, the ProElite Med Ball does provide a slight bounce when thrown.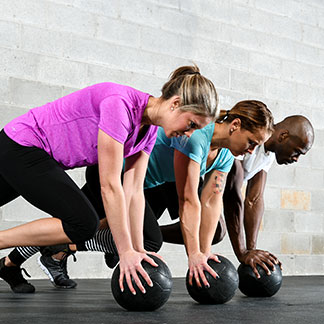 ProElite Medicine Ball :
Textured surface for easier grip
Eleven weight options – 2 – 30lbs
Diameter varies by weight
All black, with weights clearly marked
2-in-1 Flip and Plyo
The 2-in-1 Flip & Plyo is the perfect functional training tool that is truly a multi-functional product. This tire meets plyo combo offers both the benefits of a traditional plyo box while also functioning as a tire that can be used for flipping, lifting, and other functional training movements. Available in 100, 150, 200 and 250 pounds, each at a 46″ diameter with varying heights. The 2-in-1 Flip & Plyo is unlike a traditional tire as it is a flat, smooth platform suitable for all users at any fitness level. The sleek design of this plyo will keep your facility looking sharp while also offering multiple functions. Stack them for more height to use for box jumps or use the reinforced grips around the outer edge to pull, carry, squat, and more.
2-in-1 Flip and Plyo :
Portable, durable tire alternative
Large, flat platform for traditional plyo box use
Four weight options – 100lbs, 150lbs, 200lbs, 250lbs
Reinforced grips for easier movement
3-in-1 Foam Plyo Box
Ideal for plyometric training at all fitness levels, the 3-in-1 Foam Plyo Box is the foam version of our popular wooden 3 in 1 plyo box. Solid, sturdy foam block is covered with a durable vinyl cover to minimize injury risk. This versatile plyo box offers 3 surface heights for training users at any level. Available in two different size options with clearly marked arrows and height measurements. This functional training tool is ideal for small group training and training those of different skill levels.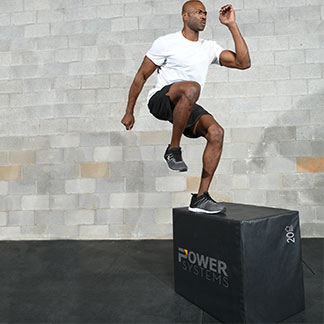 3-in-1 Foam Plyo Box :
Versatile design for use on 3 sides
Available in 16″, 20″, 24″ or 20″, 24″ or 30″
Sturdy, durable foam construction
Foam Vault Box
This Power Systems exclusive product is the first of its kind. This 36″ high plyometric box is design to train athletes to jump or vault over obstacles. The solid, sturdy foam is covered with black vinyl to eliminate any sharp edges and prevent injuries. The unique pie shaped box is larger at the bottom for a sturdy base allowing for traditional box jumps as well as vaulting. The Vault Box can also be turned on its side for other training exercises.
Foam Vault Box :
Sturdy, durable foam construction minmizes injury risk
Lightweight and portable for use in a facility or outdoors
36″ high plyo box
Functional Hex Plyo
Hexagonal shape is great for allowing multiple users at the same time in circuits or group training exercises. Four available sizes can be stacked and attached in many configurations. Sizes are clearly marked for ease of use. Foam construction reduces risk of injury. Available in 6″, 12″, 18″, and 24″
Functional Hex Plyo :
Unique hexagonal design for versatility
Non-slip vinyl casing
Sturdy, durable foam construction minimizes injury risk
Available in 6″, 12″, 18″, and 24″
Squat Rack
This multi-functional piece of equipment is more than just a squat rack. The top bar of this rack allows for pull ups and other exercises making it the perfect anchor point for a circuit or small group training course.  Full floor rack includes posts, crossbars, base, and J-Cups to provide the benefits of a power rack or cage without the larger footprint. This rack is made from sturdy and durable steel. Rack is 7'6″ high, allowing for pull ups and other exercises. Hardware is included. Standard color is flat black with custom colors available. Made in the USA.
Power Systems Squat Rack :
Custom colors available
Sturdy and durable steel construction
7'6″ height
Modular Storage Rack
We know proper storage is key in having not only a functional but visually appealing space. Our newest storage solution brings together functionality and style while also being completely customizable to fit your facility's needs. Our Modular Storage Rack provides not only storage for a variety of products but is interchangeable, depending on what your space needs. Offering three sizes to meet any facility, our newest storage solution comes in 6 foot, 10 foot, and 16 foot versions.  Our customizable storage unit includes racks that can be used for any size med ball, shelves that can be flat for kettlebells and other product or angled for dumbbells, pegs for hanging products such as strength bands or resistance tubes and a top rack with room for stability balls, mats, foam rollers. Each rack has different options for customizing the size and set up. Additionally, the Medium and Large versions feature a rack ideal for Bumper Plates or BOSUs. Available in standard flat black or can be customized to match your facility. Made in the USA.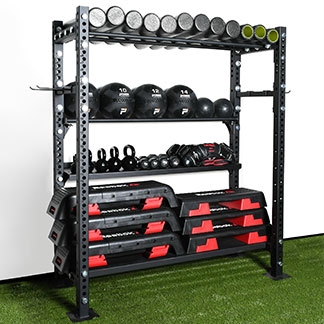 Power Systems Modular Storage Rack :
Small, Medium and Large options to fit your space
Custom colors available
Footplate anchor options for maximum stability
HiTrainer
The HiTrainer is a self-propelled, sprint training treadmill ideal for conditioning, rehab and weight loss. Ergonomically designed to maximize the benefits of sprint and high intensity interval training, the HiTrainer Drive Position allows users to recruit all muscle groups while getting extensive real-time feedback on form, power, speed, and more. This data is ideal for coaches and trainers looking to help their athletes improve speed, acceleration, power, and balance. The HiTrainer includes pre-programmed intervals of short workouts ranging from speed to heavy-duty sled training, making it perfect for circuit and group training. But don't be fooled by the quick turnover this machine has, users will experience the after-burn effect after just minutes on this innovative training tool. The HiTrainer is available in three versions to fit your facility's needs.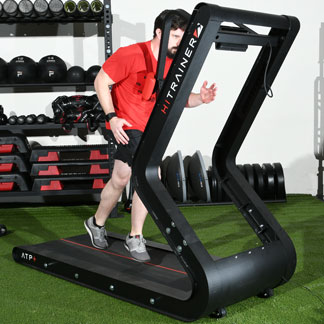 Features:
Self-propelled variable resistance
Drive position patented technology
Real-time data motivation for results
Check out the footage from our early morning workouts and our in booth demonstrations of over 15 new products. Power Systems Brand Ambassadors Bennie Wylie Jr. , Yancy Culp, and PJ Stahl were on hand to help us relay our message to you – any client, any goal, any space… We Provide The Tools, You Provide The Results. Watch what went down during our two action-packed days at IHRSA below!