We're so excited to be back at IHRSA this year and to share with you what you can expect to see from us in 2017! Keep on reading to find out a little bit about Power Systems, what we'll be doing at IHRSA, the new products you can expect from us this year as well as who you'll be seeing us team up with in 2017! Be sure to stop by booth #1023 to see us at IHRSA!
Haven't gotten your tickets to IHRSA yet? Use code EXHLA to receive free admission to the IHRSA Trade Show and save $75 off the current 4-day rate. Register here to attend IHRSA!
We provide the tools, you provide the results
We're constantly evaluating and evolving here at Power Systems to be the best resource for you. Our mission is to advance health, fitness, and performance for everyone by being a resource to our customer who understands their individual and collective goals then supplies targeted solutions to help power their potential. We're doing so by creating new partnerships, updating products, and providing educational programs while diligently working towards becoming a complete solution for you.  So when it comes to finding the quality, multi-functional equipment for your facility and your business, we've got your back. From the products you recognize and the brands you trust to the latest innovations, Power Systems is your resource for all things fitness. Stop by booth 1023 at IHRSA to meet the team and see the latest from Power Systems!
Experience our products with trainer Bennie Wylie, Jr.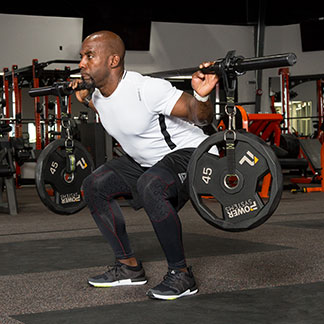 We're excited to announce that NBC STRONG winner and Power Systems Brand Ambassador Bennie Wylie, Jr. will be leading our early morning functional training workout at IHRSA! As a former University of Tennessee Head Strength & Conditioning Coach and owner of The Performance Lab Bennie is an expert in training athletes and fitness enthusiasts at all levels. As our leading Brand Ambassador, Bennie and Power Systems work together to be a better resource for you through workout videos, educational blog posts, and more. Be sure to join us for our functional training workout with Bennie and stay tuned for when you'll be able to see Bennie demonstrating products in our booth.
#poweryour Functional Training Workout – Sponsored by PowerSystems
Come experience the latest functional training tools and programming from Power Systems! Our Power Systems team will be on hand alongside our fitness expert and brand ambassador Bennie Wylie, Jr. to provide an innovative and invigorating workout to start your day. Be sure to pre-register to secure your spot for this workout here!
When: Thursday, March 9th – 6:30am – 7:30am
Where: JW Marriott Platinum Ballroom F
Want to get updates on what's happening at our booth during the show? Sign up for Power Systems text messaging and we'll text you during the show with info on what we're up to! Text IHRSA17 to 33233 to receive updates from us during IHRSA on our booth location, schedule, demos, workouts, and more! Interested in getting updates & reminders on our early morning workouts? Text FITFAM to 33233 to sign up for info on our workouts at IHRSA!
To unsubscribe at any time text
STOP
to
33233
. For help, text
HELP
to
33233
. For more info,
visit our SMS help page
. No more than 30 messages per month. Message & Data rates may apply.
Introducing the Elite Pro Medicine Ball
At Power Systems, we're all about creating the latest and greatest products which is why we've upped our game this year in terms of new and improved equipment. You'll find out more later on about our newest products but here's a little sneak peek on one new product that we just can't wait to share with you.
We're proud to announce that the Power Systems medicine ball family is about to get a little bigger. The Elite Pro Medicine Ball is a new take on a Power Systems favorite. Combining the size of our Elite Power Medicine Ball and the look of our PowerForce Medicine ball, the Elite Pro Med Ball offers an all-black universal look and durable construction. The sleek design and textured, tacky grip of this new med ball makes it perfect for any environment.  Ideal for boutique facilities and large clubs as well as universities and personal training studios, the Elite Pro Med Ball is something you'll want to get your hands on.  Be sure to come by our booth at IHRSA to check out our amazing new medicine ball as well as all of our new products for 2017. We'll see you there at booth 1023!
Power Systems partner – MostFit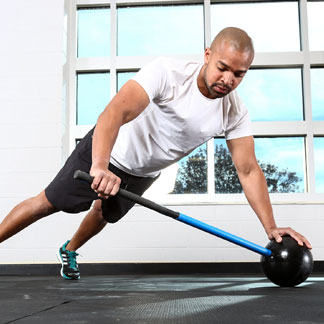 Founded by trainer Andrew Gavigan in 2011, MostFit strives to provide unique, effective, and efficient products to the fitness community in an effort to make optimum performance more accessible.
MostFit firmly believes that accessibility is the key to success for athletes and fitness enthusiasts of all levels. In that vein, MostFit's goal is to make fitness enjoyable, and approachable, empowering individuals to be the "most fit" they can be. Power Systems is thrilled to work with MostFit to bring our customers this truly versatile training tool.
The MostFit Core Hammer is the versatile alternative to the sledgehammer workout. The Core Hammer has all the benefits of a sledgehammer tire workout combo without the need for a tire. Join us at our booth to see the Core Hammer in action or try it yourself at our early morning workout. We'll be showing you how versatile the Core Hammer is with our no slamming approach at the early morning functional training workout.
Check out the Core Hammer by MostFit in action below and be sure to come try it yourself at IHRSA!
To unsubscribe at any time text
STOP
to
33233
. For help, text
HELP
to
33233
. For more info,
visit our SMS help page
. No more than 30 messages per month. Message & Data rates may apply.