Check out the latest from Power Systems, what to expect at our IHRSA booth, the new products we're bringing to booth 1023 and our early morning workouts! See you at the show!
We provide the tools, you provide the results
At Power Systems, our goal is to be your complete resource for all things fitness, whether you're a club owner, boutique studio or a personal trainer on the go. You've trusted us for 30 years to bring you not only quality products but quality service as well. As new fitness trends emerge, we're adapting our products to blend with new training methods making us the ideal resource to stay up to date on not only the newest products but education as well.  With functional training, group training and high-intensity interval training all making an appearance in the 2017 ACSM Top 20 Global Fitness Trends report, it's our goal to bring you the multi-functional,  adaptable products that will help your facility bring the latest fitness trends and results to your clients.
This year at IHRSA you'll be able to see our diverse products in action with early morning workouts, demos, and access to try these tools first hand.  When it comes to training, no two athletes are alike which is why you need versatile products in your facilities. Let us give you the multi-functional tools that you need to help your clients get the results they desire. Be sure to come by the booth at IHRSA to experience our new products first hand with back to back demonstrations featuring industry experts.
Introducing the Elite Pro Medicine Ball
At Power Systems, we're all about creating the latest and greatest products which is why we've upped our game this year in terms of new and improved equipment. Here's a little sneak peek on one new product that we just can't wait to share with you.
We're proud to announce that the Power Systems medicine ball family is about to get a little bigger. The Elite Pro Medicine Ball is a new take on a Power Systems favorite. Combining the size of our Elite Power Medicine Ball and the look of our PowerForce Medicine ball, the Elite Pro Med Ball offers an all-black universal look and durable construction. The sleek design and textured, tacky grip of this new med ball makes it perfect for any environment.  Ideal for boutique facilities and large clubs as well as universities and personal training studios, the Elite Pro Med Ball is something you'll want to get your hands on.  Be sure to come by our booth at IHRSA to check out our amazing new medicine ball as well as all of our new products for 2017. We'll see you there at booth 1023!
See our products in action
Our goal as a resource to you is to always back our products with quality education. From workout videos to spotlight blog posts and a top notch team that's always there, we strive to be your go to for both the essentials and the latest innovations. Stop by our booth this year for demos and workouts featuring your favorite products in action. This year we'll be hosting three early morning workouts. Check out the workouts below and be sure to pre-register to secure your spot!
#poweryour Functional Training Workout – Sponsored by PowerSystems
Come experience the latest functional training tools and programming from Power Systems! Our Power Systems team will be on hand alongside our fitness expert and brand ambassador Bennie Wylie, Jr to provide an innovative and invigorating workout to start your day. Be sure to pre-register to secure your spot for this workout here!
When: Thursday, March 9th – 6:30am – 7:30am
Where: JW Marriott Platinum Ballroom F
#poweryour PowerWave Workout Sponsored by PowerSystems

Experience is believing: Discover how adding this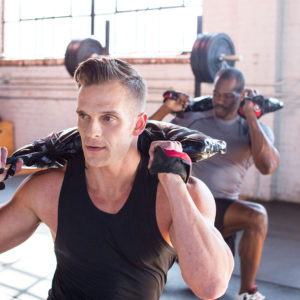 20 minute, total body, metabolic workout to your programming can double your revenue while helping clients achieve their fitness goals in less than half the time. The Wave20 workout features 20 rounds of functional movements that will unleash explosive core strength and physical endurance. This revolutionary programming is powered by customized music and times specifically designed to drive maximum performance. Power Your Potential to create a stronger, leaner clientele – 20 minutes at a time. Be sure to pre-register to secure your spot for this workout here!
When: Friday, March 10th – 7:30am & 8:00am
Where: JW Marriott Platinum Ballroom F
Want to get updates on when these demos are happening during the show? Sign up for Power Systems text messaging and we'll text you during the show with info on what demos are happening when! Text IHRSA17 to 33233 to receive updates from us during IHRSA on our booth location, schedule, demos, workouts, and more! Interested in getting updates & reminders on our early morning workouts? Text FITFAM to 33233 to sign up for info on our workouts at IHRSA!
To unsubscribe at any time text
STOP
to
33233
. For help, text
HELP
to
33233
. For more info,
visit our SMS help page
. No more than 30 messages per month. Message & Data rates may apply.