February 14, 2017 Elisabeth Fouts
At Power Systems, we are driven to provide resources and solutions that are as dynamic as the fitness industry we serve. When it comes to products, we understand that durability, versatility, and adaptability are just a few of the qualities that are important to you. The PowerWave exemplifies all three – and much more!
The PowerWave was created for all fitness levels, from professionals to enthusiasts, to maximize two of our most valuable commodities – time and health. The PowerWave is a comprehensive and adaptable training device that can be used anywhere!
The high-quality and unique features of this device will inspire you to create dynamic and adaptable functional exercises and movement patterns that fit perfectly into your training programs. This is the perfect tool that will minimize equipment set up time while maximizing the fitness experience in your group training sessions.
Looking for high energy programming that will maximize results in record time? No problem! The PowerWave can also provide a turnkey solution for 20 minute HIIT programming via live class instruction by certified instructors.
PowerWave has created 20-minute programming that can complement any fitness goal:
Reduce body fat and tone up
Increase cardio and muscular endurance
Increase muscle strength and size
This is not your average sandbag – the PowerWave has unique features built in to help you maintain proper body alignment as you maximize caloric expenditure.
What makes the PowerWave so unique?
The PowerWave is available in 3 sizes to meet any fitness level or goal: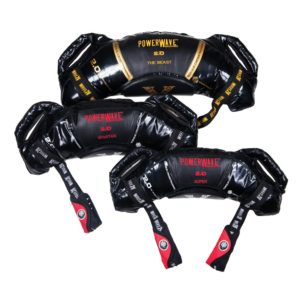 The SUPER – 15.4 lbs. – Recommended for novice users at a beginning level of fitness.
The SPARTAN – 26.4 lbs. – Recommended for intermediate users at a base level of fitness.
The BEAST – 44 lbs. – Recommended for advanced uses at a level of fitness which requires a high output to achieve results.
A few of each size can add variety to your circuit training and boot camp classes – or chose the class pack option if you are looking to accommodate 10 or more users at a time.
For more information on adding PowerWave programming and
instructors to your facility – contact Power Systems Education Department [email protected].
The quality construction, innovative engineering, and functional application make the PowerWave the perfect tool to help you connect your facility through meaningful fitness experiences in group training sessions Learn More .