The pull-up, that challenging exercise that you always dread. Whether you're working toward tackling tough obstacles in your next Obstacle Course Race or just getting in your daily workout, upper body strength training is more than likely going to make up a big part of your training. Enter The Revolver.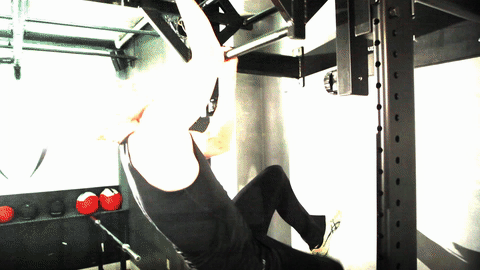 Designed for more than just the pull-up, The Revolver features two adjustable resistance options as well as three mountable heights, allowing for an infinite number of exercise all while occupying the same foot print as a standard pull-up bar.
Add up to eight levels of intensity to free-spinning climbing with the adjustable resistance knob. New to workouts with The Revolver? Crank up the resistance and slow the rotation of the bar. As you improve, decrease the resistance level to speed up the rotation of the bar.
The Revolver is compatible with most racks, wall mounts, and rigs & can be placed at a high, medium, or low height on the rack. Adjust the height to work difference muscle groups, from shoulders, to abs to legs. Find out if The Revolver is compatible with your rack with this compatibility chart.
Features of The Revolver:
Infinite Workouts
Mountable at any height, workout possibilities are endless. Create and perform exercises never before possible.
Rotational Power
Feel the power of bi-directional rotating bars set to any level of adjustable resistance.
Adjustable Resistance
With two adjustable resistance control knobs, all athletes can dial in the perfect resistance for every exercise.
Simple Setup
The Revolver connects to your rack or rig system with 4 bolts. Assembly could not be easier.
Superior Design
With the most extreme training environments in mind, the Revolver is built to withstand the toughest workouts from garage gyms to sports performance centers to commercial gym settings.
Highly Compatible
The Revolver is designed to retro-fit into a variety of existing rigs and racks.
See The Revolver in action: