How do I make the most out of the space in my gym?"
Part two of our blog series on focused facility planning answers that question and more. We asked PJ Stahl, Power Systems Master Coach and Owner of Lock Box Fitness & Performance Center in Los Angeles, how he designed the original floor plan for the grand opening. He also shares how his team added value & an additional income stream to that same square footage over the past four years.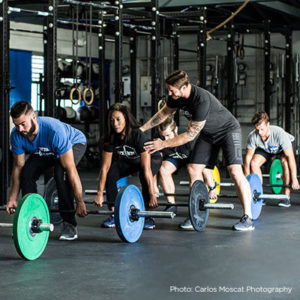 Power Systems: When you were laying the groundwork for your grand opening, how did you configure the space to optimize usage?
PJ Stahl: When I opened Lock Box, we wanted to utilize all areas for the gym to increase revenue and optimize time usage for all the different spaces we had. It was very important that we create TWO different studio spaces. We wanted to offer a second class at prime times to increase our number of weekly classes offered and increase the diversity of the classes on our schedule. We started offering non-barbell classes such as ROC STEADY and OCR Bootcamp. These non-barbell-based classes and time slots were very successful.
PS: How do you and your members utilize the space when there are not classes on the schedule?
PJ: We have a few revenue streams that we have taken into consideration during our "non-class times" and "non-peak hours".
Independent Personal Trainers: We rent space to independent trainers that are not directly affiliated/contracted at Lock Box. They have their own personal training business and they rent space by the hour to train their clients. This has been a very successful program and it also offers local personal trainers a chance to grow their business and train at a fully functional performance-style training center.
2.Open Gym: We offer open gym hours for non-class training to incentivize clients and members to join. This allows them to do their own training to complement what they are doing in classes.
Gym Rental: We allow companies to rent out 1 or both rooms at the gym. You would be surprised how many people and/or companies want to use a large space for different shoots and/or events for a rental fee. There are typically location rental websites in your area. You can place your facility on the rental website with photos and information.
PS: How did you configure the entry, locker rooms, and common areas in your facility to meet the needs of your members and your staff?
PJ: Having a space where people can enter and feel greeted with ease into a space is very important. Our front desk is next to our retail and waiting area. We wanted people waiting for class to be able to look at and see our retail section. Also, we have our cubbies next to a designated warm-up area. We wanted our clients to be able to warm-up, stretch, rollout and/or jump on a bike before class if they got to the gym early without disrupting the current class in session.
PS: After being at your current location for the past four years – is there anything that you would have done or designed differently?
PJ: One thing I would change is having a completely separate room for the entrance of the gym. I would make the "lobby" front desk, retail, and pre-class waiting area completely separate from where the classes take place. It can be intimidating to walk in and see people working out, sweating, music blasting, and an instructor motivating with a loud voice. This first impression can be a turn off for someone looking to get eased into fitness. Having a reception area that is light, friendly, and calm is a much more inviting first impression.
Want more great tips on preparing your facility for renovation or expansion? Check out part one of this series where we interviewed Power Systems Master Coach Julie Johnston. Julie talks all things Camp Rhino from relocating her first location to expanding and opening a second. Interested in opening your own facility? Let Power Systems help make it easier by speaking with one of our Power Systems Facility Specialists.