When deciding after a long agonizing process to join the Gold's Gym 12-week Body Transformation Challenge, I can honestly say I was clueless as to how I was going to go about it.
I had started a diet the day after Christmas when I tipped the scale at 265 pounds. I was out of shape, void of anything that reflected energy, and had very little self-confidence. I went to the gym that night and saw the advertisement for the challenge and like a lot of people thought this has to be a gimmick. The only people in my mind that stood a chance at winning were those who would spend a small fortune in personal training. I then did something I wouldn't usually do and decided to give it a shot, the only thing I stood to lose was weight. I signed up and decided at the bare minimum it was an excellent way to hold myself accountable.
Starting Point Picture
The first thing I did was ordered my challenge t-shirt a size smaller then I could fit in. I tried the shirt on when I got it and it looked like it was painted on me. So at this point I had my first goal in mind, to fit into my challenge shirt.
My starting weight was 246.6 pounds. I was already down almost 20 pounds since Christmas and thought I was starting off at a huge disadvantage, having started my diet 3 weeks prior to the challenge. I reminded myself it was about changing my life and not just a competition. I felt it was important to remember why I was doing this, so I put a picture of my twin sons Andrew and Dylan on my I-Pod to bring with me to the gym. Three days after I started the challenge my wife informed me that I was going to be a father again. This was the news that made me go from doing this for accountability to needing to do this for my child that was on the way.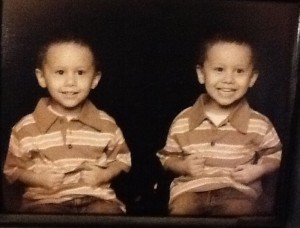 Andrew and Dylan
At the time, I was in school full-time and taking care of my twins who have non-verbal autism, so finding the time to exercise I was going to have to get creative. I set my alarm for 3:45 in the morning and decided to work out before anyone in my house was awake.
"The first few days were honestly hell!"
I was sore, exhausted, uncertain, and wondering what I had gotten myself into. The ensuing weeks were a lot more motivating; I had survived what was naturally a major shock to my system. The early morning workouts were becoming easier and I actually looked forward to them. The major advantage to working out at 4 in the morning is I had my choice of equipment. Very few people are in the gym that early and I could super set or bounce back and forth from machine too machine.
My morning workouts were reserved for training muscles. I did one muscle group at a time (legs, triceps, biceps, back, shoulders, chest). I trained abs for an hour 4-5 times a week for half an hour in my basement as well.
I did cardio every night to accompany the muscle groups I had trained in the morning. It was important to me to keep my body guessing so I would switch up my cardio. I always went a little further the next night even if it was .01 miles further. The machine that was most effective for me was the elliptical.
"I said effective, not enjoyed. "
It was long and agonizing but I could really feel the effectiveness and weight loss it was providing. I also did inclined walks at 4 mph the treadmill and 30-60 minutes on the stair-climber. I never knew for sure which one I was going to do until I entered the gym that night. The biggest thing I focused on was ironically, not focusing on the next workout. I only worried about completing and giving everything I got to the workout I was doing at that point in time.
I knew as well as setting a plan for exercise I needed to have a plan for my diet. I was the guy people would smack their heads and say what are you doing? I used to go to the gym and then go home and order a pizza or have some meal that would undo any progress I had made that night. I think we all in some way know how to eat healthy. I went from ordering a breakfast burrito to taking the extra five minutes to slice fruit and cook an egg white omelet. Although, often times my egg white omelet would turn out to be scrambled egg whites. I precooked chicken breast and tilapia for my lunch, which I made the largest meal of the day. My dinner was a meal replacement bar with fruit and peanut butter. I felt amazing putting the right amount of the right foods in my body instead of eating until I was stuffed. My energy went through the roof and my progress stayed consistent.
Mid-Point Picture
The decision to make a change in my life was the best gift I could have given my family and myself. I told myself deciding not to decide is a decision and it was up to me whether I want to get healthy or stay in the cycle of obesity I was living. I want to be a positive role model for my sons and to my little ones on the way.
Winning the challenge was just the icing on the cake, which I would only eat a healthy portion on a cheat day of. My main focus now is maintaining this lifestyle and ensuring I don't fall back into my old habits. I feel like a younger man with a brighter look on the future. I hope those who are still contemplating making a change find this helpful and best wishes on your journey, you would not regret it.
In the end, my total weight loss was 77.6 lbs!
And YES, I fit into my challenge shirt at the end as well.