SLEEK, SECURE & MOBILE FITNESS EQUIPMENT STORAGE LIKE YOU'VE NEVER SEEN BEFORE!
Introducing the latest addition to the Power Systems Exclusive APEX Storage Series – the APEX Locker – massive, secure equipment storage capacity in a sleek design package. This ventilated, mobile and lockable storage locker provides access to FOUR compartment bays for organizing, storing, and protecting your investment in fitness equipment.
With a storage capacity equal to 10 FEET of traditional storage racks, the APEX Locker is the perfect storage companion for multi-purpose training spaces. From corporate wellness programs and studio fitness classes to small group personal training sessions and boot camps – this locker is built to hold a variety of training equipment to support any training program.
FOUR STORAGE LOCKERS IN ONE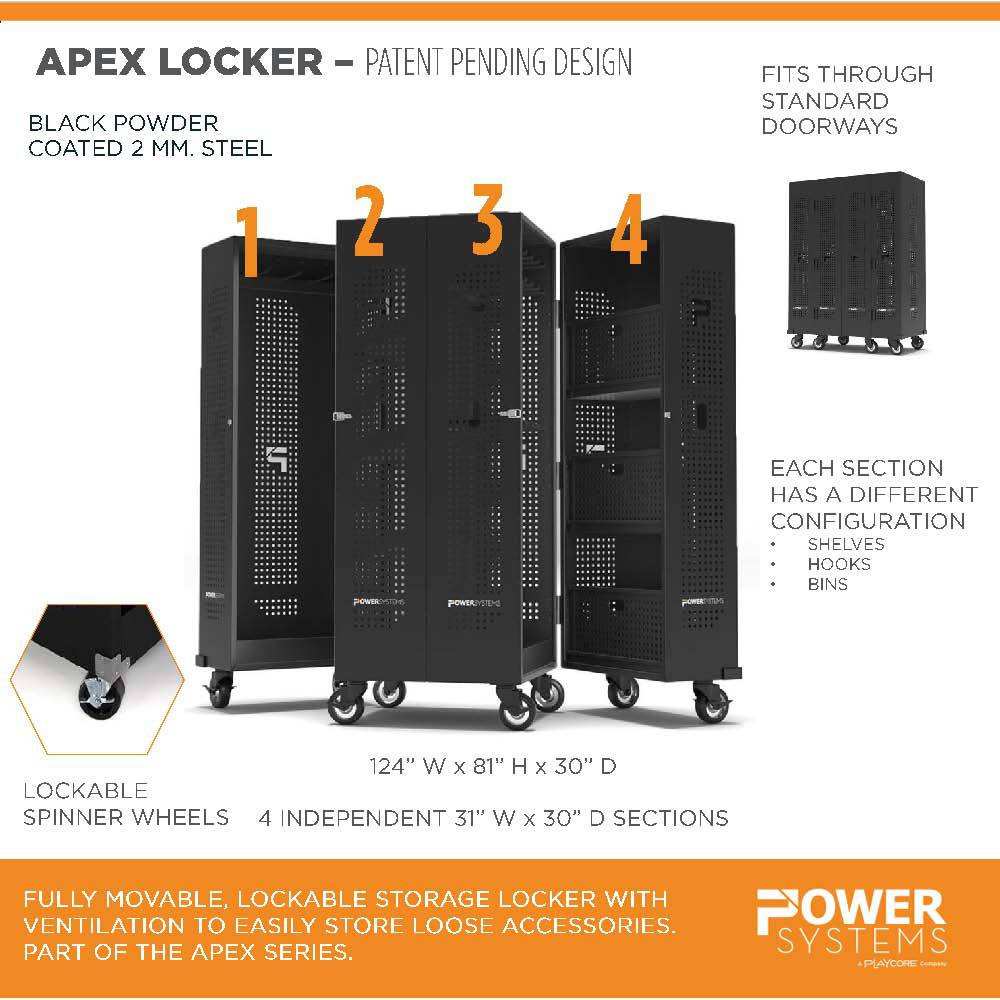 Each of the FOUR storage bays has been designed and engineered to hold light or heavy loads and provide easy access and stylish equipment display for your participants.
Storage Bay 1 provides FIVE removable, adjustable 9" pegs perfect for storing resistance bands and tubes, hanging mats, jump ropes, or Yoga straps. The 5" lip on the bottom creates an open storage bin that is the perfect size for agility ladders, agility cones, Yoga blocks and more!
Storage Bay 2 features four slanted shelves designed with dumbbell storage in mind – but can also hold and display the weighted bags and sand discs that are popular for boot camps and functional training programs.
Moving over to the second half of the APEX Locker, Storage Bay 3 provides TEN 1" W x 11" L stationary storage pegs – perfect for Versa Loops, Versa Tubes, Strength Bands and more! Customize the bottom storage bin of Bay 3 to fit your needs with the removable dividers. Use these five removable slats to create up to six separate storage compartments – or remove them all for an additional bottom storage bin.
Storage Bay 4 has three storage compartments with removable 11" doors. Create closed storage bins for battle ropes, medicine balls, foam rollers, Yoga mats, or Pilates rings. Or remove the doors to create three easy access, open storage shelves for kettlebells or slam balls.
STURDY YET MOBILE
The sleek and durable construction of the APEX Locker features black, powder coated 2 mm steel. The laser cut holes provide access to light and ventilation to eliminate the risk of mold and musty odors. The Locker glides open via multi-directional spinner wheels to create a double sided, mobile storage closet. The wheels can be locked to secure the Locker in place. Each side can be closed with latch closures fitted to secure with a combination or key lock – sold separately at local retailers. And, last but not least, the APEX Locker is sized perfectly to glide through standard doorways with ease.
APEX = SECURE, MOBILE FITNESS ACCESSORY STORAGE
We created the APEX Series of storage to give customers the most high functioning fitness storage on the market. Secure, breathable, movable fitness storage in black steel construction. Keep your operations agile, while protecting your investment in fitness equipment and accessories with APEX from Power Systems.
We stock the APEX Locker in our warehouse – each locker ships via freight in 2 boxes. Assembly is required – detailed instructions are included and assembly and installation options are also available.
COUNT ON POWER SYSTEMS TO MAKE THE MOST OF YOUR SPACE
Like what you see? Want to know more? Click here for a comprehensive look at the POWER SYSTEMS EXCLUSIVE STORAGE LINES.
Upcoming project or renovation? Our Power Systems Storage Experts would love to help. Click below and let's chat!