While it is important for adults to be active each day, it is also important to set that example for our next generation. A study completed by the University of Surrey, Guildford in conjunction with the Children's Liver Disease Foundation found "rising levels of obesity among children are contributing to an increase in non-alcoholic fatty liver disease (NAFLD), an incurable and life-threatening condition." All the more reason for health clubs to add age appropriate programming for children to participate in while their parents workout.
While we all agree that daily physical activity is just as important for kids as it is for adults, many parents still have questions when it comes to their children and exercise such as:
 "What are some workouts for kids?"
"At what age should I get my children involved with a kid's fitness class?"
"How old can kids start weight training?"
"Does lifting weights stunt growth in children?"
These are just a few of the common concerns you might hear from a parent enrolling their child in a health & fitness program for the first time. Here is a little bit of research from the professionals that you can share to ease their minds.
According to the American College of Sports Medicine (ACSM), it is appropriate for school aged children to participate in an hour or more of moderate to vigorous physical activity each day. That covers walking or riding a bike to & from school, playing a pick-up game during recess or after school, or completing daily chores around the house. But what about strength training for kids – is it safe? There are both physical and psychological benefits to weight training for kids.
With qualified supervision and age-specific instruction, resistance training for kids is no different from any other sport or activity. The only pre-requisite is that the child has reached an emotional maturity level to accept and follow directions. American College of Sports Medicine's current comments on Youth Strength Training suggest that children as young as seven years old can begin to experience some of the physical benefits of a properly designed and competently supervised kids strength program such as:
Increased muscular strength & support structure (i.e. tendons, ligaments, and bones)
Enhanced motor fitness skills (i.e. sprinting and jumping)
Decreased incidence of some sports injury
Despite the benefits, many parents are rightfully cautious to ask 'does weight lifting stunt growth?' According Dr. Avery D. Faigenbaum, Fellow of the American College of Sports Medicine, "a growth plate fracture has not been reported in any research study that was competently supervised and appropriately designed." Parents can rest assured that age-appropriate program design led by qualified professionals such as coaches, P.E. teachers, and fitness instructors will minimize any such risk.
In addition to the physical benefits, strength training has been linked to psychological benefits in overweight or obese children. Deconditioned children and adults both avoid physical activities that could expose their lack of physical fitness such as running or playing an aerobic sport. However, strength training can be the most successful form of exercise for overweight or obese children. According to the American Council on Exercise,
… body weight has a positive correlation with the amount of weight an untrained individual can lift. Therefore, the weight room is a place where an overweight child can feel successful because of his or her ability to lift heavier weights. This builds confidence in the child and positive reinforcement about fitness training.
Check out ACE's full article for a sample beginner resistance training program you can do with your child at the gym.
Ready to get your kid's classes started? Check out these products that are great for both adult and youth fitness classes.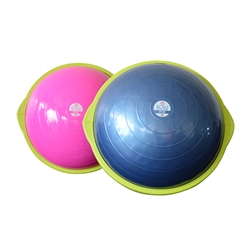 Smaller version (50 cm diameter) of the original BOSU Balance Trainer (65 cm)
Great for young athletes but can be used by adults as well
Weight limit 250 lbs
Available in pink or blue
Includes foot pump and owner's manual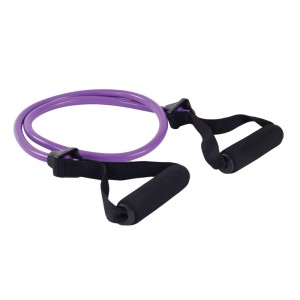 Versa Tube & Premium Versa Tube Short
Shorter version (36") of our best-selling resistance tube (48") designed for someone 5' tall or under
Specifically for shorter range of motion exercises
Available in 6 different resistances levels

Orange: 3 – 7 lbs., Lime Green: 6 – 13 lbs., Red: 8 – 16 lbs., Light Blue: 11 – 22 lbs., and Purple: 13 – 27 lbs.

Versa Tube comes with a PVC grip, Premium comes with a padded grip
Great for beginners – helps correct form and coordinate timing before moving to a faster rope
Durable nylon rope with PVC beads and handles

Available in 5 length options

6' long: user height 3'11" & under
7' long: user height 4'0" – 4'8"
8' long: user height 4'9" – 5'5"
9' long: user height 5'6" – 6'
10' long: user height 6'1" – 6'6"
Available in 11 different weight options from 2 lbs. – 30 lbs.
Suggested 2 lbs. – 12 lbs. = beginner to intermediate level
Easy grip design
Improve power and coordination
Enhance range of motion
3 year limited warranty
Agility Equipment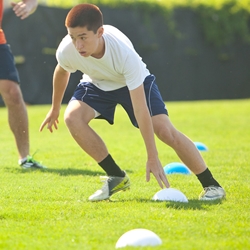 **Disclaimer** Please consult your child's physician before beginning a new exercise program to ensure that they are healthy enough for physical activity.