The group fitness regulars are some of your most loyal and long-term members. Think about it. They come early or stay late. They show up two or three, sometimes five days a week to get in all their favorite formats. Rain or shine, sleet or snow, if the gym is open, they're gonna go! Show them some love by adding specialized equipment just for GX.
What specialized equipment? Glad you asked! Did you know that Power Systems has several products that are designed with Group Fitness in mind? It's true! These products were designed with a two-fold purpose; to provide specific benefits for group fitness enthusiasts while accommodating the physical differences between the studio and the gym floor.
Let's take a look at a few of our Kettlebells for example:
Attractive, less intimidating alternative for beginners to exercise and/or to kettlebell training
Uniformly sized for consistent technique development
1 ¼" durable, molded polypropylene handle for a solid grip and smooth rotation
Will not scuff hardwood floors
Color coded by Level: Yellow = Beginner, Orange = Intermediate, Blue = Advanced
Will fit standard kettlebell racks
Available in 5 lbs. – 35 lbs.
Traditional cast iron kettlebell encased in vinyl with a rubber plate on the bottom to help reduce noise and prevent damage to wooden floors if dropped
Smooth, solid steel handle for comfortable grip
Handle varies in circumference between 1" – 1 3/8 depending on the size/weight of the kettlebell
Vinyl is color coded by weight ranging from 5 lbs. – 50 lbs.
Well received on the main workout floor as it provides the look and feel of the traditional cast iron kettlebell
Fitted with a rubber plate of the bottom to prevent damage to  the specialized floors of a group exercise studio
Available in a wide range of weights from 5 lbs. – 100 lbs.
Here are some items from a few other equipment categories in which Power Systems offers a "GX friendly-version".
Unique "apple" shape keeps the dumbbell from rolling away between sets or exercises
Indentations on the top & bottom allow provide an ergonomic grip when implemented with push-ups, plank and rows, and many other exercises.
Available in black only from 1 lb. – 15 lbs.
Can be purchased individually or in a full class set with storage
Thick wall construction is great for pairing stability training with weight training
Professional-grade and durable design for home or high volume use
Available in 3 sizes: 55cm (5'1" – 5'7" individuals), 65cm (5'8" – 6'1" individuals)& 75cm (6'2" – 6'7" individuals)
Includes a tape measure to insure proper inflation size
Burst resistant up to 1,000 lbs.
Deflates slowly if punctured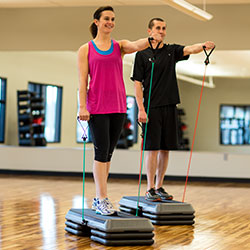 21" nylon strap in the center reduces wear and tear on the tube while in use with the step
Provides a fast, easy, and lightweight solution to adding resistance training to traditional step programming
Available in 5 different resistance levels to accommodate the variety of resistance training experience in your group training classes
Power Systems has developed brand partnerships within the fitness industry that also provide unique adaptations to traditional products to benefit the group exercise class setting. For example, BOSU created the Pro Balance Trainer from commercial grade materials for durability in high traffic use. The BOSU Pro Balance Trainer features a non-marking, non-skid base that is gentle on floors.
The STEP Company has been providing group exercise classes with The Original Health Club step since 1989. Step, boot camp, cardio, and strength training instructors can all benefit from the versatility of the FreeStyle Step. The name comes from its freestyle risers that allow for three positions: flat, horizontal, and vertical slant. Both steps feature a non-slip surface on both the surface of the bench as well as the bottom of the bench and risers.
Finally, maximize the space in your group fitness room with the appropriate storage. Our storage racks are among our top selling categories as we provide a storage solution for everything from mats and foam rollers to kettlebells and resistance bands.