Opening a fitness facility, a performance center, or a boutique-style training studio is a huge investment. Power Systems wants to help you make the most of it. That's why we compiled industry research to answer FIVE questions on how to create a successful floor plan, maximizing revenue potential, and creating a top-notch brand and member experience.
1. How do I measure the profitability of my studio?
There are several key performance indicators (KPIs) that measure the profitability of a studio such as year-over-year member growth and retention, average dues per member, etc. In regards to space planning and maximizing the functional square footage of your studio, revenue per square foot is a KPI you should know and track.
Calculating revenue per square foot is simple – divide annual revenue by the square footage of your space. It is calculated by dividing your annual revenue by the square footage of your studio space.
Here is a simple example:
Annual Revenue: $250,000 / Square footage: 2,500 = $100 per square foot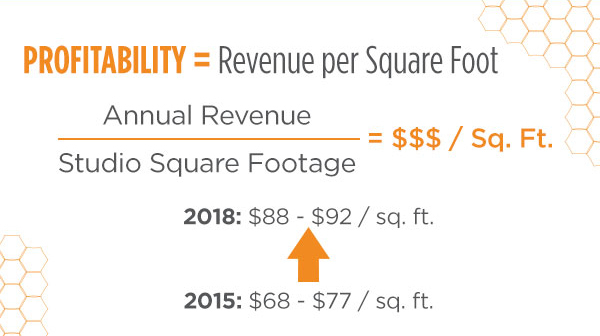 For studios, the closer you get to $100/sq.ft. – the better. According to the Association of Fitness Studios 2018 Operation & Financial Benchmark Report the industry average for studios is between $89-92 per square foot.
2. What are the main reasons people join or leave a facility?
The International Health, Racquet and Sportsclub Association (IHRSA) conducts extensive research worldwide and provides reports to the industry on nearly every topic of interest to an owner/operator of a fitness facility. One of their early research projects set out to answer the question, "Why do members leave a gym?"
The answers fell into two categories:
Uncontrollable Circumstances: i.e. relocation, change in financial situation, and medical condition or illness. By definition, these circumstances are a constant variable but not something you can control.
Controllable Circumstances: i.e. the facility did not meet / maintain expectations of the member & they have chosen to exercise elsewhere.
The top 3 reasons given for leaving were:
Overcrowded facilities
Unclean facilities
Rundown, obsolete, or outdated equipment
There are two commonalities here – facilities and equipment upkeep – and both are variables that fitness facility owners, operators, and employees CAN control and influence daily.
3. What are the biggest design mistakes fitness facilities make?
After conducting interviews with several experienced architects and consultants in the fitness industry, IHRSA compiled another great resource for current and aspiring fitness facility owners entitled Answers to Your Pressing Gym Design Questions. Five key questions to be exact, and one was, "what are the biggest design mistakes fitness facilities make?" and the answer that was given can also be achieved with smart space planning practices: "Not providing enough storage space" .
Without proper storage, your facility can appear cluttered and disorganized. This can give your members and prospective members the impression that your studio space is dirty. That should be a RED FLAG because we have confirmed that is both a controllable circumstance and a reason members cancel memberships.
4. What are the best practices for a successful studio?
The answer to this question comes from the executive summary of IHRSA's Health Club Business Handbook. Of the eleven practices listed, two are related to facility and equipment upkeep – specifically stated, "the owners regularly reinvest in facility upkeep and improvements" and "the club enjoys a reputation for cleanliness, friendliness, and integrity".
Both smart space planning and equipment upkeep reinforce the message to your members that your facility is clean and organized and that you invest in both current and new members by updating your facility & equipment regularly.
5. How does Power Systems support studio owners?
You can Count on Power Systems for our longevity in the industry. Over the past 33 years, we have expanded our reach across the industry in health, fitness and athletics – developing strategic partnerships along the way to provide quality fitness equipment with expert service, support, and education. Here are just a few of the resources and support that we provide to help you create a top-notch brand and member experience.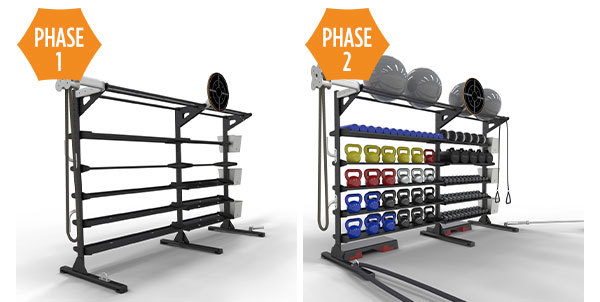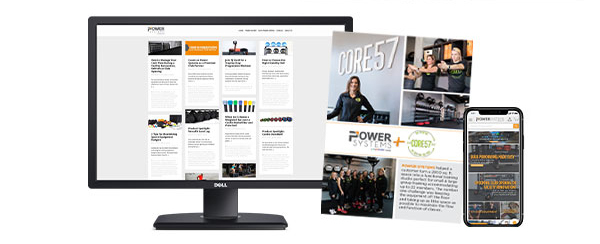 Do you have an upcoming project and want to maximize your revenue potential? Connect with a facilty design expert here.