One of the best tools that I have found to help re-engage our members and staff at Camp Rhino (my gym and happy place) is called a "Happiness Meeting". During this meeting, we talk about fitness progress, goals, work, relationships, and overall happiness. I am able to learn how I can help them and they give me feedback on their experience at the gym. Any member can schedule a "Happiness Meeting" with me by going online and booking it.
I started offering "Happiness Meetings" to my members a couple of years ago after my mentor, Chris Cooper, encouraged me to follow Mike Michalowicz' book The Pumpkin Plan. In the book, we are told to take our best members and sit down with them to talk about their goals and how we can help them more. These meetings were so helpful for both me and our clients, that I wanted any client to be able to schedule a sit-down with me if they feel they need more help reaching their goals.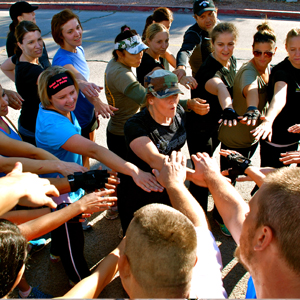 I didn't always take time to sit down with our members. I started Camp Rhino when I was already in debt from other business ideas. All the cash money I had went into first and last month's rent. I started it without a plan, just hope and excitement. I quickly became overwhelmed with the sheer amount of work that had to be done to start and maintain a facility. Every day I was teaching classes, running the front desk, and trying my best to figure out how to make Camp Rhino a success. We were surviving, but barely. Every day my list of things I had to do was so long it felt impossible. Trying to give members a good experience while feeling completely overwhelmed and buried is not easy.
I didn't feel like I had time to talk to clients. I also didn't want to hear feedback because I knew that I still had so much work to do in order to make Camp Rhino the best it could be. I kept maxing out credit cards and putting on events to fund more and more equipment and classes. Once I finally had my systems and staff in order, I was still afraid to talk to clients. Afraid that after all the years of hard work there would still be giant problems that I couldn't see.  
Once I scheduled my first meeting with a member, just to check in with them, there was no turning back. It was wonderful to hear what they loved about my gym, what they wish my gym had, and what problems they might have outside of the gym that I could help with. There were small, easy fixes like a shelf and hooks in the bathroom, and community requests such as more BBQ's and get-togethers. We started yoga classes, weightlifting workshops, meal planning, personal training, and accountability programs as a result of these meetings. Our clients have the best ideas, and every decision I make for the gym is now fueled by client feedback.