My name is Morgan Mckay, and I am from Ottawa, Canada. I wasn't very athletic in my teenage years and actually started modelling. I was first introduced to obstacle course racing in 2012 when my cousin convinced me to try a Spartan Sprint.
At the time, it was the hardest thing I had ever done, and I really struggled, failing almost every obstacle.
Something very special happened when I finished that race; I felt this huge sense of accomplishment that I had never felt before. I was empowered. I knew that, if I focused and worked hard, I could accomplish anything.  At that moment, my future changed.
After the race, I went home and immediately looked up everything obstacle course racing related. I then stumbled across the "Spartan Death Race," which claimed to be the hardest mental and physical race in the world with a "less than 10% finisher rate". I was intrigued and dreamed that, if I dedicated myself, I could finish that race! I left my job as a lawn maintenance manager and took courses to become a certified personal trainer and a Running Room 10k instructor.
Working at the gym allowed me to train twice a day for 8 months. I showed up to the 2012 Summer Spartan Death Race and ran for 60 hours non-stop. It was the craziest, most amazing thing I have ever participated in. I wanted to quit so many times, but I found the strength to keep going. At the very end of the race, I was considered an "unofficial finisher" because I missed a time hack, but I NEVER QUIT. It was the proudest moment in my life. I fell in love with endurance racing at that event.
Ever since the Death Race, I have been hooked on competing in the toughest endurance races in the world. It is an indescribable feeling to think you've reached your limit and then dig deeper and push harder to overcome whatever is put in front of you. It's incredible!
My journey to win the 2017 Spartan Ultra World Championship was an insane ride. It was the hardest year I have ever faced in my life. At moments, I questioned if I would be able to compete at all.  At the beginning of the year, I made a vision board (I make them every year), creating a list of all the goals I wanted to accomplish, why, and how. My top goal was to win a world championship title in endurance obstacle course racing. I knew I had the world's greatest coach, Yancy Culp, and all the tools I needed to accomplish my dream. What I didn't expect was life to throw challenge after challenge at me. I could write a book about it, but here are some of the major roadblocks that really hit me hard.
My dad suffered a heart attack and needed quadruple bypass surgery. He survived the surgery and is doing well now, but facing the possible death of one of the most important people my life was not easy.  To make matters worse, my mom was diagnosed with Lewy Body Dementia, and I've been watching her health rapidly decline over the last year. Both of my sisters live in Australia; so, I felt very alone dealing with this. As if the declining health of both of my parents wasn't enough, a friend of mine suddenly passed away.  To make matters worse, I went through a bad breakup with my boyfriend at the time.  I absolutely love his two kids who lived with us part time.  Emotionally, I was getting the crap kicked out of me.
I felt like I was losing my entire family and support system. I began to have daily panic attacks and had to take stress leave from work for a month.  I even transferred to a new gym. The only thing that helped maintain my sanity was training. I reminded myself that I had finished some of the hardest races in the world; I could overcome all of this. I had to dig deep; I refused to let life's setbacks break me (although it was very close at times). I trained hard, harder than I had ever trained before, and I trained for my life.
Thankfully, amidst my seemingly imploding life, things got better. I met my now fiancé when I was at my lowest.  Everything was a mess, and he didn't care. He supported me and made our "dates" training. I didn't have time for anything else. He was ok with that and would bike beside me on my long runs. He did everything he could to help me achieve my goals. He helped me find my strength and finally feel ready to take on World's Toughest Mudder (WTM). I figured, if I could get through that hell of a year and feel the fittest I had ever felt, I had a good shot at winning WTM.
Welcome to November 2017.  WTM was going as planned: I was in second place and well on pace for 100 miles. I was feeling strong and completing most of the obstacles. I was smiling realizing my 5-year dream was unfolding.  Then the unexpected happened. I was attempting Funky Monkey Revolution, which is a monkey bar style obstacle with spinning wheels over water. I was right at the end, about to swing to the landing, and I slipped, hit my head, and was knocked unconscious.
I have vague memories of being transported to the med tent. I woke up with an IV in my arm, was told I had a concussion, and was out of the race. I was devastated and heart broken. Asking myself "how could this happen?"
A few days passed: I cried every day and had quite the pity party for myself. Then, one morning I woke up and told myself, "You have to move on, or this bad race will break you!" So that's what I did; I brushed myself off and decided to invest all of my time and energy into winning the Iceland Spartan Ultra World Championship, which was scheduled just a few weeks from then.  It was time to overcome this setback and stick to my original goal for the year: win a world 24-hr obstacle course racing title.
Since the decision to go for the win in Iceland was made just a few weeks before the race, I needed a lot of help to make the trip possible: it's not cheap to travel to international races, and I had just traveled to the United States for WTM, not to mention the necessary physical training. I knew I had trained consistently and hard all year and that it was going to be a very tough course with extreme conditions. I knew based on my past experience that extremely tough courses are better for me. I am not the fastest runner, but I am very strong, and I was very excited when I realized how heavy and long the carries were at the Championship. I love heavy carries and that was a huge advantage for me. I was confident I would be on the podium, and the course was tipping the scales in my favor.
The race started with a 5k Prologue run through a small town near the race site. It was so cool running along the roads in Iceland. I wasn't at the front of the pack for this run (as I mentioned – I am not the fastest runner), but I also wasn't worried.  Once the official course loop started, I knew I would begin to gain ground. I was in second place climbing the insane mountain sections and once the heavy carries started I was able to move into first and remain in first for the rest of the race.
My mind was clear, and I was focused: I told myself repeatedly that this race was designed for me, and all I needed to do was to give my best and I would win. I felt really strong, and I was in the "zone" from the first beat of the Viking drum. Everything was coming together: my training and my mental strength.  It was all in harmony. I felt the elements; I felt the extreme cold and the rain, but it didn't bother me – it energized me!  I thought to myself, "WOW! This weather is insane, and it's probably slowing a lot of people down, and it's going to speed me up." I told myself I loved the weather, and I was getting the true Iceland experience.  I absolutely loved it!!!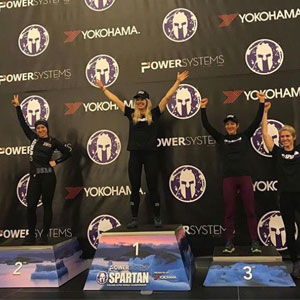 Even though I was in first place for most of the race, I never allowed myself to settle. I pushed myself as if second place was right on my heels. I kept asking myself, "Can I push a little harder?" Sometimes, all I could muster was putting one foot in front of the other, especially on steep, icy, treacherous mountain climbs. However, sometimes the answer was "there's something in the tank," and I would say, "Okay Morgan, run strong to the next obstacle and nail it!"
Crossing the finish line in 1st was surreal. Winning a World Championship title at a 24-hour race is something I have been dreaming of and working towards for years. I have had so many challenges in the past that prevented me from winning. I almost had a hard time believing I had actually achieved my dream.
Achieving this goal fills me with pride and validates that the path I am on is right for me. Extreme endurance obstacle course racing is something I truly love, and it's something I want to continue to invest my time and energy in. I am so excited for 2018, and the Spartan Ultra World Title gives me a huge boost of confidence.
My top goals for the 2018 season are to win the OCRWC 24-hr Enduro Championship, win World's Toughest Mudder with 100+ miles, and defend my title at the Spartan Ultra World Championship.  I am so excited!