We can't wait for you all to meet our newest member to the Power Systems Master Coach Team – Julie Johnston. She is the founder/owner of an outdoor boot camp that has transformed over the past 14 years into what has now become Camp Rhino in Las Vegas, NV. Camp Rhino Training Facilities are truly one-of-a-kind, offering everything FUN in fitness such as boot camps, personal training, 6 week transformation challenges (with 100% graduation rates), and impressive indoor obstacles that you might recognize such as the Spear Throw, Cargo Nets, Salmon Ladder, Warped Wall, Hercules Hoist, Multi-Rig, and much more! Camp Rhino isn't just an indoor playground for grown ups – Julie and her staff of "trainers" and "ninjas" have created a true family of Rhinos that welcomes anyone and everyone looking to change their life through fitness and have fun doing it!
Julie (aka "Mother of Rhinos") Johnston is passionate about changing lives through fitness and Camp Rhino. She has a TON of information and experiences that she can't wait to share with fellow trainers and business owners who are looking to create or strengthen a fitness tribe of their own. Power Systems is honored to have Julie on the Master Coach Team and we are looking forward to all of the FUN fit business tips, training tips, and creative exercises and programming that she and Camp Rhino have to share.
But before we dive into all of that – we thought we would let Julie introduce herself in her own words and tell you the story of Camp Rhino.
Growing up, my parents, grandparents, aunts, and uncles all owned their own businesses. I watched the stress and the lack of security of that life and decided I wanted to get a bunch of scholarships, so I could go to college and get a job with insurance and a retirement plan. Instead, at the age of 17, I started my first business, a little print advertising company. My dad's painting company was my first client, and I began to call businesses out of the phone book and quickly built up a solid clientele.
While the advertising company was doing well, I wasn't. I started gaining weight at a rapid rate and at 21 years old I was 65 lbs. heavier and I was completely miserable. I saw a friend come back from military boot camp and lose weight and I wanted to do something like that. I called up another friend in the military who was a personal trainer and asked him to meet me and some friends at a park and just massacre us. I wanted to do obstacles and work out hard while 'playing' at the same time.
I knew I ate too much, and I wasn't going to change my diet for anyone, but I was willing to physically workout to try to make up for it. I advertised the 'Boot Camp Las Vegas' concept all around town and started the classes within a week. This was in 2004, when the group exercise scene was a little different. The options were: your mom's aerobics class, Kung Fu, kickboxing where you actually had to hit each other, and then there were people in the gyms bodybuilding.
I remember going out to dinner with my significant other at the time, and another couple. I told them my idea and they laughed at it. They said, "let me get this straight, you're going to take people to a park, have them do bear crawls, carry home depot buckets filled with water, run through obstacles, and they are going to pay you for it?" But they weren't fat. They didn't know what it felt like to be desperate to lose weight.
After the first few days of the boot camp, I started teaching the classes. The whole first year I had one paying customer, but new people showed up every day, which kept me motivated and on track. Every day I would come up with something new and fun for us to do for workouts. I worked out with the classes and 6 months later, I had lost 65 lbs.
The boot camp business was struggling, but my advertising business was keeping the it going financially. I decided to really try to go for it, so we called up a local TV station and told them that the other TV station had challenged them to an obstacle course race at Boot Camp. We called up the competing station and told them the same thing. Luckily, Channel 3 believed me, and they sent out an anchor, reporter, and cameraman for a 2 hour live shot. I had 83 phone calls within two hours after that and I knew there were others who wanted to work out outdoors in a group.
The business grew to 99 classes a week all over town. I poured all the money I received into marketing and spent over $500,000 in just a few years to try to explain how our boot camp was not for bad kids, but it is for YOU. I quit my advertising business cold turkey and gave all my clients to my favorite competitor.
The economy crashed right as other boot camps started cropping up, using our name and affecting our brand. We always had the Rhino Trademark, so I switched our name to use Rhino in order to differentiate us from the rest of the competition. I may have put out commercials saying 'If it ain't the Rhino, it ain't real…' But I was in my 20's, so there was a lot of misplaced enthusiasm at times.
I always had an obstacle course and started setting it up more often. My cousin and brothers have been working with me for almost a decade and my cousin and I always get hairbrained ideas. I asked him 'do you think you could build me 100 obstacles in 5 days?' He said yes. I wanted to put on the craziest obstacle race of all time. 100 obstacles in 5 miles. My poor brothers were collateral damage and had to help my cousin and I make it happen. We worked day and night to put together the first ever Rhino Course. I lost a bunch of money, but I thought for sure we could do it better a second time. But after the third time, I was $69,000 in credit card debt from the Rhino Courses and I decided that I didn't want to set up outdoor courses anymore.
I had $17,000 in cash left and put it all towards the first and last months rent of a warehouse to construct the obstacles inside with no plan whatsoever. We just wanted to be able to play on the obstacles whenever we wanted to. I scheduled a reality show 24 hours after we got the keys and my brothers and cousin worked day and night again to get it ready. I put together a grand opening and just knew everyone was going to want to be a member at the new Camp Rhino.
People thought it was cool to come once or twice… but I quickly realized that we needed fitness classes indoors in order to make it all work. Our outdoor boot camps rocked, so I wanted something different inside. We started with 1 barbell, 1 rower, 1 GHD, a pull up rack made by my brother and cousins, and a couple of medicine balls. Within a year we had a full indoor gym set up and $50,000 more in credit card debt.
I put on events, team building activities, and introductory specials trying to keep the business afloat. I'm not going to tell you about all the times a trainer has taken the clients I gave them and started their own thing. But what I will tell you is that years later, none of those trainers are still training, and the members trickle back. I will also tell you that now my staff is the most amazing staff ever and I don't think I will ever have that happen again. We are a team.
I have learned so much in the last 14 years. I kept upgrading our warehouse and even took out a $77,000 loan with a steep year pay-off where they took 33% of my income every day until it was paid off. We made it through that year, and our lease was up on our space. The landlord was awful, and I decided to move into a huge retail space that used to be a Sears. I couldn't afford it, but my new landlord offered me 3 months free rent. My new landlord is amazing. We went for it and in that 3 months I decided that if Camp Rhino failed, I only had myself to blame.
I was going to do everything I could to cover the new rent. I've always been an optimist and I've always thought that no matter what we would be okay. I gave up my house, moved into an apartment, stopped getting all personal grooming such as nails, etc, to save money. I stopped going out to eat and lived as frugally as possible. I cut everything I could in the business except employee pay.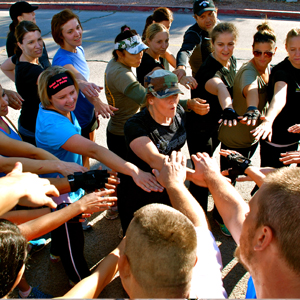 At this time, I realized that I could not advance the business if I was coaching full time. I had to step down as a coach and step up as the gym owner. I stopped watching TV and listened to business podcasts. I hired a business mentor, Chris Cooper, and devoted my life to saving Camp Rhino.
Each month, we made it. And each month we continued to improve Camp Rhino. I have so much to share with potential gym owners on how to overcome the odds and become successful. We went from one location to two locations (we are working on our third), and 13 Full-Time Staff members.
I first met Josh Goldman, the GM of Power Systems, last summer at a Fitness Convention. We talked about our core values and our love for our employees. I knew that I would love working with Power Systems in any capacity because of the organization's mission to help change the world. Now being able to come full circle and be a part of Power Systems is a dream come true.
In 2004, I bought my agility equipment and parachutes from Power Systems. Now, in 2018, I found myself in a product development meeting helping them figure out ways to help gym owners. I am beyond excited to help Power Systems teach gym owners how to run a healthy business, while simultaneously testing the new, awesome equipment they roll out each year.