Introducing the Mini Versa Loop – a short (9″) version of one of our most popular favorites! The Mini Versa Loop is 3″ shorter than the 12″ Versa Loop and is available in the same 6 resistance levels featuring the same color palate.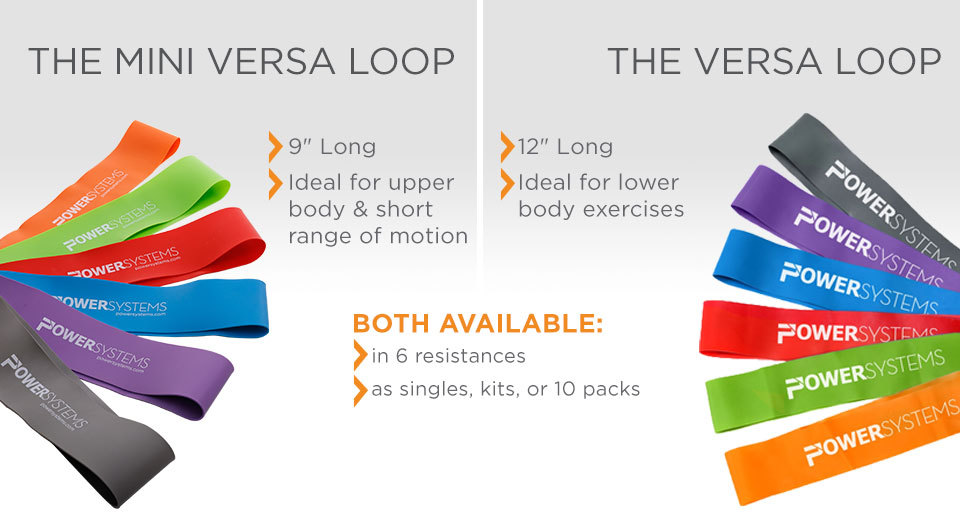 Why the Mini Versa Loop?
It's shorter length makes the Mini ideal for upper body and short range of motion exercises. The Mini Versa Loop allows you to add an upper body resistance challenge to indoor cycle classes and body weight boot camps. Power Systems Master Coach, Yancy Culp has shared some of his favorite upper body exercises with the Versa Loops. Check out the videos below and get inspired to create some of your own favorite exercises with the new Mini Versa Loop!
Mix and match your Mini Versa Loops by purchasing individually or choose a Mini Versa Loop Kit that contains one of each resistance. You can also mix and match enough Mini's to accommodate any group class AND take advantage of a kit discount with the Mini Versa Loop 10 packs – each including TEN of the same resistance level.