I spend a lot of time at the gym.  Generally at least a couple hours each day for strength training, physical therapy, stretching, rolling, and mobility exercises.  It gets tedious but is a key part in staying fit, healthy, and fast.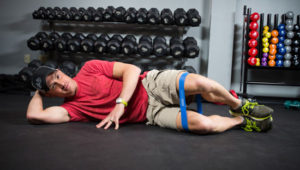 Missoula has no shortage of gyms to choose from.  Just when I think the gym market here is saturated, a new gym will pop up.  Which is great, it means Missoulians are staying fit and healthy.  When I moved to Missoula nine years ago I became a member at the Peak Health and Wellness Center.  I chose it because it was a great facility with a lap pool and an indoor track.  I've been to gyms all over the country and I can honestly say that the Peak is the nicest facility I've been in.  The Peak is a gym that is constantly making improvements.  The equipment is replaced on a regular basis and they adapt to the current trends of the marketplace.  Recently they finished a huge addition which added a vast area of turf for functional training, plus a lot more room for weight equipment.
With such a nice facility, it only makes sense that they would have the nicest equipment.  While there is a medley of branding in the facility, much of what is there is Power Systems branded or items sold by Power Systems.
Before I entered the world of endurance sports, my workouts were much different.  I did a lot of traditional lifting and just a bit of cardio. It's much different now and while the general focus is consistent, each session is based around what race I'm doing next.
Every day I spend around 45 minutes foam rolling.  I'll do a little rolling before swimming to loosen up, but most of it is done at the end of the day from 9-10 PM while I watch TV and "relax".  I have a variety of massage tools.  Depending on what I need I'll use the traditional foam roller or a massage peanut.  Whether I'm sore or not, I feel foam rolling helps in muscle recovery and injury prevention.
I also spend about 45 minutes every day stretching.  A lot of the stretches I do are traditional stretches that can be done with no special equipment.  But I also utilize the Power Systems strength bands to get deeper into a stretch and to do more dynamic movements.
Another 45 minutes a day is spent on mobility – particularly trying to gain and maintain mobility in my shoulders and my upper and lower back.  To maintain mobility, I'll use the Versa Balance Log, Versaball Pro, a suspention trainer or whatever I can find to hang on, and the CorBall Plus.
Finally, I spend 45 to 90 minutes each day strength training.  Usually it's a mix of upper body strength (while trying not to add bulk), core work, lower body strength, and working some of the stabilizer muscles of the glutes and legs.  To achieve this I use machines, as well as Versa Loops, the Corball Plus, medicine balls, kettlebells, dumbbells, and the Versaball.
Power Systems has so many products and can meet the needs of nearly any person looking to work up a sweat.  The products are designed to help people achieve their goals, whether that be training for a specific sport, trying to stay in shape, or a beginner to a new routine.  My routine is always changing and it's nice to know there is always a product available to help me pave a new path.