When you sign up for a "fitness test" there are several areas in which you might expect to be evaluated – cardiovascular endurance, muscular strength, and flexibility. However, you might not expect a test to measure your ability – or inability – to balance.
An individual's sense of balance is not only worth considering when beginning an exercise program but also throughout a lifetime.
The effectiveness of balance training has been evaluated in the health and fitness industry in groups of all fitness levels from athletes to the elderly. Research has shown that after just two sessions of balance training one can experience changes in the brain that lead to improvements in sensory motor coordination and connectivity. Improvements in the brain-body connection can lead to quicker reaction times in unstable environments which is a benefit to any age and fitness level.
Another side effect of balance training is an increase in strength of smaller, stabilizing musculature of the joints and core. You may also experience an increase in stability and strength of tendons and ligaments which, over time, can reduce the incidence of injury.
Our balance is tested in daily activities from walking up the stairs with groceries to abruptly changing speed or direction; so, what is the best way to train balance? Often your balance is challenged in many core exercises that you might already be familiar with such as a stability ball crunch or a single leg squat. However, you can integrate balance training throughout your workout with the addition of one single product – the BOSU.
The BOSU – stands for Both Sides Utilized – has been used throughout the fitness industry for over 15 years. From physical therapy to athletic training – the versatility of the BOSU makes it the perfect training accessory for any session. Due to its popularity, the BOSU has evolved to include several different versions and accessories to meet the needs for all fitness levels.
BOSU Home Balance Trainer
First up, the BOSU Home Balance Trainer – as the name suggests, this version is designed to be used at home and not in a commercial gym setting. It is perfect for your home workout space at 26" in diameter. It also features 6 rubberized feet on the flat side to steady the BOSU in the dome side up position on the variety of training surfaces found in homes. Each home balance trainer comes with an owner's manual, a foot pump, and a total body workout DVD.
BOSU Pro Balance Trainer

If you want the same BOSU at home that you are likely to find in your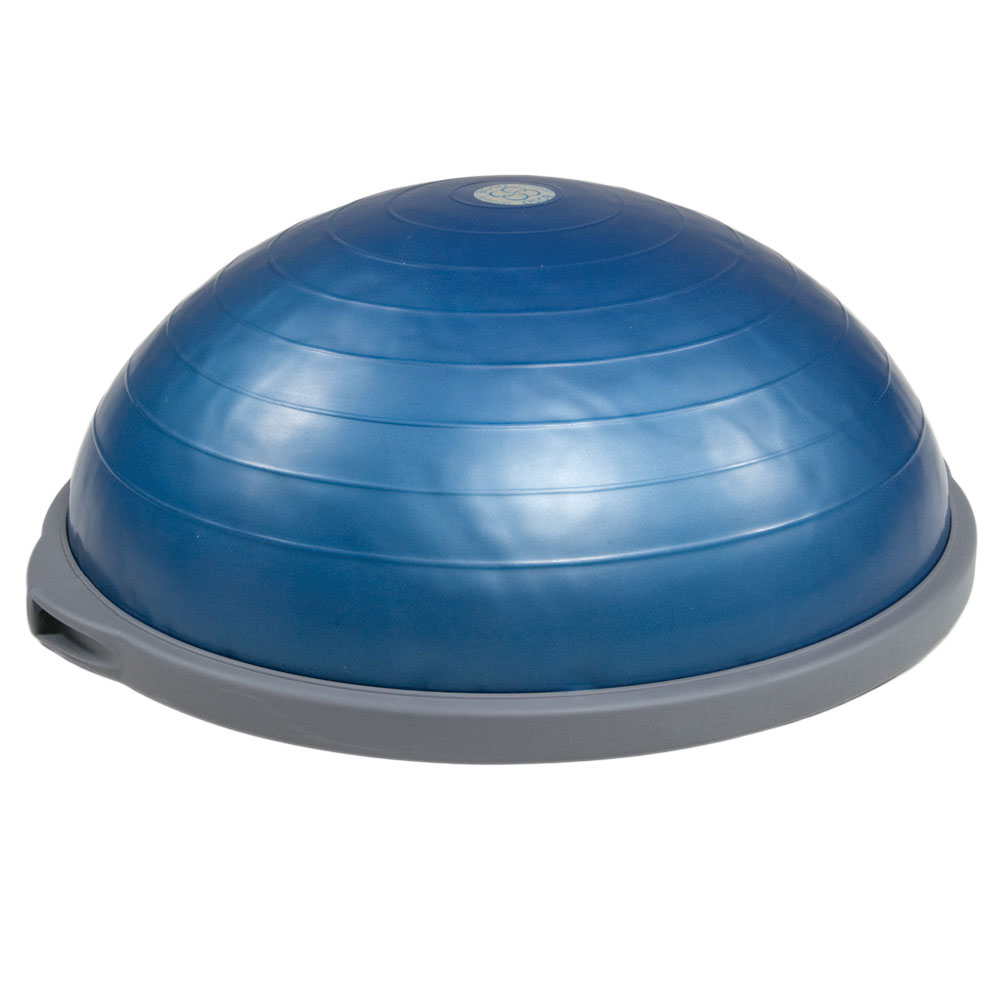 local fitness facility, then you are looking for the BOSU Pro
Balance Trainer. Distinguished visually from its home gym counterpart with a gray base, the Pro Trainer is made of commercial grade materials for the extra durability needed for use in high volume health clubs and training studios. This version can be purchased with or without an instructional book and video. Important to note, a foot pump is not included with this version. However, if you are purchasing it for home use it can be inflated with a bicycle pump with the wide angled inflation attachment.
BOSU Sport
If you have limited space for workout or storage, the BOSU Sport might be your best fit. The Sport is a smaller version of the BOSU Balance Trainer. More specifically it is four inches less in diameter than the other BOSU trainers (55cm/22" in diameter), which makes it a bit easier to transport and store. This version is designed for fitness enthusiasts and athletes of all ages.
Each BOSU trainer should be inflated until the dome is firm or about 8.5" – 10" high. The dome should give a little when standing or kneeling on it.
As far as exercises to perform with a BOSU, the list goes on and on. Almost any exercise that you execute on the floor, can be performed with or on a BOSU. Here are a few examples:
BOSU Push Up –
Place BOSU dome side down.
Place your hands near the handles of the BOSU either flat or gripping the sides of the base for a more ergonomic wrist position.
Perform a push up with either your feet or knees as your base of support.
BOSU Lunge –
Place the BOSU dome side up.
Place front foot of the lunge on the top, center of the dome.
Your back foot stance will have your heel elevated as you stand on the ball of your foot.
Repeat lunges for a desired number of reps and then switch lead legs.
You may also execute a BOSU Lunge with the front leg on the floor and the back foot (ball of your foot) elevated on the dome of the BOSU.
BOSU Crunch –
Place the BOSU dome side up.
Sit on top of the BOSU, then slide your rear towards the floor until you can fit your low back over the curve of the dome.
Stabilize yourself with your feet just outside of hip width apart. Place your hands behind your head for neck support if needed.
Perform a crunch for the desired number of reps and sets.
BOSU products are more than just a balance challenge – they are functional training tools that are dynamic and durable enough to be used by all fitness levels at home or in the gym.