Resistance bands and tubes have been primary tools within in exercise programs for many years; however, due to their simplistic design their versatility and efficacy is often overlooked and underappreciated. Here we will take a closer look at the strength band and identify a few of its specific applications.
Strength Bands are referred to by many names such as Monster Bands, Power Bands, and Super Bands just to name a few. Their thick and durable construction lends itself to such powerful terminology, but Strength Bands assist with flexibility and mobility exercises as well as provide primary, secondary, or inverse resistance to your workout.
Strength bands provide primary resistance in a variety of push and pull exercises, performed alone or with a partner. When exercising alone, use a strength band as resistance for a bicep curl, shoulder press, tricep extension, torso rotation, chest press, row, chest fly, reverse fly, and anything other exercise you are inspired to create. Power Systems Strength Bands ranging in resistance from extra light (orange) to heavy (purple) are best suited for these types exercises based on the fitness level of the individual.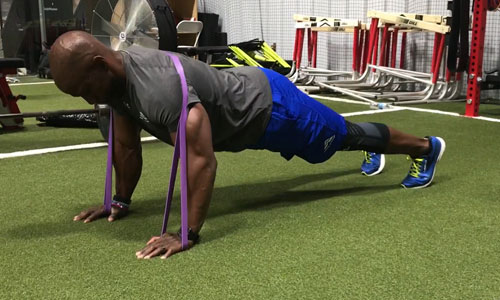 Strength bands can also provide secondary and variable resistance to bodyweight and barbell exercises. A band positioned behind the back under minimal tension and secured under both hands will add variable resistance to push-ups. Many weightlifting platforms and benches have attachment points that allow you to add a strength band to both sides of a barbell to add variable resistance to traditional lifts such as a bench press or squat.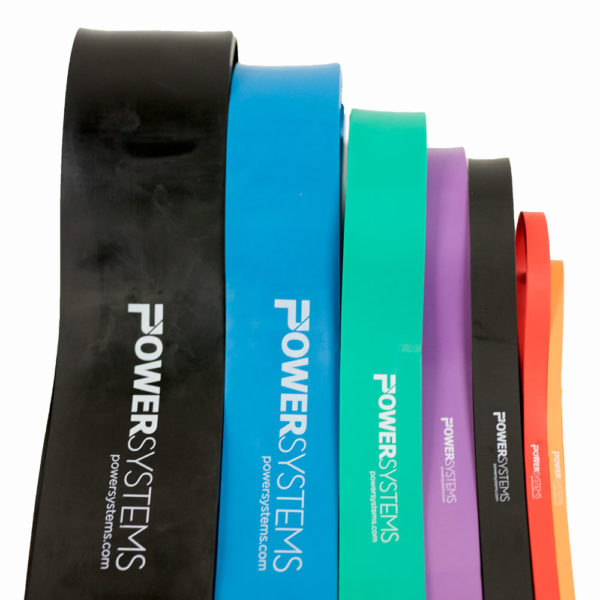 Another popular application for strength bands is adding inverse resistance to bodyweight exercises. Strength bands can be wrapped around pull up and dip bars to act as a counterweight and allow users to perform these exercises in full ROM with only a percentage of their body weight. For example, a person weighing 200 lbs. can use a blue, ultra heavy strength band to remove up to 100 lbs. of their weight from the exercise. This is a great way to learn proper mechanics of body weight exercises as upper body strength develops. As a person gets stronger, replace a heavy resistance strength band with the level just below it – repeat this process and training program until the band can be removed completely.
If you need help choosing which band(s) to use for yourself and/or your clients, use the strength band resistance level chart below or check out this video with Power Systems Master Coach PJ Stahl as he walks through each band with recommended exercise types by resistance level.
Use the strength band resistance level chart below to help determine which band(s) you need for yourself and/or your clients.

Since there are SO many exercises you can do with strength bands, we have asked our Master Coaches to put together a few sample workouts to get you started.
First up is PJ Stahl showing you how to lengthen and activate your shoulders, glutes, and hips using strength bands in a dynamic warm up routine.
Strength Band Warm Up with PJ Stahl
Overhead Pass Throughs x 10 – 20 reps
Reverse Overhead Pass Throughs x 10 – 20 reps
Lateral Marches x 20 reps each side
Overhead Squat x 10 reps
Good Mornings x 10 reps
Next, Bennie Wylie shows you how to use strength bands throughout a circuit to take several traditional exercises to the next level.
Bennie Wylie's Strength Circuit
Perform each exercise for 10 reps for a total of 3-5 sets
Barbell Squats with Strength Band
Box Jumps with Foam Plyo Boxes
Slam Ball Overhead Slams
Strength Band Pull Throughs
Strength Band Tricep Push Down
Strength Band Straight Arm Pulldowns
Strength Band Pull Up
This post was originally published on October 26, 2017 and updated on May 7, 2019.