My name is PJ Stahl and I am an elite fitness expert located in Los Angeles, California. I would like to take the time to first thank Power Systems for bringing me on as a Master Coach and I am honored to represent their company. I have been in the fitness industry for over 20 years and have very high expectations when it comes to fitness equipment and services.
Power Systems is the leading provider of fitness and performance products and aligning myself with the best in the industry has always been my goal. Now that goal has become a reality.
After starting to work with the Power Systems team it was immediately brought to my attention that education and customer service is at the forefront of every project they take on. This truly touched my heart to know that the people within the company have the same fitness beliefs as myself. It was at this point I knew the Power Systems family was the perfect fit for me.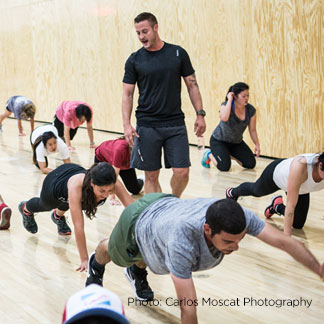 I am very excited about what I will be doing with Power Systems this year. I am presenting on PROJECT STEEL, my newest fitness program. During these presentations, I get to introduce the PROJECT STEEL training system throughout the US and feature the Power Systems equipment that aligns perfectly with the programs modules. I am also presenting on Fitness Program Comprehension and Creation, during which I will educate fitness industry leaders on a new level of program design.
I wasn't always living in sunny LA. It has been an amazing journey to get where I am today and I want to tell you a little bit about it so you can know me on a more personal level.
Background:
I was originally born and raised in Mt. Pleasant, Michigan – so I've had my fix of snow and winter weather. As for my family, my mother was a teacher and was born with cerebral palsy. She taught me from a young age that no matter what obstacles you face in life you can achieve anything if you believe and work hard enough for it. She is living proof of that mantra and I thank her for teaching me that life lesson every day. My father was a physical therapist and owned his own practice before he passed away when I was 14 years old. He had a heart of gold and helped change peoples lives through p
hysical therapy on a daily basis. He always told me that I should do what my heart leads me to. That way passion will drive my career and love for it will make me successful. Ever since then, I have always known I wanted to work in fitness and help change peoples lives the way that he did.
I am the second oldest in my family of six kids. I have 3 brothers and 2 sisters and we are all best friends. They help lead me, guide me and give me support through all life's ups and downs. They are my rock and I love them for all of their continued belief in me to pursue my dreams.
When I was a child I tried many different sports, but my excellence was in gymnastics. I trained for the junior Olympics and eventually went to Michigan State University and competed on the Men's Division 1 Gymnastics Team. A life of gymnastics paved my love for sports, physical fitness and training.
Education:
At Michigan State, I pursued my degree in Kinesiology with a specialization in Coaching. All while being the Undergraduate Assistant Strength and Conditioning Coach for over 11 different sports teams. I soon moved on to get my masters degree in Physical Education from Ball State University where I was the Graduate Assistant Gymnastics Coach.
Experience:

After finishing graduate school, I moved to Chicago where I was a personal trainer and group fitness instructor for Fitness Formula Clubs. Growing rapidly to one of the top trainers in the entire company I knew I wanted to continue to expand my career in new ways. After a year and a half in Chicago, Athletes' Performance (currently EXOS) offered me a job as a Sports Performance Specialist in Los Angeles. It was time to move to sunny LA!
I had thought, "Yes! I finally made it!". I was now training professional athletes and working with some of the finest sports performance specialists in the world. As much as I loved being a Sports Performance Specialist, something was missing. I was missing that love and passion my dad always told me I should have in my career. I knew it was time for me to leave and start my own business. In 2009, I re-launched my fitness company from Chicago to Los Angeles, PJ Stahl Fitness.
In 2014, I fulfilled another one of my lifelong dreams of owning a gym and opened Lock Box Fitness & Performance center in Los Angeles with my business partner Susan Leiva. We have 9 different types of fitness classes, personal training, massage and nutrition services. Lock Box places a strong emphasis on functional training and education.
Certifications:
I currently hold over 25 different certifications and continued education course certificates. Education is extremely important to me. I am always eager to continue to educate myself as the fitness industry and scientific research evolves.

Project STEEL:
With innovation at the forefront of my career I have created my own new fitness program called PROJECT STEEL. My program methodology has taken strength training and conditioning and reformatted them into the new modern version of steady state training. With functional movement pattern development, neuromuscular integration, corrective exercises and mobility incorporated throughout the entire program results are inevitable.
Where Can You Find PJ:
On a typical daily basis, you will find me at Lock Box LA teaching classes, personal training clients and running educational clinics/seminars. Come stop by for a workout if you're in the Los Angeles area.
Continue to check out Power Systems on social media and on their blog for continued content I will be releasing on a monthly basis. This year, I joined Power Systems at IHRSA and will also be presenting at the SCW MANIA Conventions and The IDEA World Fitness Convention. So, come check out my sessions and experience a Project STEEL Class for yourself. I am also a Reebok Ambassador and an NF Sports Ambassador, so check out their websites and social channels for more content released throughout the year.