Annual athletic training protocols are fine-tuned based on the season and type of sport. Strength, flexibility, power, and endurance are all physical traits to be groomed in your athletes. But what about mental strength – does that matter?
Teams are made of a hand-crafted mix of individuals who come together to form a group that comprehensively maximizes the strengths and minimizes the weaknesses – ideally. But no matter how dedicated, gifted, or hard-working the athlete, the body will become physically exhausted at some point. In the training room, on the practice field, or in the game, when the lungs are burning and the muscles ache, the brain will act in its best interest to try to protect itself. The brain will tell the athlete to "slow down" or "stop", but that is where mental toughness training begins.
U.S. Army General George S. Patton once said:
"You have to make the mind run the body. Never let the body tell the mind what to do. The body will always give up… you've always go to make the mind take over and keep going."
But how do you train mental toughness in an athlete? This isn't a quantifiable stat that you can measure like a max bench press or a 40-yard dash time. There is no common formula to follow. Mental toughness training exercises vary in practice and activity from sports to military and law enforcement professionals. And what works for one team won't necessarily work for another.
Cultivating your team chemistry is a complicated process that has no foolproof recipe to follow. But given the fact that a very small percentage of the athletes you coach will go on to play professionally – it would serve your team best to nurture characteristics that will bring them success in adulthood. According to a Forbes article written based on research and literature from sports psychology, there are at least six markers of mental toughness from sports psychology that will apply in the business world – flexibility, responsiveness, strength, courage and ethics, resiliency, and sportsmanship.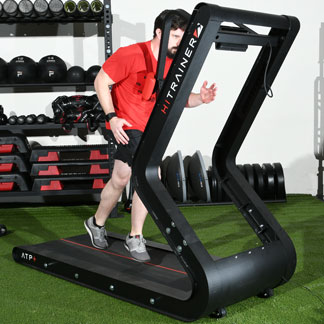 Often extreme workouts are used as an effective tool to test an athlete's grit and ability to perform physically in stressful situations. Professional level programming paired with the right training tools will help develop mental toughness in the training room. Sprint trainer treadmills and functional training accessories lend themselves to pushing limits.
For example, the HiTrainer has several sprint interval training programs built into the video console. You can coach your athletes through these sprints while analyzing the data feedback it provides or assign workouts and see how hard they push themselves when you aren't right next to them. The PowerWave is a versatile tool that you can quickly add to a bleacher run or a Tabata set as you can change exercises with minimum transition time.
While muscular strength develops one rep at a time, mental toughness develops one more rep at a time. It is tested as one approaches the line between success and failure. While extreme workouts are an effective tool to test an individual's grit, an athlete's ability to perform in stressful situations includes both physical and mental training.
A person's true grit – or strength of character – is not measured by physical strength; it is measured when physical strength fails and mental strength perseveres.