You might have noticed that MMA-style training is gaining exponential popularity in the fitness industry. With its origins in the Greco-Roman wrestling of Ancient Greece, MMA might be one of the oldest competitive sports. However, the MMA community is growing rapidly from exposure due to highly publicized UFC fights and reality TV competitions to find the next Ultimate Fighter. You might also have noticed that themed facilities such as UFC Gym and 9Round are popping up all over the map.
Health club members and clientele might not dream of entering the octagon, but they would welcome the opportunity to train like some of the most elite athletes of the UFC. Power Systems offers a line of equipment to cater to the sport as well as other tools to support the MMA athlete in cross-training programming.
Our PowerForce line of equipment is designed to provide you with a variety of MMA training accessories that can be used in one-on-one or group settings. We have a variety of targets, kick shields, heavy bags, and gloves to provide you with the basics for the '1, 2 punch'.
The broad striking surface of the PowerForce Pro Kick & Punch Shield is strong and versatile enough to support strikes from the upper and lower body. The PowerForce Punch Mitts and PowerForce Double Focus Target provide smaller striking surfaces for accuracy training. You will always know when you've hit your mark with the audible feedback that the Double Focus Target provides.
For heavier hitters, check out the PowerForce Heavy Bag with Stand. Install this in your home gym for personal use or in a corner of your facility for members and trainers to use in their programming.
The PowerForce Free Standing Bag provides a smaller footprint and mobility in a heavy target. The base comes empty to keep shipping costs down and you have the option to fill it with water or sand upon installation. This is a great option for use in the group fitness setting; just pull them out for class and push them against a back wall for a space saving heavy bag alternative.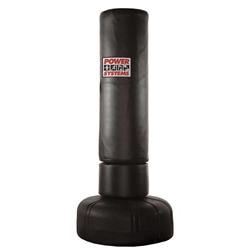 We realize with all this heavy hitting, your weapons will need protection. Power Systems offers three levels of hand protection when training. Our Hand Wraps offer a minimal padding to protect the knuckles and wrists during strikes. The PowerForce Pro-Curve Bag Gloves are designed for moderate protection when hitting targets and heavy bags. We also provide PowerForce Boxing Gloves with triple foam layered strike zones to provide maximal protection for your hardest hitters.
---
MMA is an endurance sport based upon the ability to apply powerful and accurate strikes and evasive maneuvers while trying to outlast an opponent. With that in mind, check out some of Power Systems endurance training equipment in the form of jump ropes, training/battle ropes and more!
The Leather Jump Rope (7'-10' lengths) won't kink up on you and comes with padded wooden handles that contain ball bearings for quick rotation. For a more traditional jump rope, our vinyl Speed Rope comes in six different lengths to accommodate heights of 4'- to over 6'6". For next level jump rope training, check out our PoweRope. This weighted jump rope ranges from 1/2lbs. – 4lbs. and 8'-10'lengths. The weight is evenly distributed throughout the rope section to allow you to train cardio and strength at the same time.
Battle or Training Ropes are also popular power and endurance training accessories for any athlete. The Power Training Rope is a traditional battle rope that comes in various lengths and diameters to meet your training needs. The SandRope is a great space saver option. It comes with a pair of Velcro collars to trap the shifting sand weighted at 15lbs. or 30lbs. all within 10 feet of space. Combine battle rope training with resistance training with The Beast Slastix Battle Rope. It is a 20' resistance rope encased in a nylon sheath that allows you to transition quickly from a battle rope drill to resistance training. If space is limited, The Son of The Beast Slastix Battle Rope is 10' long and comes in pairs.
Whether you are training for the Octagon or general fitness, it is important to incorporate cross training into your program. We all live (and compete) in a three-dimensional world and can benefit from exercising with equipment that challenges you to produce strength, force, acceleration and deceleration in all planes of motion; aka functional training. Most facilities are equipped with kettlebells and medicine balls of various sizes and weights for just this reason. However, MMA athletes as well as folks looking to "train outside the box" will benefit from programming associated with Suspension Trainers such as the TRX and the Jungle Gym XT. Lastly, for a power boost to your rotational movements, check out the ViPR or the Landmine. Both combine movement and strength training to increase your power production. The ViPR comes in weights from 4-26KG while the Landmine allows you to pivot and rotate a weighted Olympic bar.
Unleash your inner warrior by adding some of these tools to your programming. These accessories will help you change up your routine and achieve the results you are looking for in the Octagon or in the gym.