GET A BETTER GRIP ON THE RE-DESIGNED VERSA FIT LOG
At Power Systems, we love getting your feedback and applying it to new designs and product updates. Over the years it has been exciting to be a part of the leading trend and movement towards functional fitness. More specifically, the functional training trend has made our VersaFit Log a popular training tool for competitive and recreational athletes alike. Recently, we took this classic design back to the drawing board to ensure we were giving you the best product and experience possible.
The NEW VersaFit Sand Log has been redesigned from the inside out to enhance some of your toughest workouts and training environments. So, what's new? We're glad you asked.
INSIDE
The inside of the VersaFit Sand Log is filled with two medicine ball-like spheres filled with sand. Each inner sandbag is triple sealed to prevent leakage and encased in a stiff foam core to help the sand log maintain its shape over time.
OUTSIDE
Next, we upgraded the outside of the VersaFit Log – switching from a vinyl cover and straps to a sturdy canvas shell with nylon straps with reinforced stitching. This outer construction of the updated sand log is built to stand up to the toughest workouts, indoors and out.
GRIP LOCATIONS
The original VersaFit Log had large foam grip handles. The updated VersaFit Sand Log has contoured PVC handles that provide and an upgraded look, feel, and most importantly, GRIP! The new PVC handles are smaller and provide a more secure grip at each of the five handle locations.
While the structure and design of our Sand Log has been updated, the functionality of this training power tool remains the same. The VersaFit Sand Log is still a challenging and versatile – hence the name – alternative to traditional strength training products. It allows you to train coordination, balance, plyometrics, strength, rotational movements, and much more with just one product!
The redesigned VersaFit Sand Log is now the perfect functional training companion to support indoor and outdoor boot camps or to serve as a weighted training tool on a hike or trail run.
REINFORCED FUNCTIONAL TRAINING TOOLS TO MATCH
The VersaFit Sand Log joins a few of our other most popular functional training tools that received updates this year. Our Premium Slam Ball and MEGA Slam Ball have been updated and added to our PRIME collection. Featuring premium upgraded and heavy-duty material construction, Power Systems Prime products are at the top of their class for aesthetics and performance. In addition to material upgrade, both the Premium Slam Ball PRIME and the MEGA Slam Ball Prime now come in a consistent 10" diameter regardless of weight with a redesigned textured pattern to maximize grip during heavy duty sweat sessions.   
Need a sturdy storage solution to store your functional heavy hitters? We've got your back. Power Systems has a storage solution for every product, space, and training environment.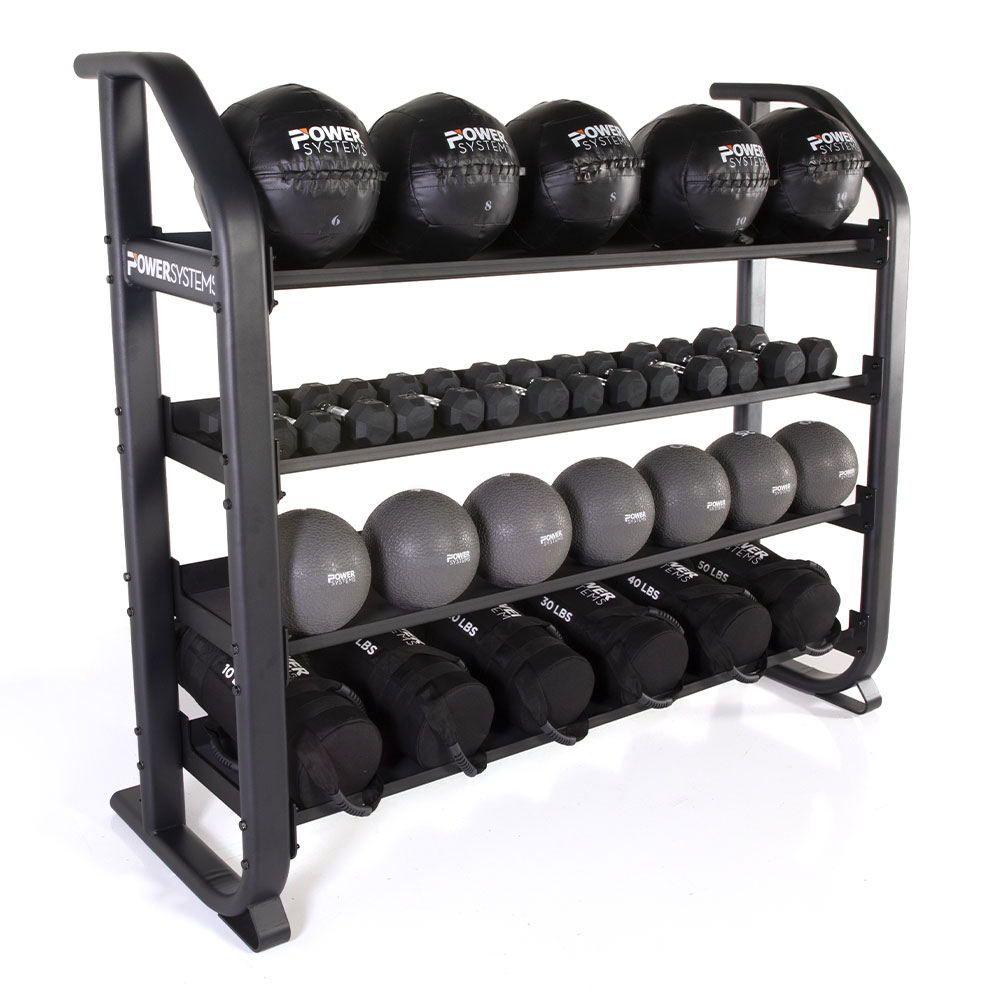 If you want strong, comprehensive storage with a small footprint to maximize your training space, check out our Denali Storage Line.
Want to integrate your storage racks into your group programming – the Pinnacle Storage Line is exactly what you need.
Looking for simple, straightforward, hard-working storage – the Granite Storage Racks provide heavy-duty with a low profile.
For more details on each of our FIVE Power Systems Exclusive Storage lines, click here.