Product Spotlight: Stability Balls
Stability balls, also called balance balls, exercise balls, swiss balls, yoga balls or physio balls, are a popular training accessory for everything from core and balance training to Yoga and Pilates classes. But with so many options available, how do you know which one is right for you?
When choosing a stability ball, there are two key points to consider:
User height
Training volume
Determining the right stability ball size for fitness programs starts with user height. Ideally, when sitting upright on a stability ball your knees should be at a 90-degree angle and hips should align with the knees. If your hips fall below the knee bend, the ball is too small – if your hips are slightly above the knees, the ball is too big.
The most popular sizes for group classes are 55 cm and 65 cm, as the majority of users fall between 5'1" – 6'1" tall. However, be sure to grab a few 45 cm diameter stability balls for youth programming and a few 75 cm stability balls to accommodate users over 6'2".
| | |
| --- | --- |
| Stability Ball Size | User Height Range |
| 45 cm | 4'6" – 5'0" |
| 55 cm | 5'1" – 5'7" |
| 65 cm | 5'8" – 6'1" |
| 75 cm | 6'2" – 6'7" |
The other consideration to keep in mind when selecting a stability ball is the training volume – or how often it will be used? Stability balls are made from PVC material that varies in thickness or 'gauge'. If a stability ball is intended to be used several times a week by many different users, a heavy commercial grade material construction similar to the ProElite Stability Ball is recommended. For light commercial, or personal use, the Power Systems Versa Ball is the perfect choice.
Once you determine the average height for the users and the training volume for the stability ball – it just comes down to color preference. Power Systems offers three stability balls in a variety of colors and sizes. Check out the comparison chart below to determine which stability ball is ideal for your training needs.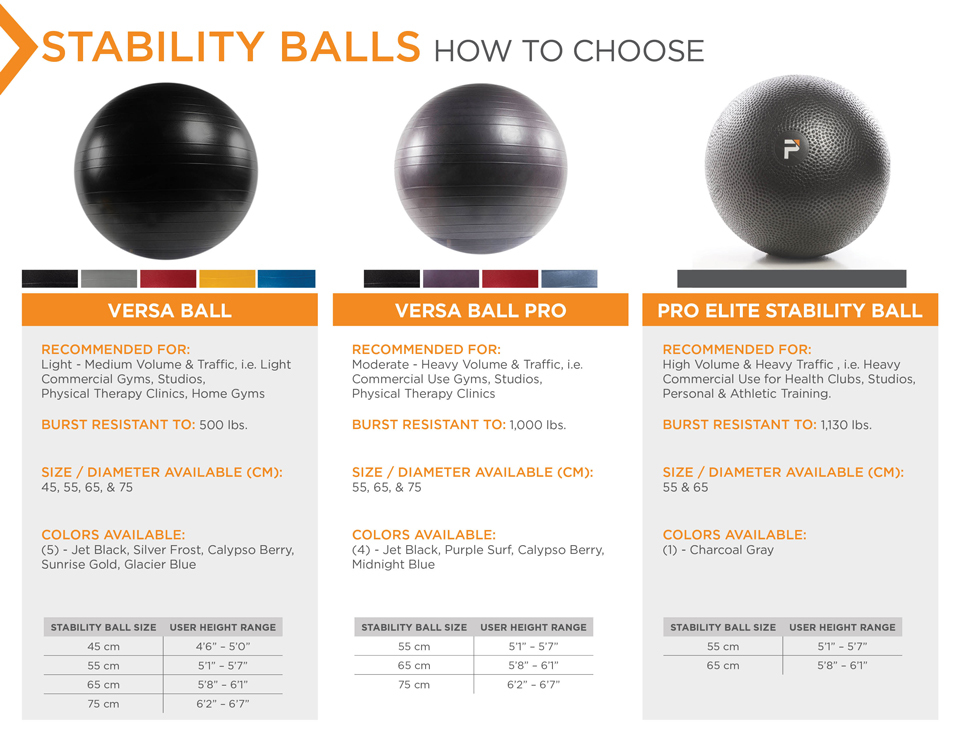 After choosing the right mix of stability balls for your facility and training programs, protect your investment with proper storage and inspection.
Stability Ball Storage
Stability balls take up a lot of floor or closet space on their own, however adding an equipment specific storage rack will maximize your training or storage space. Power Systems offers a variety of storage options for storing up to 16 stability balls. Wall mounted or free-standing options are available.
Stability Ball Inspection
Fitness equipment inspection is important to ensure that all pieces are in proper working order, free from hazards, and in good condition both functionally and aesthetically. When inspecting stability balls here are a few things to watch for:
This could indicate a slow air leak or that a deformity has occurred based on the environment or usage.
Is it inflated to the recommended diameter?
Over or under inflation can decrease the lifespan of a stability ball.
Are there any gouges, scratches, worn spots, or cuts on the exterior?
Normal wear and tear can result over time and create structural vulnerabilities.
Lastly, keep track of when a unit is put into use. In a high volume, commercial use setting, stability balls should be replaced every 9-12 months.
Speaking of equipment replacement – did you know that you can sign up for replenishment reminders from us? We created an equipment inspection guide and replenishment program in an effort to support the busy day-to-day schedules of facility owners, operators, and department heads. Sign up to receive reminders and tips straight to your inbox.