Due to the growing number of fitness enthusiasts who are creating their own workout space at home, we are taking a look at how to create the perfect home gym to meet your needs.
Whether your "at-home workout" makes up 20% or 100% of your weekly exercise routine, creating a dedicated workout space has many benefits and can make a real impact on your training goals. However, some might hesitate at the idea of investing in exercise equipment for home use because they already have a few pieces around the house that are collecting dust.
The truth is, it doesn't matter how large, small, or full of equipment your home workout space is – it will always be difficult to convince yourself to make the time to workout at home if you don't have the right equipment to inspire and support your goals. Think about it, just like new workout clothes or a new playlist can get you excited to hit the gym – new workout equipment in a dedicated at home workout space of your design will have you jumping out of bed for your early morning workout.
Similar to your fitness goals, the size and location of your designated at-home workout space will determine the type of new equipment you can add.  Space – or lack thereof – can be the most limiting factor when you are looking to create the home gym of your dreams. However, based on you goals and your drive to achieve them, there is no doubt you will be able identify the space you need.
EQUIPPING LARGE, GROUND-LEVEL SPACES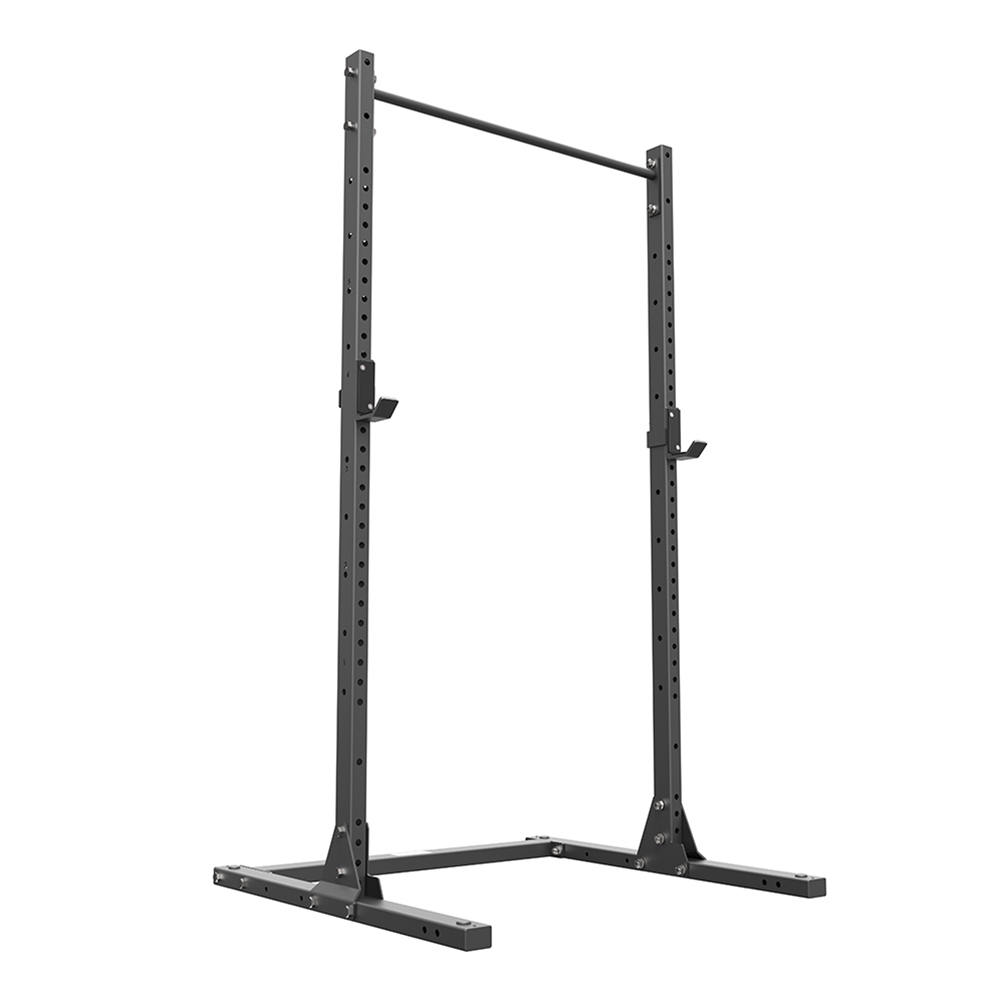 If you are fortunate enough to have a large workout space such as a garage or a large ground floor space (like a basement), you have the opportunity to bring in some larger equipment pieces to create a comprehensive exercise room. Investing in your own large cardio pieces such as a treadmill, elliptical, indoor cycle, or even a stepmill will help save time by eliminating your early morning commute to the gym.
A garage or basement is a perfect setting to work on your strength goals. A sturdy, ground level foundation can support your very own lifting platform. The new Power Systems Squat Rack is an affordable and dynamic at-home strength training solution. The construction of the Power Systems Squat Rack will not only allow you to perform your favorite Olympic lifts from home, but also provides a bodyweight training station for pull-ups or for attaching a suspension trainer via the upper crossbar. The small footprint of this rack won't take up too much of your floor space.
An adjustable or flat weight bench is the perfect centerpiece for a home gym, especially if you prefer to workout with dumbbells. If you prefer to workout with traditional barbells and plates, pair your weight bench with the Power Systems Squat Rack to add even more lifting dynamics to your home workout space.
Flooring is the final piece that will create a functional "wow factor" in your dedicated home gym space. Rubber floor mats and LokTuff tiles will provide the ideal support for your large equipment pieces as well as a texturized, rebounding surface for bodyweight, medicine ball, or kettlebell exercises.
EQUIPPING SMALL SPACES
If you don't have an entire room to work you can still build a great at-home workout tool box that will support your fitness goals. In addition to some of our most popular home gym essentials (i.e. foam roller, resistance bands, stability ball) there are a few more items that will allow you to maximize a small at-home workout space.
If you have to share your workout space with a guest room or a home office, the Reebok Deck will be the perfect workout partner. This lightweight, portable, and easy to stow away bench is the versatile foundation for any home workout. There is even small storage space built in that will hold resistance bands and tubes. Adding the Reebok Deck to any size at-home workout space will inspire you to add more variety to your workout. Not sure where to start? No worries – download the 10 Power Moves on the Reebok Deck and see how adding this versatile and portable platform to your home workout space will motivate you to step outside of your normal routine.
The Cardio Barbell Pump Set is a great piece to pair with the Reebok Deck if you prefer to workout at home with free weights. This versatile strength piece will allow you to perform both barbell and free weight exercises. The plates feature an inner stainless steel ring that allows you to slide them on and off the bar with ease and specialty grip locations that allow you to use the plates as you would dumbbells. When not in use, this set will simply tuck away in a closet or under a bed.
Whether you are looking to change up your at-home exercise routine with a few new pieces, or outfit an entire space with larger pieces – Power Systems is your one-stop-shop for your home gym needs. Set yourself up for success at home by identifying a space that is just for you and filling it with equipment you can't wait to use!