Our most popular item just got another HUGE upgrade! Introducing The ProElite Covered Tube – designed with a quality look and feel to update your training room. The ProElite Covered Tube features a longer length (60") which make them perfect for partner exercises and overhead movements.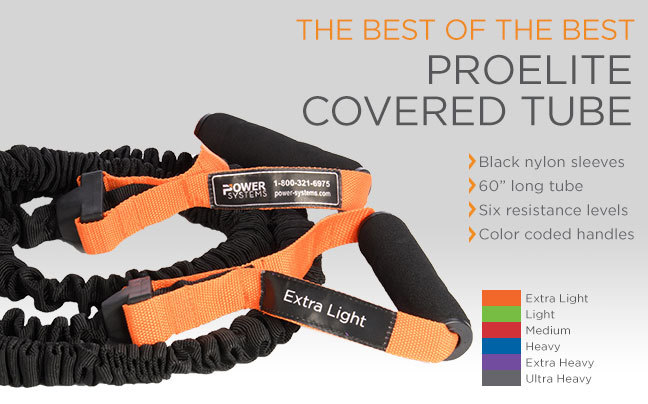 The stretchy, black nylon sleeve blends in with the aesthetic color scheme of most facilities and protects the tube from nicks, cuts, and overstretching. Available in six color coded resistance levels, labeled clearly on the nylon handle straps. We chose to cap the ends with our most popular handle from the Premium Versa Tube series – coated in foam grip for comfort.
Black nylon sleeves encasing the length of the tube
Ideal for partner exercises and overhead movements
Color coded handles with clearly labeled resistance levels
Six resistance levels for all fitness levels
60" long tube, 72" from handle to handle
Want to see the Covered Resistance Tube in action? Check out the video below, where Power Systems Master Coach Bennie Wylie, Jr. shares with you a few cardio and strength exercises with the BRAND NEW Power Systems Covered Resistance Tubes.
Interested to see how the ProElite Covered Tube stacks up to the rest? Check out this comparison.