As the competition in the fitness industry becomes more and more fierce, it is imperative that you set yourself apart from the rest. Staff, amenities, programming, and services are some of the major categories in which gym owners can differentiate their clubs from the competition. For part three of our blog series on focused facility planning, we talked to Power Systems Master Coach, Bennie Wylie, Jr. to hear how his facility has grown and adapted since its grand opening.
Just before Coach Wylie accepted his current position as Oklahoma University Football's Director of Sports Performance, he had just taken his facility, The Performance Lab, through a series of renovations as well as amenity and service additions. The Performance Lab is now a 35,000 sq. ft facility in Abilene, TX that offers everything from large group functional and sports performance training, to nutrition coaching and injury prevention.
Power Systems: When did you know it was time to expand at The Performance Lab?
Bennie Wylie, Jr.: I knew it was time to expand at TPL when our clients outnumbered our equipment. Very simple. Equipment + routine = new purchase. We wanted to take care of every single member that walked through the door. We seized our momentum. We had a great opportunity and we took advantage of that. We grew and we grew.
PS: How was the renovation process different from your grand opening?
BW: This was so different from our grand opening because honestly, I had just started. I wanted to open the doors and get people in the building.
PS: Are there any tips that you would give a facility owner that is considering an expansion of their existing space?
BW: I can give you three. Focus on your training style and what fits. Focus on your new equipment purchases, consider things that are new in the field. And last, but most importantly, focus on your clients, they are your most prized possessions that walk through the door.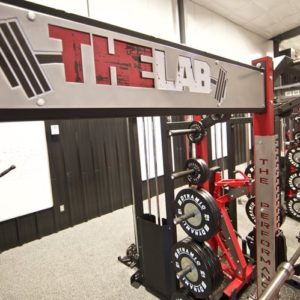 The Performance Lab (TPL) began as a wide-open training space featuring two indoor turf fields. Wylie and his other coaches began hosting large scale functional training workout classes. Over time, the combination of coaching, programming, and camaraderie grew the average class size to 80+ people. Wylie has always referred to his TPL member base as his "athletes" and each class takes on a team-in-training look and feel.
Over the past two years, The Performance Lab has expanded both their footprint and their amenities and services. TPL added a "Regeneration Lab" where athletes could schedule appointments for injury evaluation, customized rehab programs, or recovery training. Next, TPL partnered with a nutritionist and to create the "Nutrition Lab" and began offering nutrition counseling as well as healthy, pre-made meals to go. TPL's latest addition, "The Lab", is an equipped weight room featuring lifting platforms, pin and plate loaded machines, free weights, and cardio equipment. Now members of the Abilene, TX community can join "The Lab" for a more traditional "gym" membership, sign up for STRONG (large group training classes), or get a membership that gives them all access.
Other additions to TPL include Primetime Island, a supervised play area for kids, an apparel store, an outdoor gym space, and updated locker rooms. The Performance Lab has evolved over time to meet the needs of their athletes, all while maintaining their original identity of providing a welcoming and family-friendly training facility.
If you are ready to give your clients a little more space, equipment, and/or options – Power Systems is happy to help. Whether you are evaluating your facility for relocation or expansion, looking to make the most of your space, or considering what space, programs, or service additions you want to offer – we're here to Power Your Potential.
About Bennie Wylie, Jr.
Power Systems Master Coach, Bennie Wylie, Jr. is a seasoned coaching professional with experience on staff for the Dallas Cowboys, the University of Tennessee, and Texas Tech. From 2011-2014, Bennie served as the head strength & conditioning coach for the University of Texas Longhorns football team. Bennie and his partner, Jill May, formed the winning duo of the 2016 NBC television series STRONG. He currently trains athletes as the Director of Performance at the University of Oklahoma. Bennie is also the owner of The Performance Lab, in Abilene, Texas. Bennie holds a Bachelor's Degree in Kinesiology and certifications with CSCCa, TPI and USAW.